In spring 2022, Chef Fatou Ouattara and husband George Faux reopened their West African restaurant, Akadi PDX, at a new spot on SE Division. While the old location, on NE Martin Luther King Blvd, had built a strong following—and served as the setting for a Pan-African episode of Top Chef—the couple temporarily closed the restaurant at the end of 2020, until they could find a bigger kitchen to better make traditional West African dishes.
Ouattara spent much of 2021 traveling and studying the recipes she wanted to make, tracing them back to their sources as best she could. Then, this past fall, Ouattara announced a new menu that would showcase recipes partially drawn from those travels. While old favorites—like the spectacular suya chicken wings and pepper fish—remained, Ouattara wanted to make even more of the cultural dishes she enjoys, like smoked goat egusi stew, and a shrimp- and crab-filled palm butter stew.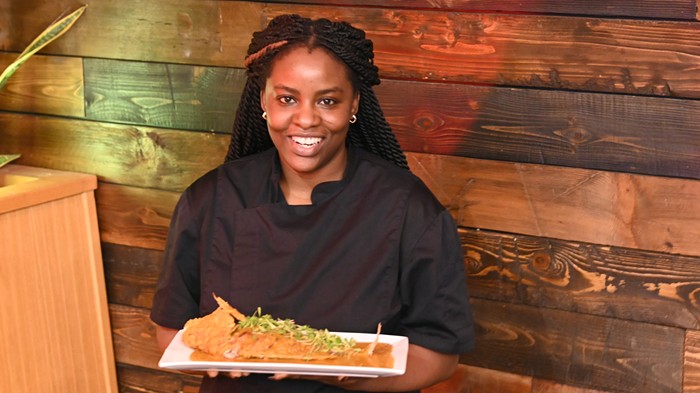 Over the summer, Akadi began a practice of barring modifications to preserve the dishes' authenticity, but the restaurant's menu has always offered lots of options for various diets: peanut stew that can be made vegan, or with a protein choice of chicken, beef, or lamb, purple cabbage fufu (a mash dubbed "violet" on the menu), tchieboudjen—a traditional Senegalese dish that centers around a heap of ultra-flavorful jollof rice—and entrees of fish served whole, to name just a few.
The smoky and well-seasoned pepper fish takes 35 minutes to make, and like basically all the fish on Akadi's menu, the whole darn thing is plated, head and tail included. Some may find it gnarly to look at and pick through, but this authentic preparation is remarkably tender and tasty; it comes slathered in Akadi's signature sauce, as well as peanut sauce, and is served with white rice, peppers, and onions. 
Still, an up-close-and-personal view of a full Tilapia caused us some mild ichthyophobia, so ordering from the vegan menu became exceedingly appealing to this veg-leaning flexitarian. And Akadi is not half-assing their veg options at all. The vegan menu is borderline legendary to Portlanders—with the new menu's announcement, Akadi also assured diners "there will always be a vegan section to the menu."
A starter plate of alloco, AKA fried sweet plantains, were expertly caramelized and even more delicious when dipped in the tomato-ginger-garlic-cayenne Akadi sauce. Portions of the flavorful tchieboudjen with mushrooms (instead of animal protein) were generous, deeply pleasant, and came served with harvest veggies like carrots and potatoes, green bissap (spinach and okra) sauce, and tamarind paste.
It's no wonder the pumpkin and veggies peanut stew is such a crowd-pleaser—it's wonderful. And though it comes with riz blanc (white rice), an additional $3 can secure some pounded yam fufu, plantain, or paleo- and keto-friendly purple cabbage fufu.
Akadi's new home has a semi-industrial tin exterior, but the interior is the opposite: natural, warm, and bright. A plethora of spider plants and ferns hang from exposed wooden beams, across the dining room's vaulted ceilings. Zine-lovers may recognize the room as the old IPRC space and likely marvel at the achieved vibe, which lends itself to gatherings and even watching sportsball at the gorgeous, newly-built bar.
The drink menu advances a bevy of South African wines, that ever-popular Star Beer, and cocktails that showcase fruits—like guava and soursop—that are popular in West Africa. In the summer, the space hosted regular live music shows of jazz, salsa/timba, R&B and neo soul, and more. Keep an eye on their restaurant's Instagram for show announcements.
A few minor qualms: The spot seems to still be adjusting to their popularity. Come early to secure your favorite dish. On two recent visits, items like the tchieboudjen, vegan pastel, gteau (plantain bread pudding), fufu yams, and a design-forward dessert by Muse Cheesecakes were out. Longtime regulars are still waiting to see the fan-favorite spicy okra and spinach stew return to the menu.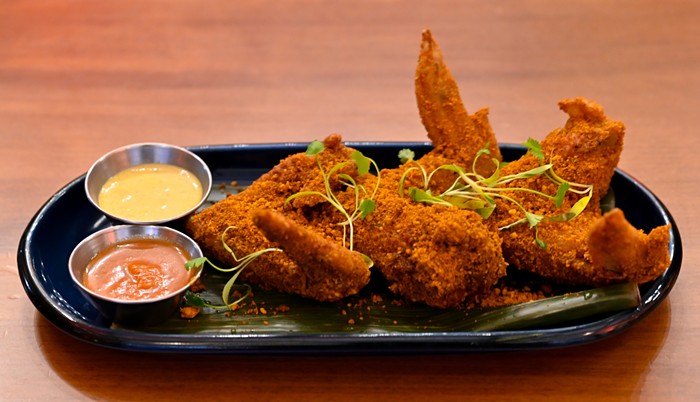 Family-style is the best approach to work your way through the tastes Akadi has to offer, but friends are family too. We just recommend coming with a group so you'll be able to team up and devour a plate of sautéed veggies yassa in a French onion mustard sauce, then still order plenty of sides—a no-brainer for first-timers.
Grab a dense ball of fufu to try your hand at molding it with your fingers into a bowl shape that you can scoop and pair stews with. One thing's for sure: Akadi boasts the type of compelling and unique menu that you must try, preferably in the company of skilled adventurous eaters, friends, and family.
---
Akadi PDX, 1001 SE Division, Wed-Sun 5 pm-10 pm, akadipdx.com