There's something about Street Disco that makes me want to shout, "I"m back, baby! I'm back!" and throw my arms in the air like George Costanza when he regains his mojo.
Street Disco, an industry fave pop-up, finally opened its brick-and-mortar this fall, and everything from the neighborhood (Foster-Powell), to the dishes (ever-changing and inventive), and the wine (tons by the glass, quirky) points to a sign that independent restaurants are back, baby.
It's young, it's loud, it's a little crowded, and it's a lot of fun.
The efforts are headed by co-owners Kyle Christy, 33, former Dame head chef, and former Dame server Jessie Manning. The former Char Pizza space on Southeast 60th just off Foster is separated into a dining room with cozy booths and smaller tables and a bar side with serious retro vibes thanks to the arched painted brick windows and walls. 
Reservations are recommended; I suggest two spots at the chef's counter, where you'll watch the small, energetic team assembling plates of pork croquettes and grilling orders of fresh bok choy over a yakitori grill. It's the best way to get a preview of all the plates you'll want to order, and also to earmark which ones you'll want next.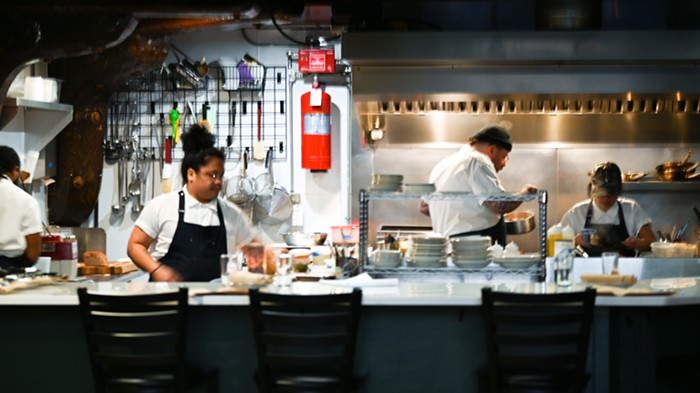 But if a plate is really calling to you, go ahead and add it to your night's order, because items on Street Disco's menu disappear faster than a bag of coke at Studio 54. On my first trip, we snagged one of the last servings of ribs, lacquered in a sticky-sweet sauce and dusted with pepitas, sesame seeds and other crunchy goodness, a porcine "everything but the bagel" approach. A few weeks later, it was gone, along with several other dishes we tried.
It's partly because Christy and Sous Chef Bakari Berry cook with whatever's seasonal and coming in from farm suppliers, and also partly because they've constantly got new ideas. It's also partly because Street Disco has been swamped with customers out of the gate, and it's been difficult to keep some items in stock. 
Typically, the whole back half of the menu is devoted to tinned fish, served with house pickles and deep fried saltines that—I swear to Triton, Greek god of the sea—make what's a usually dry, lifeless cracker nearly steal the whole show, even against succulent La Brujula yellowfin tuna belly packed in olive oil. But on a recent Saturday night, they'd run out of conservas, so we had to settle for super briny fresh oysters on the half shell, served simply with lemon and hot sauce (queue world's smallest violin). 
Plates are meant for sharing, and a meal can easily span the globe, grabbing Italian inspiration for a cavatelli pasta with a creamy rabbit ragu, over to Hawaii, where huge head-on Kauai shrimp are given varied treatments, depending on mood, caramelized with fish sauce one day, served with a chili and Ricard liqueur-spiced oil the next. Either way, they're lovely, messy, and served with a wet nap to wipe off your fingers after peeling away the shell.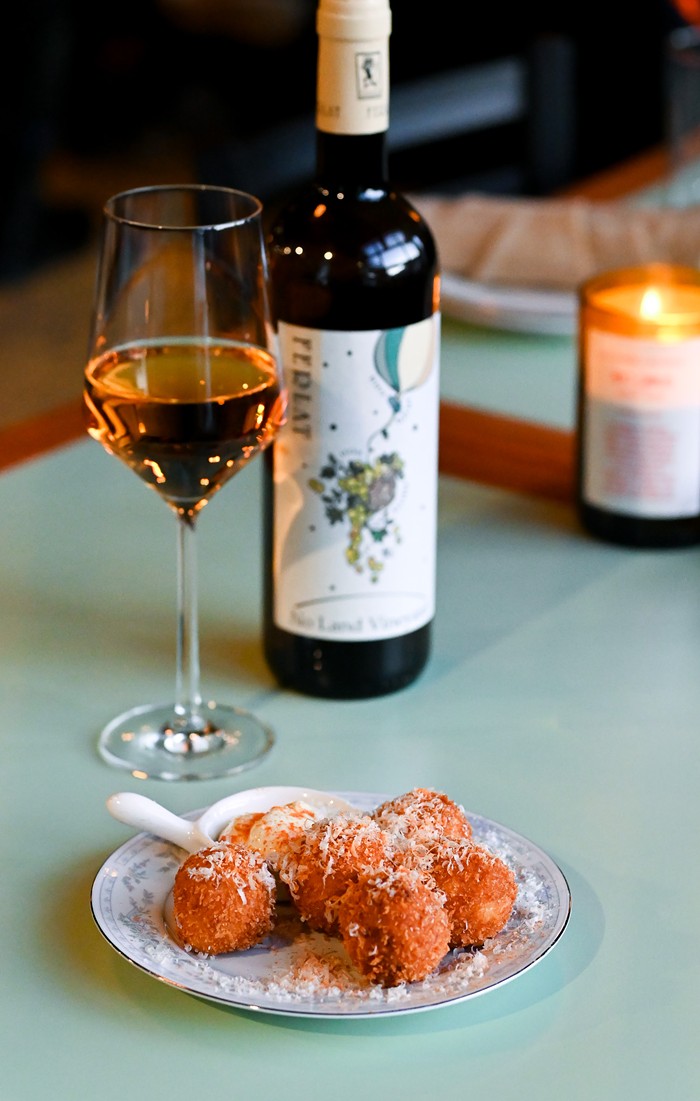 The bottle list hovers mostly in the $40-$50 range, with plenty of skin contact orange wines, a few pet nats and a range of reds, including an intriguing and rich blend of pinot noir and nebbiolo from Redolent in the Willamette Valley. Street Disco General Manager Maya Carlile took her skills from years at Fermenter and makes subtle and special kombucha, a great option for those who aren't indulging in alcohol.
Some things, however, definitely are menu main fixtures. Count on a mushroom plate of some sort, most recently Beech mushrooms fried to a perfect crisp. Now listen to this technique: the mushrooms are dusted with a dehydrated fermented tomato powder that doubled the umami, with a cup of "honey" mustard, where the honey is actually reduced pear juice, on the side. Chicken nugget, whomst? 
A lamb and beef meatball in sauce is always present, and so is an impressive lamb neck, which arrives on a sheet pan to jealous stares from all around you. Just one small cut into the meat, and it all falls away, revealing juicy bites ready to dip in the au poivre sauce that Christy makes with yogurt, making it a lighter, tangier accompaniment than the usual cream sauce. Throw some lamb onto a hearty slice of Cafe Olli bread served on the side and top with the cooling mint and herb garnish, and wash it down with a gulp of chilled gamay.   
Box up your lamb if necessary, because you're also going to want to save room for the burnt Basque cheesecake, served on my last visit with a pine bud syrup and a dusting of salt. This style of cheesecake is cooked wrapped in paper at a high temperature, creating a caramelized sugar outside, and a light, fluffy, just-set cake within. Street Disco's kitchen crew competes to see who makes the best version, and the winner takes charge of baking them until they are unseated. 
Street Disco is just doing its thing—with no major restaurant group or flashy big-name chef behind it—and that's a risky venture in today's climate. I'm thrilled to see it's working out.
---
Street Disco, 4144a SE 60th, Thurs-Mon 5 pm-10:30 pm, street-disco.com, reservations recommended