There's nothing better than the feeling of glancing at a menu, making a little nod to your dining companion, and saying: "We'll take one of everything. And a bottle of wine."
That's the way to eat at St. John's Pastificio d'Oro, where co-owner and chef Chase Dopson hand rolls a precious few portions of incredible pastas four nights a week. The menu is simple, but dynamic: two handmade pasta dishes, typically from Northern Italy, that change every week. Usually, there's one vegetarian and one meat option. 
Like many new restaurants in 2023, Pastificio's creation was shaped by the pandemic. Dopson, an alum of Jaqueline and Bistro Agnes, took on learning to hand make and roll pasta as a passion project in 2020. In 2021, it bloomed into a pop-up, before taking over the former Gracie's Apizza spot on North Lombard late last year.
Dopson and his (business and life) partner, Maggie Irwin, take a page from the Little Red Hen fable, in regards to the menu. Everything, besides the charcuterie, cheese, and bread (dense fresh slices from Cafe Olli to soak up your sauces), is made from scratch. They might not grind the flour, but they do source it from Italy.
Dopson creates some 60-65 portions a day, using a three-foot-long mattarello rolling pin. Once they're gone, they're gone, so I recommend that you're waiting when the tiny, no reservations Pastificio opens at 5 pm. Summer seating on the patio is lovely, as Irwin takes orders at the counter, pouring whatever wines they've pulled for the meal and chatting with each customer like old friends. Diners can also sit at the Garrison next door and add a Aperol spritz to their meal.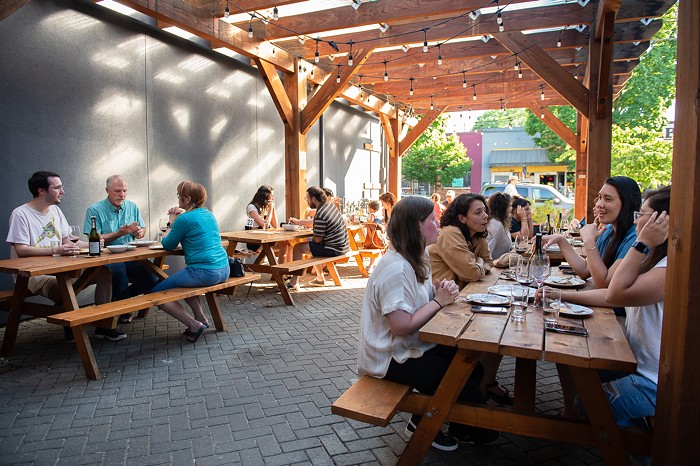 There are two things I have to talk about right away: First, truffle butter noodles. Second, that salad. 
In late May, I plunged my fork into a nest of Tajarin al Tartufo Nero, finely hand-cut egg noodles, topped simply with cultured butter sauce and shaved Italian black summer truffles. Salty and creamy, with the gentle funk of truffle, it was like the bowl of buttered egg Kluski noodles my grandmother made for me as a child, but elevated to an 11. It was a comforting hug, followed by a sexy slap.
Always order the salad, made by Irwin. Featuring hyper-fresh greens that rotate with availability and season, the star of the show is the wildly addictive honey dressing. It starts sweet, but travels to the sharp, salty and sour parts of your tongue as you go on. As Irwin wrote on Instagram, the secret is Corvallis' Oso Honey Farm. Their honey, she wrote, is "concentrated in flavor, is herbaceous, fragrant, and coats your throat the same way really good olive oil does." It's made with honey, white wine vinegar, microplaned garlic, whisked by hand, with salt and pepper added to taste. It's so good she was selling it pre-made for a while, but couldn't keep up with the demand.
An early spring visit brought Agnolotti dal Plin al Burro e Salvia, small ravioli filled with beef, pork, rabbit, and spinach, filling the thin pasta into a nice pillow without bursting. The rich pasta was offset with a sauce of cultured butter and sage, topped with Grana Padano cheese. (You'll also see this meat combo turned into a ragu on some nights). The only slip I've had was a slightly too doughy gnocchi, topped with a Castelmagno cheese fonduta sauce and toasted hazelnuts for crunch.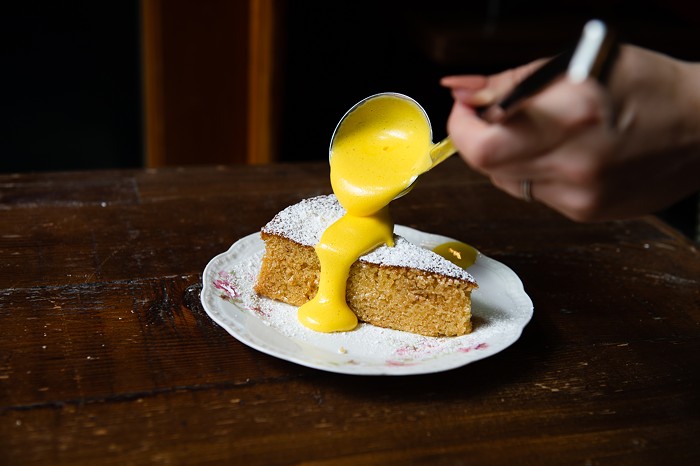 If the dense, not-too-sweet Piedmontese hazelnut cake is on the menu, snag it. But then again, if you're not solo, you're ordering everything on the menu anyway. The extreme handmade and farm-to-table ethos at Pastificio could have turned out too Portlandia-precious, but in Dopson and Irwin's capable, flour-dusted hands, it's instead a new St. John's landmark.
---
Pastificio, 8737 N Lombard, Thurs-Sun, 5 pm to 9 pm (or sell out), doropdx.com