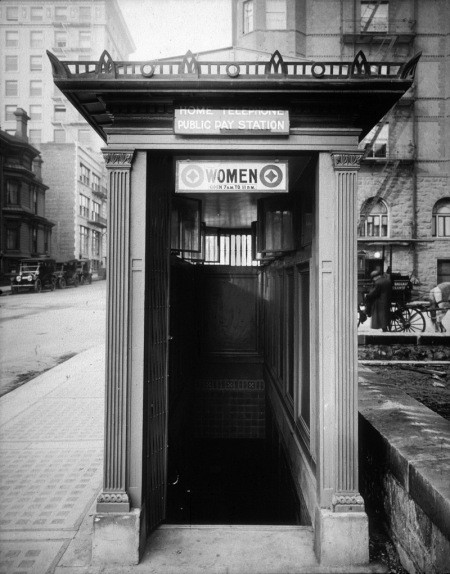 A SW 6th and Yamhill enterance. Come on down!

Did you know? Public toilets have always been a hit in downtown. The city's recently been caught up in the heavily marketed "Portland Loos"—the downtown public bathroom brigade led by Commissioner Randy Leonard—but little has been leaked on the interesting history of the city's public restrooms. I like to call them the Shanghai Tunnels of toilets (and not because people tossed you into them when you were blitzed).
In 1913, the city opened a handful of public restrooms, or "comfort stations," located underground downtown. They were incredibly classy, with porcelain tiles, comfy seating areas and a lovely ventilation system. Of course, the ruffians of the 80s led these to closure. I'm curious if they were completely filled in or remain creepily in good shape under foot. Here are a few photos of the old poo dungeons (clarification: they were never called this).
The golden age of public restrooms
Nothing like a bathroom ventilation vent/drinking fountain combo