On the morning of November 27, 2010, Portlanders woke up to disturbing news: someone, the FBI said, had tried to bomb the annual Christmas tree lighting ceremony at Pioneer Courthouse Square. 
According to federal law enforcement officials, the suspect, Mohamed Osman Mohamud, was arrested in a sting operation after trying to detonate a car bomb at the crowded event. Thanks to the FBI's intervention, the bomb had no explosive components.
Mohamud was arrested and charged with a single count of attempting to use a weapon of mass destruction. In late January of 2013, an Oregon jury found him guilty. Several months later, he was sentenced to 30 years in prison.
For many who lived through it, the attempted bombing is now a distant memory—a frightening blip in a long-ago holiday season. 
But for others, the circumstances that led to Mohamud's arrest remain extremely troubling, raising questions about the integrity of the FBI and about who got the benefit of the doubt in a country still recovering from the trauma of the September 11 attacks, while still at war in Iraq and Afghanistan. 
Mohamud was born in Somalia. He came to the United States as a refugee and grew up in Beaverton. He graduated from Westview High School and attended Oregon State University before dropping out just months before the attempted bombing. 
In 2008, Mohamud had a run-in with security officials at London's Heathrow Airport that he reportedly believed was a result of racial and religious profiling. After that incident, Mohamud allegedly began registering an interest in Islamic fundamentalism—corresponding with a man who ran a website for US supporters of al-Qaeda and considering travel to Saudi Arabia. 
Just over a year later, in November of 2009, an undercover FBI agent contacted Mohamud over his email account. The following June, another undercover agent using the alias "Youssef" made contact and established a relationship with Mohamud—asking him what he was "willing to do for the cause." 
The FBI agent presented Mohamud with a range of options, including martyrdom, and eventually supplied the financial resources, equipment, and training necessary for the plan to bomb the Christmas tree lighting ceremony. 
According to FBI officials, Mohamud was undeterred in his commitment to the bombing plot even after he was told that children would be killed. After he attempted to detonate the bomb that he didn't know was harmless, he was arrested.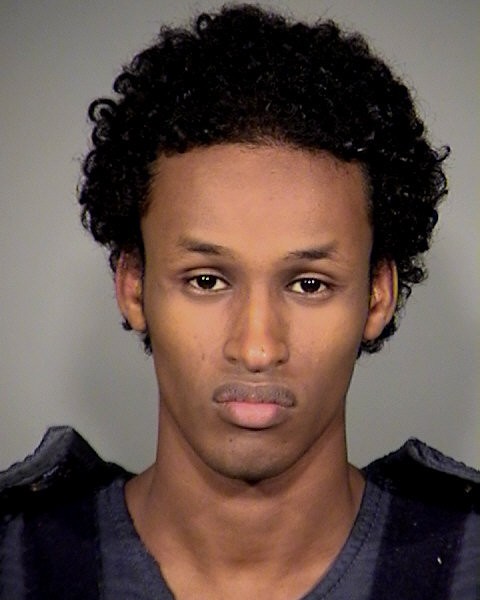 But almost immediately, an array of civil rights groups protested—arguing that Mohamud had been taken advantage of by FBI officials more interested in locking him up than in steering him away from radical violence. 
The extent to which the FBI pushed Mohamud toward the attempted bombing remains contested. According to his defense, Mohamud's period of radicalization was in late high school—before he left the Portland area for Corvallis and, according to his attorneys, became less radically inclined.
At his trial, Mohamud's public defense attorneys argued that he was entrapped by the FBI. The evidence they presented included an email from an FBI official who wrote to his supervisor stating that Mohamud "appears to be a confused college kid that talks mildly radical jihad out one ear, and typical 18-year-old college kid (drugs, sex, and drinking) out the other." 
At that point, FBI emails suggested that the bureau was considering developing Mohamud as a source of information—and was not, at least overtly, concerned that he might be imminently planning a terrorist attack himself. They also found him to be "manipulable." 
But the standards for what legally qualifies as entrapment are narrow, and the jury in Mohamud's case—which included a member whose young children were at the tree lighting ceremony—found him guilty.
Mohamud has now been incarcerated for nearly a decade-and-a-half and is approaching the midway point of his sentence. He is currently being held at the Federal Correction Institute in Sandstone, Minnesota, a low-security prison situated between Minneapolis and Duluth. The Federal Bureau of Prisons did not respond to the Mercury's request to speak to Mohamud for this story.
According to legal filings, Mohamud has thus far survived his period of incarceration with grace. He has reportedly disavowed any sort of violent ideology, tutored fellow incarcerated people on anger management, taken public speaking classes, and helped devise a deradicalization program with other prison personnel.
But none of that seems to be helping Mohamud in his efforts to leave prison before the end of his sentence. 
In May of last year, Mohamud's current attorney Per Olson filed for his compassionate release from prison citing the toll of the COVID-19 crisis and his client's distance from his family as reasons why he should be allowed to leave incarceration. 
But the federal government fought back, arguing that Mohamud should be left in jail, in part to deter other would-be criminal actors. 
"Detonating a bomb was the defendant's plan, as was the crowded location and the timing during a major holiday event… Given all these facts—and a desire to deter other potential terrorists—the sentencing judge selected a 30-year sentence," Assistant U.S. Attorney Amy Potter wrote. "Nothing presented by defendant warrants immediate release or even cutting that sentence in half."
The judge, U.S. District Judge Marco A. Hernandez, sided with the government—ruling that Mohamud had not presented enough "compelling" evidence as to why he should be released. Hernandez also sided with the government in October, rejecting Mohamud's latest attempt to secure a new trial on the basis that the judge in his initial case should have recused himself given that he had a family member and a law clerk at the tree lighting ceremony.
Olson said he plans to appeal the latest decision and wants to continue trying to secure Mohamud's release from prison. 
"This isn't over," Olson told the Mercury. "There's a procedural hurdle I need to overcome, but I am going to appeal this to the Ninth Circuit."
••••• 
In 2015, two legal scholars in New York conducted a study of how many post-9/11 terrorism convictions had been the product of entrapment. They found not only that entrapment was "quite widespread in post-9/11 terrorism cases," but also that fewer than ten percent of terrorism prosecutions likely thwarted genuine terrorist threats. 
"In light of these findings, the Article recommends that authorities rethink current counterterrorism strategies, concentrating on passive surveillance instead of attempts to coax law-abiding Muslims into terrorist schemes, and shifting more resources toward preventing right-wing terrorism," the authors wrote. 
Eight years later, there is no indication that the government has reckoned with the extent to which an atmosphere of rampant Islamophobia affected law enforcement approaches to counterterrorism following the attacks of September 11—all while people like Mohamud remain sitting in prison, biding their time until they can get out and attempt to rebuild their lives. 
Jesse Norris, one of those authors, wrote in a subsequent publication that the post-9/11 atmosphere gave "rise to a cultural and political economy of convictions in which a type of racialized police misconduct—itself a state crime—is normalized and rewarded."
Mohamud is just one of a number of people whose lives were likely unalterably changed by that political atmosphere. Barring legal intervention, Mohamud won't be released from prison until 2040—just prior to his 50th birthday. 
For now Mohamud remains incarcerated in Minnesota, apparently urging others not to travel down the same path he did. 
"If released, Mr. Mohamud would continue to do these same good works in the community," Olsen wrote in a 2021 court motion. "He would return to Oregon and live with his mother who still resides in the Portland area."