FOR THOSE WHO WERE SLEEPING, last summer around this time Portland's EYRST collective was celebrating the launch of their new label with a show. It was also branded as former Trail Blazer Martell Webster's breakout rap show, but I personally didn't give one ounce of a fuck about his ex-NBA status—the party was the place to see, be seen, network, and mingle with the Portland hip-hop community.
Sponsored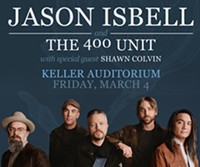 Jason Isbell has established himself as one of the most respected songwriters of his generation. Don't miss Jason Isbell and the 400 Unit, March 4th at Keller Auditorium!
Everyone was pretty curious to see what the new label was all about. It seems like just yesterday we were watching Ripley Snell manually brew coffee mid-set before Blossom's jazzy, entrancing vocals promptly smoothed us out. I quickly grew to like Webster as a performer, and appreciated how humble yet serious he was about his music career. The show also gave me an opportunity to see what's so tremendously impressive about Myke Bogan. His succinct rhymes boast all the same properties as a good sativa: They're simultaneously energizing and mellowing.
Since the launch, the EYRST artists have continued to move as a team. This year they travelled to SXSW as a pack, and consistently show up at each other's shows around town. They really do seem like a little family. The One Year Celebration show this Friday, August 12, puts the control in the hands of the artists themselves, so we're in for plenty of surprises and group performances. Ripley Snell will take the stage again, and this year the Last Artful, Dodgr has been added to the bill. The party will also double as an EP release show for Webster, whose highly anticipated Emerald District—produced by Jake One—drops this Friday. The album's lead single "Told 'Em" is a radio-ready anthem featuring Kokayi and Phil Adé that I can't wait to hear live.
Fresh off performances at PDX Pop Now! and Pickathon and hosting the 40 Ounce Bounce day party, Blossom is performing shows on top of shows, as usual. The Trinidadian soul singer is always the light of the party, and she'll likely perform cool tracks like "Charge It to the Game," reggae-influenced "Black Magic Woman," and '90s-vibed "Love's Comin Atcha" off her upcoming project.
Another rapper on the bill who I'm always excited to see is EPP, especially because his song "Sammich" is ideal for my twerking playlist, and it's also become the unofficial theme song/encore at the Thesis. First Thursdays just don't feel complete until we bounce heavy to it. For the One Year Celebration, EPP will presumably share the stage with labelmate and Los Angeles producer Calvin Valentine.
Also on the bill is Maze Koroma, who also performed at PDX Pop Now! this year, and is one of the youngest artists signed to the EYRST label. Hopefully we can get a fresh helping of the collective's new song "Stray Bullets," which includes beats by Calvin Valentine and rapping by Maze Koroma and EPP. While Myke Bogan unfortunately isn't on the lineup, I am told he'll be in the building. I can't help but hope he'll join forces with the Last Artful, Dodgr and Neill Von Tally to form their supergroup Rare Treat in a live setting.
While I do recommend you buy tickets in advance to avoid being a victim to the sellout, showgoers can get in the door for just $8 (arrive early!) with a can of food. All food contributions will be donated to Portland Homeless Family Solutions. Regardless of what other surprises are in store, the party, which takes place at historic Southeast venue the Evergreen, will be well worth the low price of admission. As Sean McDonald, a representative from the label puts it: "Concertgoers need to know local art, music, energy, producers, musicians can't excel without the audience to take it all in."