THE MEMBERS OF San Antonio's Fea—an acronym for "fuck 'em all" and the Spanish word for "ugly girl"—play commanding and unabashedly political queer Chicanx punk that's rooted in their bicultural upbringings and riot grrrl feminism. Their name is both reclamation and affirmation: "We wanted to own the word Fea," says bassist Jenn Alva. "So what if we are?"
Sponsored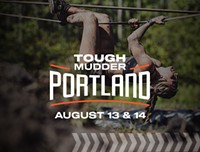 Lock in your summer adventure, Portland. Join us for world famous obstacles over a 5K or 10K distance.
Over the summer the band released a self-titled debut on Joan Jett's Blackheart Records. With a team of legendary producers that included Laura Jane Grace of Against Me! and Alice Bag of the Bags, it's no surprise that Fea's sound snarls with high-quality ferocity.
But their new record was a long time coming—drummer Phanie Diaz and Alva first bonded over music in middle school, when they discovered a shared love of Nirvana. Determined to start a band, the duo enlisted Diaz's sister Nina and became Girl in a Coma, which Alva describes as "angsty alternative." They had a successful run, and even opened for the likes of Morrissey and Tegan and Sara, but amicably split so Nina could focus on her solo career. Alva and Phanie saw an opening, and drew upon the influences of their riot grrrl-fueled youths to actualize Fea once and for all.
Alva describes the band's hometown of San Antonio as the convergence of Texan, Mexican, and American culture, and explains that certain aspects of each can be heard in their music. Though the original lineup was all female, their intentions haven't changed with Letty Martinez on vocals and Aaron Magana on guitar. On the track "Feminazi," they reclaim one of 4chan's favorite slurs and proudly announce their feminist ethos in several languages, while rebuffing misconceptions with the phrase "I don't hate men/I just love women!"
"Feminazi" and other songs on Fea's new record feature Spanish lyrics, but only half of the band grew up speaking the language.
"Letty really wanted to do Spanish," says Alva. "Phanie and I don't speak it well, but it was something that we wanted to do. Our parents and family all spoke Spanish, but they didn't feel the need to teach us. A lot of our generation has the same story."
"Yo No Hablo Español" illustrates the divide that can occur within Latinx communities between those who can speak Spanish and those who cannot. Instead of feeling ashamed, the band reframes the statement in the song's title as a tool for opting out of oppressive conversations.
Fea picks words wisely, so you'd better listen up. Alva encourages other women to amplify their own voices, and "start a band... start a collective of something you really like to do... start a zine... start a support group... find other girls in your town, and start a revolution!"
Alva's call to action came just days before the presidential election. After the grim results were announced, Fea took to Facebook to assert their continued resistance: "It is now more important [than] ever that as a queer, feminist, Chicana punk band we continue to make the music we do [and fight] the good fight of equality for all. Now is the time to love, stay strong, and support each other."