Super Pick: Monday 4/10
JAY SOM, THE COURTNEYS
(Doug Fir, 830 E Burnside) It's wise to be wary of buzz bands. These days it hardly matters how much time you spend honing your craft—a quick ascent to internet renown typically has more to do with how much you're paying a publicist. The indie umpires' new model for achieving critical acclaim in the record industry is a Frankenstein monster recycled from payola's bolts. 
Jay Som, the solo moniker of Bay Area songwriter Melina Duterte, is one of the first artists in a long time whose overnight success feels completely organic. Duterte's backstory gives stock to the layperson's romantic and anachronistic concept of A&R: Duterte casually uploads nine tracks of sterling, personal guitar-pop to Bandcamp that someone influential stumbles upon and realizes is fucking sick. Months later, the songs are repackaged and "officially" released under the name Turn Into on San Francisco label Polyvinyl, and everyone with even a basic interest in songs and/or guitars concurs. 
Sponsored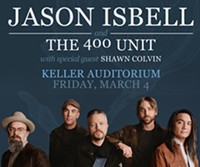 Jason Isbell has established himself as one of the most respected songwriters of his generation. Don't miss Jason Isbell and the 400 Unit, March 4th at Keller Auditorium!
Jay Som's latest record, Everybody Works, arrives less than a year after the release of Turn Into, amid critical scrutiny and the eternal specter that surrounds sophomore LPs. It's a better album in virtually every sense. The crystalline, dreamy production adds an extra layer of pensiveness to Duterte's already downcast musings. "Last time I was angry at the world," she says in the new record's official bio. "This is a note to myself: Everybody's trying their best on their own set of problems and goals. We're all working for something." On Everybody Works, Duterte is in pursuit of that something—she's pacing the lonesome beaches of her psyche with a metal detector. 
The album's best moments are when Jay Som is right on top of the big haul. Highlight "The Bus Song" begins with chugging acoustic guitars and Duterte's delicate vocals, before the track erupts into a jangling pop anthem. "Why don't we take the bus?" Duterte asks after noting that her car is on the verge of breaking down. "You say you don't like the smell, but I like the bus/I can be whoever I want to be." It's a quaint celebration of something totally mundane, and that's the point: Identifying the beauty in boredom is the closest you'll ever get to existential contentment. MORGAN TROPER
---
WEDNESDAY 4/5
DESIIGNER, ROB $TONE, SKI MASK SLUMP GOD, 16YROLD
(Crystal Ballroom, 1332 W Burnside) Most of my criticisms of Desiigner are rooted in the fact that he's only 19 years old. The Brooklyn rapper often seems too referential of older greats (Future kind of has a monopoly on those molasses-speed bars right now), and his lyrics aren't particularly nuanced. But Desiigner's finding himself on a highly visible platform, which is both a blessing and a curse for someone so young. He rose to prominence after being signed and sampled by Kanye West, then found massive success with "Panda." Even though his 2016 debut New English leaves a lot to be desired, Desiigner's got staying power—if you doubt that, watch the acoustic version of "Timmy Turner." With his beautifully dark voice, I hope age and guidance helps refine the young rapper's musical focus. EMMA BURKE
WIRE, GOLDEN RETRIEVER, PUBLIC EYE
(Dante's, 350 W Burnside) Casual observers are no longer forgiven for making the common mistake that Wire's legacy extends a mere three albums long. Despite the British post-punk group's remarkable opening gambit—the groundbreaking work in 1977's raucous Pink Flag, 1978's relatively relaxed Chairs Missing, and 1979's outright numb 154—Wire went on to expand upon those breakthroughs with a very worthy second act in the late '80s and a third excellent phase that we're now in the middle of. The Londoners' brand-new one, Silver/Lead, marks the 40th anniversary of their first-ever show (April 1, 1977), but once again Wire have proven themselves a band of the here and now. Silver/Lead finds the group riding the electric currents that fueled their youthful endeavors, cracked open by the wisdom of age and the hollow, outraged despair that we still haven't figured how to fix this mess of a planet yet. NED LANNAMANN
THURSDAY 4/6
THE THESIS: DEAD PHONE DUMMIEZ, D3, MOTHRA, VERBZ
(Kelly's Olympian, 426 SW Washington) After collaborating on two shows with Portland's new MOGO music festival last month, the Thesis is back to its regular schedule. For April's installment, the monthly hip-hop showcase's lineup boasts both old and new local talent, from D3—who's brought his raspy bars to the Thesis before—to Mothra, who'll grace the Kelly's Olympian stage for the first time this Thursday. CIARA DOLAN
OUT FROM THE SHADOWS III: THE SECRET LIGHT, SHADOWLANDS, OTZI, ECHOLUST, MORTAL BOY, VICE DEVICE, BELLICOSE MINDS
(Tonic Lounge, 3100 NE Sandy) For the past five years, one of the most popular shows on local independent radio has been XRAY.FM's "Songs from Under the Floorboard," a weekly glance into the varied post-punk and darkwave scenes that are still going strong around the world after the first blushes emerged in the late '70s. In recent years, host Dave Cantrell has applied his curatorial instincts to a festival celebrating his musical drug of choice called Out from the Shadows. This weekend will see the return of this event, held at the freshly rescued Tonic Lounge and featuring a rich array of sounds from Portland and beyond. Highlights include the sexy grind of the appropriately named Puerto Rico-based band Lust Era, the small storms of doom-pop generated by Brooklyn duo Winkie, and local acts including Vice Device, Shadowlands, and LUNCH. ROBERT HAM
FRIDAY 4/7
DIRTY REVIVAL, MIDTOWN SOCIAL
(Mississippi Studios, 3939 N Mississippi) Apparently I'm late to discover Portland's stellar seven-piece, Dirty Revival. Led by powerhouse vocalist Sarah Clarke, the fleshed out band plays "vibrant neo soul," but their classical and original renditions are infused with funk and hip-hop as well—guitarist Evan Simko occasionally hops on the mic to deliver verses as the group's sole MC, Evv N Flo. The band sounds like the ultra-mixed lovechild of Sharon Jones and the Dap Kings, Farnell Newton, Jill Scott, and The Roots. Just take a quick gander at their sax- and trumpet-studded performances on YouTube and you'll be pissed you didn't hear/see them sooner. JENNI MOORE
OUT FROM THE SHADOWS III: SEX PARK, THE ELECTRIC WEST, WINKIE, SECOND STILL, SCULPTURE CLUB, MAYFLOWER MADAME, LUNCH, SHADOWHOUSE
(Tonic Lounge, 3100 NE Sandy) See Thursday's preview.
HANG THE OLD YEAR, SPIRIT OF THE BEEHIVE, FLOATING ROOM, ENTRESOL
(Black Water Bar, 835 NE Broadway) Any work by Portland musician Maya Stoner is worth diving into, from the cultishly beloved indie rock of the now-defunct Forest Park to the shoegaze-pop of the short-lived Sabonis. Stoner's new project Floating Room—which also includes Drowse's Kyle Bates (guitar, synth, sampler) and Alec van Staveren (bass)—is perhaps her most experimental. Last year the band released its debut LP, Sunless, on Portland's Good Cheer Records. (Stoner is the label's president.) The songs sound like they were born in an attic filled with dust and cobwebs, where you could find a magical old board game or treasure map among strange relics of the past. On Sunless, Floating Room creates a half-empty, dreamy, but ultimately real world—one where the validation of sadness is a step toward understanding. CAMERON CROWELL
SATURDAY 4/8
OUT FROM THE SHADOWS III: ARCANE, BAND APARTE, SPIRIT HOST, LUST ERA, SILENCE, KOBAN, ALL YOUR SISTERS
(Tonic Lounge, 3100 NE Sandy) See Thursday's preview.
DUDE YORK, PAWS, TALKLOW
(Analog Café, 720 SE Hawthorne) Plugged-in guitars, potent melodies, and punky energy. What's better than that, rock 'n' rollers? Not much, and tonight Portland welcomes two of the best young bands doing it these days. Dude York is from Seattle, and their new album Sincerely finds the trio stepping up its game significantly. After unsuccessfully trying the home-recorded route, they worked in a real studio with a real producer and injected their Weezer-flavored bash 'n' pop with some serious hi-fi muscle. And last year, PAWS (from Glasgow, Scotland) released No Grace, their third straight LP of fuzzy, thoughtful pop-punk, this time produced by Mark Hoppus of Blink-182. Two of the most reliable DIY faves have jumped in with both feet and made a big splash without sacrificing what made them so lovable in the first place. Tonight, they play arena-ready anthems in the cozy confines of the Analog Cafe. BEN SALMON
MOZART'S REQUIEM: OREGON SYMPHONY, PORTLAND SYMPHONIC CHOIR
(Arlene Schnitzer Concert Hall, 1037 SW Broadway) Sitting back and allowing the Catholic Mass for the Dead to wash over you might not be a typical evening out, but in the hands of Wolfgang Amadeus Mozart and our hometown orchestra, prepare yourself for greatness. At the end of 1791, as he lay bedridden with horrific symptoms that would soon overtake him, the 35-year-old composer went balls-out to commit as much of the ancient liturgical text as he could to his own sublime, eternal music. Tonight through Monday, four world-class vocal soloists join members of the Portland Symphonic Choir to bring this wondrous work to life, so whether you are a devout Catholic pondering the mysteries of Lent or an atheist just looking to escape Netflix for one night, this opportunity for profound self-reflection should not be dismissed lightly. Bonus: The program opens with Igor Stravinsky's brilliantly intriguing Symphony in Three Movements. BRIAN HORAY
LAST GIANT, THE HAGUE, BLIND SWORDS
(Kenton Club, 2025 N Kilpatrick) There's a bone-rattling quality to Last Giant's sophomore album, Memory of the World. Songwriter Ryan Heise's (ex-System and Station) heavy-handed riffs offer modern rock decadence, gladly wading in the pools of '70s prog on songs like "The Comedian" and contemporary blues on "Toys for the Devil." The secret ingredient for the Portland trio is its obvious attention to the details, and Memory of the World boils over with interesting guitar moments, melodic interludes, and catchy harmonies. It's the type of rock 'n' roll album that in less finicky times would've marked the first rung in a ladder of stratospheric success for a band as talented as Last Giant. With songs as nuanced (if a bit milquetoast) as "Inventory," the band's malleability is perhaps its strongest asset. RYAN J. PRADO
VANESSA CARLTON, TRISTEN
(Doug Fir, 830 E Burnside) Were you alive in 2002? If the answer is yes, I must warn you—it's very likely that your ears have a secret chamber full of inflatable armchairs where the bright, twinkling, and insidiously catchy piano melody that threads through Vanessa Carlton's mega-hit "A Thousand Miles" plays endlessly on a Sony CD Walkman. Her alt-pop anthem comes complete with feverish strings, an edgy guitar riff, and the unforgettable but unremarkable line "I would walk a thousand miles if I could just see you tonight" (not quite as far as the Pacific Crest Trail or Route 66, but still pretty far). Though it's her breakthrough single, "A Thousand Miles" was just one of the tracks on Carlton's debut, Be Not Nobody, which was followed by four more full-length studio albums, most recently 2015's Liberman. And you know what, it's actually really good. Her folksy songs still center on flushed piano melodies, but with earthier elements and cold, glass-like production, as if they're trapped under an iced-over lake. For example, the beautiful "Willows" swirls around in mystical fog, but it's grounded by a foot-stomping beat. There are approximately 2,349 miles between Portland and Carlton's current home base of Nashville, Tennessee—let's thank the gods of 2002 (lookin' at you, pre-breakup Britney and Justin) that she's doubling her usual mileage to see us at the Doug Fir tonight. CIARA DOLAN
LORAIN, DENIM WEDDING, ANA LETE, FINGER PAINTING
(Turn! Turn! Turn!, 8 NE Killingsworth) In Lorain's previous incarnation, Grand Lake Islands, Portland songwriter Erik Emanuelson plotted hazy Americana rhythms, conjuring the narcotic folk paces of Magnolia Electric Co. Those muses still cast a shadow, though Lorain (named after Jason Molina's hometown in Ohio) has found solid ground with an established cast of musicians instead of the turnstile band lineups of the past. The band—also composed of drummer Bob Reynolds, and bass/keyboardist Joseph Anderson—has been in the studio tracking their debut, dubbed Through Frames. Early indications from songs like "All That Much" point to Emanuelson's strong grasps of woozy catharsis, à la Jay Farrar. Per Emanuelson, the new record is inspired by modern, urban isolation, and how the various trappings of technology can allow us to feel simultaneously close to and disconnected from others. RJP
SUNDAY 4/9
MITSKI, KADHJA BONET, STEADY HOLIDAY
(Wonder Ballroom, 128 NE Russell) Since the release of 2016's Puberty 2, Mitski has ascended to the level of full-blown indie rock titan. If you need proof, just watch the video for her anthem "Your Best American Girl." But this bill's a triple threat, with the powerful rawness of Mal Devisa and Kadhja Bonet's psychedelic soul, which sounds inspired by the fluttering gold-tone vocals of Minnie Riperton. CIARA DOLAN Read our interview with Mitski.
RADIOHEAD, DUDU TASSA AND THE KUWAITIS
(Moda Center, 1 N Center Court) The last time Radiohead played Portland was in 1996, when they were a recovering one-hit wonder supporting an overlooked second album. The English five-piece would go on to massive artistic breakthroughs with their next two albums before settling into the role of avant-rock elder statesmen, but Portland hasn't seen them since before "Paranoid Android" was a glint in Thom Yorke's googly eye. Recent media coverage of the so-called 20th anniversary of OK Computer—which didn't actually come out in the States until July 1997—has drastically overshadowed Radiohead's most recent work, A Moon Shaped Pool, so it's not hard to guess which songs the stans will be most excited to hear. NED LANNAMANN Read our story on Radiohead.
MOZART'S REQUIEM: OREGON SYMPHONY, PORTLAND SYMPHONIC CHOIR
(Arlene Schnitzer Concert Hall, 1037 SW Broadway) See Saturday's preview.
FLESH WORLD, LAVENDER FLU, ARCTIC FLOWERS, THE CAIRO GANG
(The Know, 3728 NE Sandy) Fill a pot to the brim with buzz and echo. Bring to a reverberant boil. Add a pinch of queercore swagger, a smidgen of indie-pop jangle, and a dash of Bay Area DIY. Blend in a healthy dose of dead-eyed sadness. This is Flesh World, a gang of San Francisco scene vets (from beloved underground bands like Limp Wrist, Needles, and Brilliant Colors) who've come together to create a blissfully addictive brand of noisy, punky pop music. Of course, there are lots of bands trying to do that, but few strike as strong a balance of charm and chaos as Flesh World. The band's debut full-length, The Wild Animals in My Life (released on one of the world's great record labels, Iron Lung), was one of 2015's hidden gems. Flesh World will be joined by two local acts who excel in the shadows: psych oddballs the Lavender Flu and post-punk chuggers Arctic Flowers. BS
MONDAY 4/10
JAY SOM, THE COURTNEYS
(Doug Fir, 830 E Burnside) Earlier this year, Vancouver-hailing jangle-pop trio the Courtneys became the first non-New Zealand act to release music on the nation's storied Flying Nun Records label. It's a perfect home for the band's long-awaited sophomore album, The Courtneys II, which nods to the delightfully ramshackle pop that made the label a beacon for like-minded acts of the '80s, while adding a layer of heartbreak and melancholy that lends driving emotional depth to the infectious sounds. CHIPP TERWILLIGER
MOZART'S REQUIEM: OREGON SYMPHONY, PORTLAND SYMPHONIC CHOIR
(Arlene Schnitzer Concert Hall, 1037 SW Broadway) See Saturday's preview.
TUESDAY 4/11
HINDS, TWIN PEAKS, WHITE MYSTERY
(Doug Fir, 830 E Burnside) Hinds are from Spain, but their music transports me to Silver Lake. The all-women band's pleasant doo-wop melodies are perfect for soundtracking Tinder dates at fancy coffee shops or parties where at least one attendee owns Mac DeMarco vinyl. That might sound like a roast, but the music is self-aware and the fun they have playing together is infectious. Hinds' warmth is enveloping, and without a speck of grime. EMMA BURKE
KING GIZZARD AND THE LIZARD WIZARD, ORB
(Revolution Hall, 1300 SE Stark) King Gizzard and the Lizard Wizard play psych rock in its most literal sense. Though the Australian band's music bears hallmarks of the genre—organ, echoed vocals, droning synth, trippy lyrics—their astoundingly fast rhythms eschew psych rock's typically mellow pace. Even during the jam-band moments, the listener is propelled forward. King Gizzard is masterful at creating escapist psych journeys, and each album feels like a different kind of trip. February's Flying Microtonal Banana is more low-key than some of their other releases, but "low key" is a relative term, especially coming from a band called King Gizzard and the Lizard Wizard. EMMA BURKE