Since releasing her studio debut, Queen Diva, in 2003, New Orleans' Big Freedia—born Freddie Ross—continues to soar into legendary status. Four albums and dozens of hits later, she's been instrumental in defining the hip-hop subgenre of bounce music. Backed by energetic and uptempo beats made for twerking, Freedia's brand of bounce is filled with catchphrases like "girl down," "you already knowwww," and "release your wiggle!" Freedia identifies as a gay man (and is engaged to be married), but she answers to feminine pronouns and often presents a femme appearance with wigs, makeup, and jewelry.
Sponsored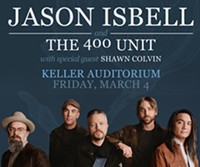 Jason Isbell has established himself as one of the most respected songwriters of his generation. Don't miss Jason Isbell and the 400 Unit, March 4th at Keller Auditorium!
After Hurricane Katrina hit New Orleans in 2005, Freedia was one of the first artists to start working again. She'll release her forthcoming album later this year, but for now you can watch the docu-series Big Freedia: Queen of Bounce on Fuse (seriously, so good) and see her react to that life-changing call from Beyoncé to add those New Orleans-flavored bars to the Lemonade track "Formation."
MERCURY: First of all, thank you for coming to Portland for the Soul'd Out Festival. I'm really looking forward to it. How many dancers are on the shake team that you travel with?
BIG FREEDIA: I think for Portland I may be taking four or five.
You used to play a lot of shows in Portland. Do you remember the last time you played here?
Oh yeah, I will never forget it. It was the day my mom passed away. I actually didn't play the show, but it was in 2014 on April 1, and my mom died when I was in Portland and I haven't been back since. So this will be a very touching time for me, and it will bring back a lot of memories.
What's the biggest difference between playing in New Orleans and playing somewhere else?
Um, lately, it's just been similar. You know, lots of energy, lots of love, lots of people who want to come out and dance. I will say, you know, just a little bit more on the New Orleans side of things, people who grew up here and been following me for a very long time, they know the lyrics a little bit more than when I travel outside New Orleans.
I was actually at Beyoncé's New Orleans show last September, and when you came out for "Formation" and we all heard you say, "I did not come to play with you hoes," it made it all so real. What was that like for you?
It was the best experience of last year for me. It was phenomenal. It was life changing. It was a breath of fresh air to make me wanna keep going hard and keep inspiring me to do great things. It was just a very humbling moment and very inspirational moment, I would say. It was fucking amazing.
I know you like cornbread, collard greens, and Southern cooking, but when you travel, do you like to eat food that reminds you of home, or do you like to eat like the locals?
Depending on where I'm at, but yeah, I like to try the local stuff... I'm kinda picky when it comes to trying a lot of new stuff. But if it's something that I can relate to and I understand it on the menu then I'll probably try it. But if it's some weird off-the-wall shit, I will not be trying it [laughs].
Speaking of food, I saw you're working on a cookbook, which sounds lit. How's that going?
Yes. It's going good! I've been working with a lot of different chefs to get my recipes measured and working on that. So it's going good. Slowly but surely.
I heard you're a very different person when you're around the house. What kind of stuff do you listen to when you're just chillin'?
Usually I will listen to, you know, whatsever [sic] hot or whatsever on the radio, or I might, you know, turn on gospel on Sunday morning. It just depends on how I'm feeling. And if it's, like, a really rough weekend, I want the house silent as possible. I will just watch TV and catch up on my CSIs and all my talk shows and my reality shows. And you know, it just depends on what type of week I've had, or tour. After a tour, I don't wanna hear any music. You know, in the club every night hearing bangin' music... I just wanna maybe lay in my bed and watch TV.
Your new album, Pressing Onward, was scheduled to come out in early 2017. Is that something you're working on right now?
No, I'm working on something else. The album is finished, we just pushed the release date back. Working on something new for y'all.
You've accomplished so much at this point—what else do you have your heart set on for your career?
The cookbook and possibly a restaurant. And more touring, more wonderful collaborations. You know, I have so much that I have on my plate that I'm trying to accomplish within the next few years. You know, it's just a journey of keeping everything together and moving all these things forward. It's a machine.
With all that's on your plate, have you even been able to plan your wedding?
Little by little.