There's a moment in the middle of "123"—the stunning opening track from Girlpool's new record, Powerplant—that crystallizes the 28 minutes to come. As the second verse draws to a close, crashing drums announce an ambitious step forward for the formerly percussion-less duo. But Harmony Tividad and Cleo Tucker still sing with their signature abandon: "Keep on walking back outside to see a sigh under nice light."
Sponsored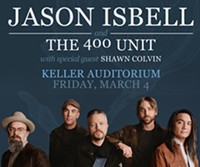 Jason Isbell has established himself as one of the most respected songwriters of his generation. Don't miss Jason Isbell and the 400 Unit, March 4th at Keller Auditorium!
This line broadcasts Girlpool's maturing voice, and nestles their sophomore effort firmly between feelings of awe and disappointment. The band's coming-of-age studio debut, Before the World Was Big, centers on the realization that age is perhaps the only thing you'll ever have to show for getting older. Powerplant pries open this sentiment, and burrows inside to seek comfort.
Crucial to Girlpool's charm is the obvious bond between Tividad and Tucker, who met as teenagers in Los Angeles. Now 21 and 20, respectively, their songwriting, performances, and public personas are bolstered by this strong friendship.
"We have a really special relationship," Tividad tells me. "Cleo is my life, my music soul mate, definitely my best friend." Before the World Was Big sounds like two close friends playing music for each other, and that's no surprise. "We're sending each other our music constantly," Tucker adds.
It's easy to see how the decision to add new elements (like drums by Miles Wintner) to the group's sound—and new members to the live band—might've been difficult. "I was nervous, because I love our relationship and us being in control of everything and how intense it is with just us," Tividad says.
But taking the risk yielded an album of uncommon depth. Girlpool's evolving sonic palette works in tandem with their maturing songwriting voice, and Powerplant finds the pair exploring their inspirations—the melancholic pacing of Duster, the minimalist restraint of Arthur Russell, and the intricate harmony of Elliott Smith.
Smith's presence looms heavily over Girlpool's emerging lyric-writing sensibilities. Powerplant trades their debut's almost startling directness for his cagey metaphors without sacrificing the radical vulnerability that resonated with so many listeners. And for a record with so many nooks and crannies, Powerplant finds Girlpool completely exposed.
But the album isn't merely the result of a shifting set of influences. Before the World Was Big demanded attention in part because it defied easy categorization, which is still true on their inscrutable yet inviting follow-up. Besides, for a band coming into its own as quickly as Girlpool, collating influences is a thankless task: "It's like when you see your parents and they say you look taller," Tucker says. "It's your day-to-day, so you don't notice it."