Neil Diamond's first proper hit came in 1966 with "Solitary Man," and although his career had a few false starts prior to that, his current tour is being billed as his 50th anniversary. Fuzzy math aside, a half-century-long career in music is something worth celebrating—there aren't many who have stuck it out as long and as successfully as Diamond has—and if the singer/songwriter has only recently aged into the respect he never quite got during his most productive years, he's still overdue for a proper critical reevaluation. With that in mind, here are the best albums from his formative years, all of which are easily found in dollar record bins and are far better than the rock-crit cognoscenti would have you believe.
Sponsored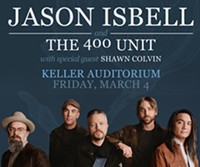 Jason Isbell has established himself as one of the most respected songwriters of his generation. Don't miss Jason Isbell and the 400 Unit, March 4th at Keller Auditorium!
---
Just for You (1967)
Diamond's second album is, song for song, one of the greatest pop albums ever released. It's a bit of a Frankenstein—the two biggest hits from his 1966 debut The Feel of Neil Diamond ("Solitary Man" and "Cherry Cherry") are repeated here for some reason. But that only makes the album play like a greatest hits collection, as they're joined by tunes like "Red Red Wine," "Girl, You'll Be a Woman Soon," and "I'm a Believer," all of which became huge hits when covered by other bands. Even relative obscurities like "The Long Way Home" and "You'll Forget" are worthy of their peers, and the overall package is an absurdly catchy collection of Diamond's moody, melting-pot songwriting, with elements of gospel, R&B, country, Latin music, rock 'n' roll, and Brill Building pop.
---
Velvet Gloves and Spit (1968)
One of Diamond's weirdest albums was his first after signing a lucrative deal to UNI Records, and it finds him indulging some offbeat inspirations. The result was a commercial dud with no shortage of cringers, like the schmaltzy "Knackelflerg," the breathily romantic "A Modern Day Version of Love" (essentially a rehash of "Girl, You'll Be a Woman Soon"), and perhaps Diamond's most notorious recording, the anti-gateway-drug screed "The Pot Smoker's Song," which interpolates his dopiest melody with recorded confessionals from drug addicts, an audio-verité gimmick likely inspired by Simon and Garfunkel's "Voices of Old People." And yet there are gems to be found, like the charmingly gangly "Two-Bit Manchild," the gentle "Sunday Sun," and the poker-hot "Merry-Go-Round." A later reissue of the album also includes a peppy, worthwhile remake of Diamond's most personal song, "Shilo."
---
Brother Love's Traveling Salvation Show (1969)
Landing just beneath Just for You in the ranking for Diamond's best album, Brother Love might be the clearest exhibition of how his pop instincts are turned sideways by his awkward-outsider perspective. Attempting to replicate the gospel records he loved so dearly, Diamond went to Memphis to record the bulk of the tracks; unsurprisingly, it's his most Elvis-sounding album (and the King later covered its most overwrought ballad, "And the Grass Won't Pay No Mind"). The Southern-fried sounds and Neil's black-hearted sulkiness make for a weird, but splendid marriage, especially on the hectic title track, which attempts to replicate a revival-tent meeting. But the record's real highlights may be relatively low-key tunes like "River Runs, Newgrown Plums," "Deep in the Morning," and "Memphis Streets," which feature childishly simple melodies (each of their choruses feature a variation on "na na na" or "la la la") on top of the Memphis studio musicians' tight-but-loose soul grooves. A reissue of the album includes "Sweet Caroline," but that standard's sunny optimism doesn't really fit in with the rest of the LP.
---
Tap Root Manuscript (1970)
Diamond's most ambitious album is positively bonkers and more than occasionally gorgeous. Frontloaded with perhaps his last gasp of pure pop perfection, "Cracklin' Rosie," it's dominated by morose, sweeping ballads like the exquisitely ridiculous "Coldwater Morning" and his terrific, deep-baritone cover of the Hollies' "He Ain't Heavy... He's My Brother." Strangest of all is "The African Trilogy," a multi-part suite that takes up the entirety of Side Two. Boasting African instrumentation, savannah sound effects, and lyrics in Swahili, it's one of the first examples of a white performer attempting what later became "world music," and if it smacks of cultural appropriation today, Diamond's genuine affection and serious attempt at scholarship can't help but win the listener over.
---
Serenade (1974)
By the early '70s, Diamond had become a commercial superstar, but was still denigrated by critics and peers, something he reacted to by quitting live performance for four years and focusing on ever-more ponderous attempts at "art" music, like the mostly instrumental soundtrack to 1973's Jonathan Livingston Seagull. With Serenade, he's in full adult-contemporary balladeer mode, and if none of the tempos rise above a heartbeat, there's still plenty of goofily beautiful music to enjoy. Ignore "Reggae Strut" (which sounds nothing like reggae, thank Jah) and focus on the album's two centerpieces: "Yes I Will" and the epic "Lady Magdalene." These sweeping ballads are lovably emo-intellectual, red-wine-and-cigarette, poetry-book-on-the-nightstand nonsense, but they're great in that they demonstrate how comfortable Diamond had finally become in his uncool, unabashedly romantic skin.
---
Beautiful Noise (1976)
Diamond's concept album about his pre-fame years as a Brill Building staff songwriter is one of his most consistent, with the yearning "Home Is a Wounded Heart," the martial fanfare of "Dry Your Eyes," and best of all, the dramatic "If You Know What I Mean," a blustery, dark-hued track with a mountain of Phil Spector-esque echo to accentuate Diamond's craggy, world-weary vocal.