It's hard to think of any debut, especially from a Portland artist, with bigger expectations than Aminé's Good for You. After his breakout single "Caroline"—which has earned triple-platinum sales and a music video with more than 179 million YouTube views—skyrocketed the Portland rapper into superstar status in mere months, the burning question on many people's minds was, "How the hell is the dude going to follow that?"
Sponsored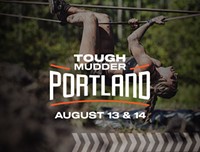 Lock in your summer adventure, Portland. Join us for world famous obstacles over a 5K or 10K distance.
Released last week on Republic Records, Good for You shows that Aminé hasn't been sitting on his ass, despite what his ill-advised album cover would have you believe. In 15 tracks—which range from club beats to indie rock to hip-rolling R&B—the 23-year-old MC is eager to prove he's no one-hit wonder.
Though he's not a remarkable lyricist, Aminé's delivery is versatile, playful, and adaptable to whatever beat he's singing over: "I was down, yeah, now I'm better/Stuntin' with my dogs like my first name Cruella," he rhymes on the Metro Boomin'- and Frank Dukes-produced "Yellow." "Black girls love me 'cause a nigga got some feta/And white girls love me like my first name Coachella." Aminé's got plenty of banging beats to work with on Good for You, including four new tracks produced by longtime collaborator Pasqué.
His lyrics tread familiar subjects: chasing girls, adapting to his newfound fame, and love for his hometown (though he now, predictably, lives in LA). It's fun to listen for Portland references—Du's Grill! The #8 bus! But he jilts his hometown colleagues for higher profile collabs, including Metro Boomin', Ty Dolla $ign, and Nelly.
Standout tracks include "STFU," with its "Passionfruit"-like beat; "Wedding Crashers," with a hot verse from Migos' Offset; and "Dakota," featuring Charlie Wilson on the hook, bringing some of that old-school seduction. Other tracks, like "Hero," and "Beach Boy," which features backing vocals from LA folk-punk band Girlpool, feel unnecessarily tacked-on. "Spice Girl"—literally a tribute to the Spice Girls—is more than 20 years out of date.
For some reason, Aminé's singles "Baba" and "REDMERCEDES" were left off Good for You, though the album does include "Caroline" (in case we needed a reminder) and "Heebiejeebies," his catchy-as-fuck duet with Kehlani.
Though it's packed with plenty of solid bangers, in this day and age, any album with 15 tracks—especially a hip-hop album, and especially a debut hip-hop album—risks being overly long and occasionally repetitive. Good for You is no exception. It's not a perfect record, but it's damn close. And perfect is, of course, for the urgent. Aminé wants forever.