If Guantanamo Baywatch's blistering surf instrumentals and seething punk sermons ever seemed rooted in one place, the Portland band wasn't too concerned with sticking to it on their new record, Desert Center.
Sponsored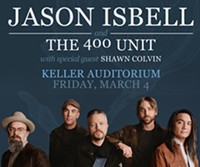 Jason Isbell has established himself as one of the most respected songwriters of his generation. Don't miss Jason Isbell and the 400 Unit, March 4th at Keller Auditorium!
That's because all three members now live in different cities. Before writing the new record, vocalist/guitarist Jason Powell moved to Mesa, Arizona, and around the same time, drummer Chris Scott moved to Long Beach, California. This effectively ended the trio's Northwest headquartering, though bassist Chevelle Wiseman still calls Portland home.
Desert Center follows the band's 2012 debut, Chest Crawl, which reveled in the excesses of blown-out sock hops; and 2015's Darling... It's Too Late, itself a departure from the lo-fi grime of their first album. Guantanamo Baywatch's new record tempers Powell's technical abilities as a guitarist, especially as he looks to move beyond surf rock.
"You don't wanna get pigeonholed as just a surf rock band," Powell explains. "There are so many of those, and who cares? Also, it's not fun after a while. You wanna write other kinds of songs."
On the scorcher "Blame Myself," Powell finds inspiration in classic country's clever turns of phrase. "The reveal in the chorus is that you don't have to blame me, because I already blame myself—like, oh isn't that clever?" he quips. "That's what I love about country music though, stupid shit like that. I feel like people can latch onto that kind of stuff, too."
That's not to say that Desert Center lacks the breakneck instrumentals that make Guantanamo Baywatch one of the best live bands around. The album opens with the Ventures-esque "Conquistador," with Wiseman and Scott's tight rhythmic anchor allowing Powell's pick-melting guitar runs to wiggle and writhe like a scene in a Tarantino film. "The Scavenger," another sprawling instrumental, walks the line between spaghetti western strut and the outlaw musical real estate of Davie Allan and the Arrows.
"Sometimes it's got a biker vibe, or a prom dance vibe, or a racecar vibe," says Powell of his compositions' cinematic scope. "You either try to push away from that, or you can push it more toward that. 'Witch Stomp' became a Halloween-y kind of song as were writing it. When we put the keyboard in there with these background vocals, we pushed it into more of a spooky area."
For Powell, focusing on more song-oriented material is new territory: "We've always had a bunch of songs that have lyrics," he says. "But a lot of times it sounded like instrumental songs with lyrics over them. When we made Too Late, it sort of alienated the surf rock or more punk kind of crowd. On this album, we were choosing the songs that were gonna be the most fun to play live."