For those familiar with Autonomics' sizzling punk rock and sweaty live shows, their new album Debt Sounds may come as a bit of a surprise.
Sponsored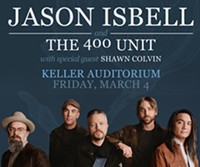 Jason Isbell has established himself as one of the most respected songwriters of his generation. Don't miss Jason Isbell and the 400 Unit, March 4th at Keller Auditorium!
Across 11 tracks, frontman Dan Pantenburg's melodies flutter and glow like never before, uncaging the group's pop heart for all to see. Their no-frills songs are polished up with synth and higher fidelity all around. And the rhythm section—twin brothers Evan and Vaughn Leikam on drums and bass, respectively—is punchier than an extended remix of the video of that masked hero knocking neo-Nazi Richard Spencer in the side of the head.
With guitars distorted to the hilt and a new hook around every corner, Debt Sounds documents a band with punk ideals and an aversion to self-promotion, shedding its reticence and going for it.
"For this record, we absolutely wanted to do something that we could present to people and have it maybe lead to bigger things, or at the very least help us finance another record," Pantenburg says.
"I'm not trying to shy away from my intentions of just trying to make this work," he continues. "The first drummer for the Velvet Underground quit because they were selling T-shirts at a show. You can take that as far as you want to, but also, we like to stay fed."
At this point, the band's paid their dues. Pantenburg and the Leikam brothers met during their sophomore year of high school in their hometown of Bend, where they bonded over their shared love of Rush and music trivia. In short order, they formed a teenage garage outfit and have remained a solid unit ever since.
They moved to Portland in 2010 and—like many in this town—spent the past several years playing bar gigs, working day jobs, and keeping their band afloat. Somewhere along the way, they started getting played on the radio in Switzerland, Pantenburg says, and their crowds started growing in Germany.
Autonomics have toured Europe three times since 2015. Pantenburg says people there appreciate the band's commitment to the increasingly scarce art of straightforward, guitar-driven rock.
"Chalk it up to German efficiency, or something like that," he says. "I'm not saying we're going over there trying to be like Whitesnake or whatever. I love to rock 'n' roll, for sure, but I want to write songs that are more than just singing about rockin' and rollin', and how I like to rock 'n' roll, and how we're gonna rock 'n' roll all night."
Indeed, the lyrics on Debt Sounds revolve around the day-to-day travails of adulthood and fears for the future. Juxtaposed against the band's post-punk pulse and fuzzy Weezer riffs, Pantenburg's songs are sweet 'n' sour hymns for the quarter-life crisis crowd, wrapped in the swagger of fading youth.
"I have this longstanding paranoia about burning out, and feeling like I've already squeezed the most that I can out of this life, and everything's downhill from here," he says. "But there's definitely an uplifting aspect there as well, just by talking about it and making it known, but still having fun with it.
"If it can make anybody feel better about not being sure of what they're doing and where they're going," Pantenburg says, "then I'll feel good as a songwriter."