With her Tennessee twang and infectious laugh, Valerie June could charm the dew off a honeysuckle. It's difficult not to smile and laugh along with her, even as she's discussing celestial realms and conversations with spirits.
June has always been interested in the esoteric and the transcendent, but it wasn't until writing the song "Astral Plane," from her latest album The Order of Time, that she found a way to fully express these thoughts in her lyrics. It's a quiet meditation on hopes, dreams, and interstellar traveling delicately sung over a lush, cosmic folk arrangement. "Dancing on the astral plane/In holy water cleansing rain," June sings. "Floating through the stratosphere/Blind, but yet you see so clear."
"These are the things that are on my mind, in every way, all day long—the spiritual journey," June tells me over the phone from her home in Brooklyn. "Every single song on that record, I can listen to it from a place of a being talking to a spirit. I wrote it thinking, on small levels, of what we deal with here on earth—my relationship to my lover or my relationship to my family—but I went back after I recorded it, and listened to it from a spirit place, and all of these songs could be a conversation with God, or with a spirit, or with something greater than you."
Though she's a gifted singer and songwriter, June explains that guitar playing didn't come as easy to her, and she had to teach herself to play by what she describes as "following her voice." This method was inspired by another Black female guitar player, the late Jessie Mae Hemphill.
"Not only was she this beautiful Black woman playing electric guitar and looking like a cowgirl, but she also follows her voice when she's playing," June says. "Now I play guitar, but I also play ukulele and banjo, and I've written some songs on keys in the last couple of years, and I don't even play keys... I'm not going to be some virtuoso or a brilliant prodigy or anything, but what I do is what I do, and that is that I follow the voice. I can play a song on spoons or on pots and pans or anything, by following my voice."
June's voice has taken her on a long journey, from Memphis coffee shops and open mics to recording an album with the Black Keys' Dan Auerbach (2013's Pushin' Against a Stone), profiles in the New Yorker, touring with Norah Jones, and being invited to the White House by former first lady Michelle Obama. But even now, after all this exposure, June says she still has to field the same questions about her music as she did when she first started performing.
"I can remember when I was busking down in Helena, Arkansas, at the Arkansas Blues and Heritage Festival," June says. "And people would come up to me while I was busking and they'd be like, 'What kind of music is that?' And I'd say, 'I don't know, what kind of music do you think it is?' And they'd say 'country.' And then 'hillbilly.' And then 'blues.' And then 'gospel.' And 'folk.' Everybody had a different description. That's why I created the term 'organic moonshine roots music,' because I was like, 'Well, I guess they're all right.' You know? Nobody's wrong. But now I don't use that title at all, because I don't feel like I have to explain it.
"I've been doing this for 15 fucking years," she continues with a laugh. "I don't feel like I need to fit into any genre or anything. I'm just gonna do the damn thing."
Sponsored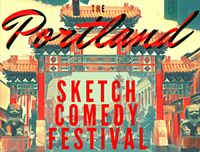 Sketch comedy troupes from all over N. America descend on The Siren Theater for 3 glorious nights.