SUPER PICK
FRANKIE COSMOS, IAN SWEET, SOAR
(Wonder Ballroom, 128 NE Russell) Vessel, the latest album from Frankie Cosmos (AKA singer/songwriter Greta Kline), sounds like one long poem set to music. Kline's been playing music since she was a teenager, and released her debut studio album, 2014's Zentropy, when she was just 19. But she's worn her youth uncomfortably. "I heard about being young," she sings on "Young" (from her 2015 EP Fit Me In), "but I'm not sure how it's done." Kline developed a cultish following for the lo-fi bedroom recordings she shared on Bandcamp, which both reinforced and rejected the expectations surrounding teen girlhood. At 24, on Vessel Kline already sounds like a jaded veteran rocker: "Looking around at 22/And so tired of myself around you/Maybe I don't fit your ideals anymore/Or maybe I just grew up into a bore," she sings on "Apathy." Throughout the album, Kline's existential lyrics reflect the pain and awkwardness of living in an earthly body. The songs are less twee than the ones on Zentropy, though they're still super-short (there are 18 tracks on the new LP, and most are under two minutes long). On Vessel Kline flexes her inimitable songwriting muscles, and the result is still as painstakingly detailed and intimate as any of her earlier releases. When the Mercury asked Kline what it's like to play these songs to a crowd, she responded, "Sometimes scary and bad, but sometimes healing and chill." For this visit, she'll be joined by keyboardist Lauren Martin, bassist Alex Bailey, and drummer Luke Pyenson. If Vessel is Kline at 24, I'm looking forward to the years to come—her take on growing and aging as a woman is uniquely honest. ISABEL LYNDON
Sponsored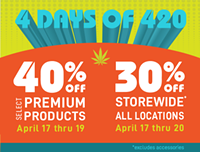 30-40% off Premier Dispensaries April 17-20
Flower, pre-rolls, edibles, carts and more.
These 4 Days of 420 are for you.
---
WEDNESDAY 4/18
ERYKAH BADU
(Arlene Schnitzer Concert Hall, 1037 SW Broadway) Since dropping her debut album Baduizm in 1997, Erykah Badu has flummoxed, aggravated, and confounded critics and fans alike. After helping to pioneer the "neo-soul" sound, which she quickly disowned, Badu has gone further off in different directions, exploring new sounds and pushing sonic envelopes, challenging both herself and her listeners. Not only has her solo output been consistently brilliant throughout her two-decade career, her collaborations have a Midas quality—she regularly brings out the best work in other artists. Though Badu is one of the most innovative and original musicians of all time, she has also been something like our troublesome auntie, the one who's liable to say some wild shit at the dinner table and embarrass us. Her mind, like her music, exists in a realm entirely of its own, but we love her all the more for it. SANTI ELIJAH HOLLEY
TURNSTILE, TOUCHÉ AMORÉ, CULTURE ABUSE, RAZORBUMPS, ODD MAN OUT
(Hawthorne Theatre, 1507 SE César E. Chávez) Turnstile's unholy formula shouldn't work—all manner of life-sustaining particles should flee the scene when people attempt to synthesize turn-of-the-century nü-metal and youth crew hardcore. Should such mad scientists succeed, it's only fair that their fusion wipe out the world in the process. But somehow, Turnstile's major label debut, Time & Space (released in February by Roadrunner Records), has not obliterated the titular dimensions. No, something even more unlikely and upsetting happened: Turnstile turned this cursed merger into something awesome. Opening track "Real Thing" is a jock-rock anthem on par with Papa Roach's "Last Resort" and P.O.D.'s "Alive." If you're wondering whether that's a good thing or not, it's clearly been too long since you've heard those songs—they are gloriously dumb and maddeningly catchy pop creations meant to get bodies moving. While Turnstile's adrenalized revival of this outmoded style will almost certainly trigger a flood of middling copycats, for now, it feels right. CHRIS STAMM
THE MOONDOGGIES, TANGO ALPHA TANGO
(Mississippi Studios, 3939 N Mississippi) When last we heard from Seattle-area roots-rock band the Moondoggies, they were cranking out the moonlit, multi-part harmonies and channeling peak Neil Young on 2013's Adiós I'm a Ghost. Now they're back with a follow-up, and things have changed: For one, main songwriter Kevin Murphy has had a couple kids. Second, the band returned to producer Erik Blood, who worked on their first two albums but sat out for Adiós. And third, Donald Trump was elected president. The result: The Moondoggies' brand-new LP A Love Sleeps Deep. It's a bit jammier, more psychedelic, and more politically outspoken, with Murphy singing about the environment, racism, and other topical subjects. Don't worry, longtime fans, the harmonies are still there—they've just made space for some seriously gritty grooves. BEN SALMON
---
THURSDAY 4/19
NATASHA KMETO, MAARQUII, SIREN AND THE SEA
(Holocene, 1001 SE Morrison) Over the past two years, Maarquii (who used to dance with beloved R&B outfit Chanti Darling) has become a force in the city's hip-hop scene. With immersive backdrops from local producers like Jvnitor, the Portland rapper's no-fucks attitude, magnetic presence, and witty, cutting verses shine. On "Dam God" (from the 2016 EP Heavy Petty), Maarquii warns that they'll "pussy-pop in a headstand at your funeral"; the 2017 single "Wirecutters," finds them getting "obliterated by a weed lollipop" while visiting relatives; and the lyrics of "2chill" (featuring Dnvn, from the 2017 EP Lullaby in Gemini) showcase their vulnerable side: "I think I might've went too far/Dreaming 'bout a nice house and a car." Last year Maarquii told Out magazine, "Aesthetically, I'm inspired by pure high faggotry. I live for a look, for drama, for gender fluidity... I'm driven by the need for Black, femme bodies being represented in music and media. It is extremely important right now for Black women/femmes to be loud, seen, and heard at all costs." Maarquii's Soul'd Out appearance is sandwiched between two fellow Portland powerhouses: Natasha Kmeto, and Cristina Cano of Siren and the Sea. CIARA DOLAN
KELSEA BALLERINI, WALKER HAYES
(Crystal Ballroom, 1332 W Burnside) Of all the young women populating the pop-country universe lately, Kelsea Ballerini is one of the few to rise above the fray with ease. It helps considerably that this young Tennessean had a hand in writing all of the material on her two studio albums, 2015's The First Time and 2017's Unapologetically. She can help play to her strengths that way, keeping within the comfort zone of her purring vocal timbre and old-school, lovestruck lyrics. It may be free of surprises or sharp left turns, but there's nothing wrong with a little aural comfort food every now and again. Ballerini is joined on this tour by Walker Hayes, a strong-chinned country buck with a little more attitude, but the same eye on scoring some crossover gold. ROBERT HAM
STUMPFEST: WHORES, HELMS ALEE, PUSHY, C-AVERAGE, MARRIAGE + CANCER
(Mississippi Studios, 3939 N Mississippi) Now in its seventh year, Stumpfest continues to bulldoze Portland with another three-day lineup of bruisers and bashers from all over the country. Arrive early on the first night for Pacific Northwest heavies Helms Alee, grease-rockers Pushy, C-Average, and the vein-bursting chaos of Marriage + Cancer. That should get you loose for night two's eclectic (and female-heavy) lineup highlighted by melodic doom band Windhand and local heavy rocking headbangers Holy Grove (both of whom have new records in the pipeline). Get up close and you may get a lashing from Holy Grove vocalist Andrea Vidal's black mane. Closing out the fest is the psychedelic Dead Meadow and post-apocalyptic post-metal band Sumac (fronted by Aaron Turner, formerly of Isis and currently of Old Man Gloom). Musically, its three relentless nights are not for the faint of heart, but Stumpfest consistently brings out Portland's metal community, and that's always good for the ol' ticker. MARK LORE
---
FRIDAY 4/20
NONAME, BJ THE CHICAGO KID, GUS DAPPERTON, FOUNTAINE
(Crystal Ballroom, 1332 W Burnside) Chicago rapper/slam poet Noname (AKA Fatimah Nyeema Warner) made big waves in 2016, when she dropped her debut LP Telefone. She'd already been making moves in the years prior, with features on Chance the Rapper's 2013 Acid Rap mixtape and 2016 album Coloring Book, along with Mick Jenkins' 2014 mixtape The Waters. But Telefone is exquisite and completely unique; existing at the intersection of hip-hop, R&B, jazz, and gospel, it captures childhood nostalgia, illustrates the painful transition into adulthood, and recognizes the crippling systemic injustices that surround her while building up her own power and confidence. It's a sweet, resilient album that's made great by Noname's conversational delivery, warm and grounding piano melodies, heavenly choirs of backup singers, and xylophone. She hasn't released anything since, but last year she performed an incredible set for NPR's Tiny Desk Concert series, if you want a preview for Friday night's show. CD
STUMPFEST: WINDHAND, RUBY THE HATCHET, EMMA RUTH RUNDLE, HOLY GROVE, BLACK MARE
(Mississippi Studios, 3939 N Mississippi) See Thursday's preview.
FRANKIE COSMOS, IAN SWEET, SOAR
(Wonder Ballroom, 128 NE Russell) See our Frankie Cosmos super pick.
RYAN KEBERLE AND CATHARSIS
(Mission Theater, 1624 NW Glisan) When he's not holding down the trombone chair in the Maria Schneider Orchestra, Ryan Keberle is leading his modern jazz band Catharsis through a fascinating journey that's taken them into the realms of Latin music, avant-garde sounds, and straight-up swinging bop. The ensemble's latest album—last year's Find the Common, Shine a Light—is their most unabashedly political work, reflecting the turbulent age we're all suffering through with especially unhinged freeform work and sweetly melodic takes on '60s classics "The Times They Are a-Changin'" and "The Fool on the Hill" (a reference to the Voldemort in the White House). Key to the brilliance of that album is the vocal work of Camila Meza, who brings a crystalline directness to the work. She sadly won't be in attendance at this Portland date, but the equally gifted singer Sarah Elizabeth Charles will be on hand to put her own spin on things. RH
---
SATURDAY 4/21
RECORD STORE DAY: OZELOT, WHISPER HISS, AMENTA ABIOTO, BED, EZZA ROSE, LUCIA FASANO, DJ JESSICA BOUDREAUX, THE GHOST EASE DJs, CANDACE DJs, QUASI DJs, DJ MAGGIE VAIL
(Everyday Music, 1313 W Burnside) Happy Record Store Day! It's the most wonderful time of the year for crate diggers, when artists drop rare vinyl releases at participating record stores across the globe. Everyday Music always hosts the biggest show, and this year's lineup is no different, with sets from local favorites like Bed. and Amenta Abioto. Tender Loving Empire is joining forces with Good Cheer Records at their Hawthorne location, with DJs from bands like Turtlenecked and Y La Bamba spinning records, plus free beer from Gigantic Brewing Company and 20 percent off all music purchases. CD
STUMPFEST: DEAD MEADOW, SUMAC, DOMMENGANG, FUTURE USSES, RAJAS, DÄS MORTAL
(Mississippi Studios, 3939 N Mississippi) See Thursday's preview.
IZAAK OPATZ
(Bunk Bar, 1028 SE Water) If you still haven't checked out Izaak Opatz's 2017 solo debut Mariachi Static, you're doing your ears a disservice. It's forgivable, though, considering the album was self-released by Opatz following his move from Missoula, Montana, to Los Angeles. You'll be out of excuses soon enough, though, since venerable Portland label Mama Bird Recording is re-releasing Mariachi Static in July. Opatz's self-described "dirtwave" aesthetic ought to fit right in to your summertime vibes; his songs are stuffed with effortless cool, vivid wordplay, and insightful, mischievous commentaries. It's funny, too, which makes it all the more endearing, especially on tracks as hummable and sweet as "Not Yet" or "One Way or Another." Opatz is bringing his full LA band up for a quick West Coast jaunt before the re-release drops. Believe the hype. RYAN J. PRADO
SLOAN
(Doug Fir, 830 E Burnside) By the 1990s, the term "power pop"—which began as a self-explanatory marriage of Who-ish crunch and Beatles-like melody—could apply to a range of artists. On one end of the spectrum was Weezer, whose self-deprecating edge and references to suburban pop culture ephemera served as the modern counterweight to singer Rivers Cuomo's thinly veiled Pet Sounds fetishizing. On the other was Jellyfish, a technicolored ELO/Wings/Queen mashup that openly resisted musical trends of the era. Somewhere in the middle lay Halifax's Sloan—a band that never seemed particularly self-conscious of their retro influences, but who executed pastiche with a nonchalance that catered to alt-rock sensibilities. Despite taking seven weeks and costing $120,000 to record, Sloan's 1994 high-water mark Twice Removed is one of the most effortless-sounding power pop records ever released. Opening track "Penpals" is a Revolver sendup with lyrics lifted from actual fan mail addressed to the band's then-labelmates Nirvana. And the catchiest couplet on the entire album, from the song "Coax Me," happens to be, "If I drink concentrated O.J./Can I think Consolidated's okay?" That's really all you need to know. MORGAN TROPER
---
SUNDAY 4/22
WYCLEF JEAN, CULTURE CREW, MOIRA MACK, ANAEL JEANNIS
(Wonder Ballroom, 128 NE Russell) It'd be cool to hear Wyclef perform just one verse from any of the classics from the Fugees era... and let's be honest, he kind of has to, right? Either way, there are still enough boppable gems from his solo career to get excited about seeing the legend live. I admittedly enjoyed the 2009 single "Sweetest Girl (Dolla Bill)," featuring Lil Wayne and Akon, and "Two Wrongs," featuring City High, ain't half bad either. In his solo efforts, Wyclef is known for pushing genre boundaries, discovering and producing young stars, his philanthropic work for his homeland of Haiti, and producing the "Part 2" to Destiny's Child's "No No No," for which he also contributed a featured verse. In 2017, just three months after telling Uproxx that Dave Chappelle was the one person who could get the Fugees back together, the rapper/musician played a set for NPR's Tiny Desk concert series, showcasing his insane abilities as a singer, MC, and instrumentalist (he plays bass, guitar, keyboard, synthesizer, and more), as well as the talents of vocalist Jazzy Amra. Quite literally, Wyclef is everything. JENNI MOORE
TWIN SHADOW, YUNO
(Mississippi Studios, 3939 N Mississippi) Twin Shadow (AKA George Lewis Jr.) is visiting Portland just a couple of days after the release of his new record Caer. The epic pop of singles like "Little Woman" and the new wave-leaning "Saturdays" (featuring sister power-trio HAIM) is reminiscent of his 2010 debut, Forget. Lewis understands the art of the upbeat—he manages to create both emotive, soulful pop and the perfect Lego-stack of electronic beats. It's feel-good music in its finest form. Lewis' other tour dates include amphitheaters with Alt-J and opening for Beck, so if you're even a hint of a fan, you don't wanna miss this intimate opportunity. ROBIN BACIOR
PRIMER REGIMEN, PETITE, MR. WRONG, PROHIBIDO
(Black Water Bar, 835 NE Broadway) Most contemporary punk is about as safe and predictable as a Wednesday night book club. There's nothing wrong with that; the current craze for the sights and sounds of '80s street punk—boots and chains and dirt-simple anthems—might seem a little silly if you're hooked on the notion that punk is synonymous with challenging convention. It's a fine notion to cling to, and it still informs some radical sounds, but punk is basically folk music at this point, and borrowed signifiers are crucial. It's all about execution, and the careful, skilled traditionalists of Bogotá, Colombia's Primer Regimen are intent on keeping the sounds of 1982 alive until the next generation learns how to spit-shine Blitz's boots. So don't worry about this particular wing of the punk museum—Primer Regimen are keeping those three chords nice and warm and that raw voice cold and torn. CS
---
MONDAY 4/23
HAPPY BIRTHDAY, ROY ORBISON!
See you in dreams.
---
TUESDAY 4/24
CIGARETTES AFTER SEX
(Wonder Ballroom, 128 NE Russell) Greg Gonzalez's project Cigarettes After Sex dates back to 2008, but his dark, dreamy slowcore only recently picked up steam with increasing YouTube clicks and likes. That eventually led the now four-piece to release their self-titled debut LP last year. Its lyrics are rife with lovelorn infatuation and melancholy that sounds even more engaging when set to the lethargic tempo of the group's beats. Cigarettes After Sex bring a sexiness to the madness of love; it's addictive music, no matter your current romantic situation. CERVANTE POPE