It's embarrassing to admit I hadn't been to S1's new location until recently. They moved a little over a year ago from their former subterranean basement in the Hollywood District to a new above-ground storefront 30 blocks east, still on Northeast Sandy. Recently there've been a number of cool projects at S1 that I meant to make it my beeswax to be at, like the Paraiso Sidéral exhibition of Manu Torres' hyper delicate "hyperreal" floral arrangements or Cvllejerx:Ropa Vieja, a part fashion show part performance piece showcasing Korean American conceptual artist Park Hyun Gi.
Director Felisha Ledesma isn't fazed. "When people say, 'Oh, we haven't been to the space yet,' I'm like, 'That's fine. You're here now'," she says. "This year has been really inspiring. Seeing people showing up 30 blocks further, coming through and still supporting, it feels really good. You never know what'll happen when you move. Maybe people will be over it."
S1's new location, at Northeast Sandy and 73rd, kitty corner from the Roseway Theater, has high ceilings, large windows, and sizable rooms—which are white and mostly bare, as one would expect from a gallery. Ledesma, Alex Ian Smith (S1's co-founder and co-director) and Daniela Karina Serna (one of S1's facilitators), are sitting around a work table talking about S1's fouth-anniversary weekend, and the programming of the space—which is as much a gallery as it is a music venue, community space, synthesizer library, and dance hall.
Smith says, "We often either end up labeled as a venue or a gallery. But to us and to most of our regular visitors, music and art are the same thing. They're not separate and they're not mutually exclusive. We want to work with artists working in whatever medium they want—be it sound, be it sculpture, be it video, be it performance."
Since S1 is a nonprofit and not a commercial gallery, they don't try to bother with art sales. Ledesma jokes that S1 has never sold a single thing before she explains that they've had shows by artists who "have commercial shows elsewhere but they want to try something that they know isn't sellable. Maybe they can't do it in New York or LA or even in the Portland art market. Here they have the opportunity to do something that could be really wild."
When I admit that, most of the time, I have no clue who the international artists and musicians who grace S1's halls even are, Ledesma says, "That's what's exciting about it. People do come here even if they've never heard of the artist. Maybe they just checked it out after we posted it, but they show up because something awesome could be happening.
"I feel like we have a wide range of art here. Yes, we have DJ nights. We have parties where international electronic artists play. We also have noise nights," Ledesma says.
"There was a rock show here last month," Serna says.
"Oh right, Friends of Noise." Ledesma replies. "That's a part of our program. It's less focused on the genre and more focused on all-ages shows and supporting youth."
"It feels really great because they're all naturally very inquisitive." Serna says. "'What is this space? What are all these machines?' It's really great energy."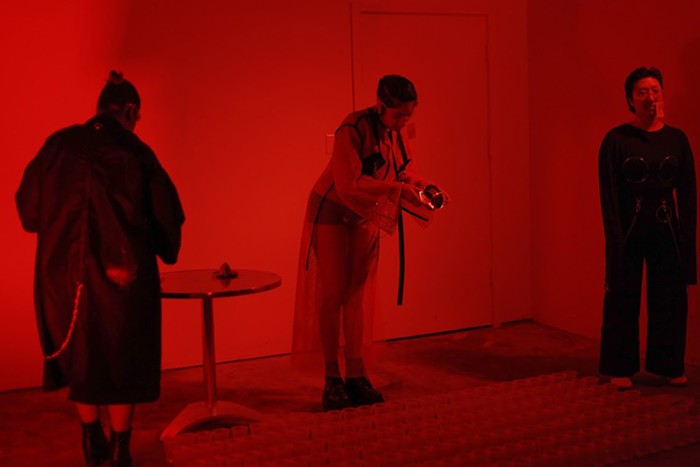 "The three of us grew up in a similar situation." Ledesma continues. "We all went to shows as kids and we all threw shows as kids so it feels very full circle."
S1's anniversary packs in as much programming as they could realistically hope to have in a single weekend. Friday night is a dance party. Saturday afternoon hosts workshops on electronic music equipment. Saturday night is an experimental music show, and Sunday concludes the weekend with a daytime ambient brunch.
Serna and Ledesma will each teach one of the Saturday workshops, which are aimed at demystifying gear and electronic music instruments for women and nonbinary persons. The S1 Synth Library is an obvious passion of everyone at the space, but with every mention of it Serna and Ledesma seem to throw one another conspiratorial glances as if they wish I would leave so they could, in fact, go mess around in the Synth Library.
I close our discussion with a question about an earlier comment Ledesma made, about shows she threw as a kid. Instead Serna takes the lead. "Never did it occur to me that I would be helping to run a nonprofit gallery space," she says. "I never interacted with something like that in any real way. It wasn't a part of my life or my background, but coming to this space, interacting with the community, getting supported by the community was very eye-opening for me. It opened up a world that hadn't seemed accessible to me before. Just that energy alone made me feel like I have to get involved immediately. How can I be part of this?"