When singer, actress, and musical visionary Janelle Monáe dropped her third studio album Dirty Computer in April, it was a landmark moment. Recorded under the mentorship of Prince, it's Monaé's Afro-futurist love letter to women, people of color, and LGBTQIA folks.
Sponsored
Sketch comedy troupes from all over N. America descend on The Siren Theater for 3 glorious nights.
"Dirty Computer is really an album that celebrates marginalized groups today," she explained in a recent interview with "Ebro in the Morning" on Hot 97. "Think about what it means to have the color of your skin or who you love be looked at as a bug or a virus or something to get rid of... We have the leader of the free world and [Vice President] Mike Pence, who still believes in conversion therapy."
Accompanying Dirty Computer's release is Monáe's excellent Emotion Picture, a visual album set in a near-future dystopia where certain people are scooped up and isolated to have their memories wiped clean in an attempt to "fix their bugs."
"They started calling us computers," she narrates as the film begins. "People began vanishing, and the cleaning began. You were dirty if you looked different; you were dirty if you refused to live the way they dictated. You were dirty if you showed any form of opposition at all. And if you were dirty, it was just a matter of time."
In the intro, a couple of young white guys sit in a booth and control the protagonist's consciousness, creepily watching her vivid memories before cleansing her of them. The voice of a woman (who sounds eerily similar to Aunt Lydia of The Handmaid's Tale) makes Monáe repeat after her: "My name is Jane 57821"; "I am a dirty computer"; and "I am ready to be cleaned."
The first of those memories is captured in the music video for "Crazy Classic Life," which depicts a defiant, joyous, and ultra-queer underground party. Bowie wigs and studded leather abound, as Monáe sings politically charged phrases like "We don't need another ruler/We don't need another fool" and "I am not America's nightmare, I am the American cool." Their party is swarmed and attacked by militarized officers, showing viewers how Jane is captured. Soon Jane discovers that her lover Zen (Tessa Thompson) is about to guide her through the cleaning, but Zen's memory has already been wiped, and she doesn't remember their passionate romance. Jane is forced to comply with having her memories wiped as well.
While Dirty Computer is addictive, catchy, and pregnant with Prince influences, the visual component is helpful in guiding listeners on Monáe's emotional journey as she processes the state of modern society. Funk, R&B, hip-hop, and pop influences all play nicely throughout its 14 tracks. On songs like "Take a Byte" and "Screwed," she's partying like it's the end of the world while hiding out from the government; on rap track "Django Jane," she's furious about her lover's capture, and becomes organized, determined, and ready to lead the revolution.
"Pynk," on the other hand, is a snappy celebration of the feminine form and spirit. The video, seen on Emotion Picture as another one of Jane's memories, feels almost too intimate in its depiction of the romance between "Jane" and "Zen." At one point, Tessa Thompson actually emerges from between the legs of Monáe's "pussy pantaloons," assuming the role of the clitoris. (One viewing and you'll be promptly initiated into the Janessa-shipping community. Welcome.)
Monáe has long been an advocate for women's rights and the LGBTQIA community (which is also reflected in her integral involvement in films like Hidden Figures and Moonlight), but the project is also a major personal moment. Dirty Computer takes sex-positive to a whole new dimension, with Monáe asserting her desires and identity—she came out as pansexual in an interview with Rolling Stone shortly after its release—and pushing the boundaries of conventional thought with her music.
During the recent "Ebro in the Morning" interview, Monáe confirmed that Prince "didn't let his mystery get in the way of his mentorship," but had inspired songs like the guitar-driven lead single "Make Me Feel." Its music video finds Monáe physically demonstrating why she's an "emotional sexual bender" and self-proclaimed "free-ass motherfucker": At one point she literally runs back and forth between her two lovers of different genders, unwilling and unable to choose just one. She wails, "Please! I can't help it!"
It's hard to pick out highlights—because all of it—but "I Got the Juice" featuring Pharrell and "I Like That" are gorgeous, self-assured anthems you can't help singing along to. While somber numbers like "Don't Judge Me" and "So Afraid" bring the energy down, the concluding message is hopeful.
With the closing track "Americans," Monáe promises—on behalf of the marginalized—to reclaim our country. She encourages us to take care of each other and to find our way to the light. On her last trip to Portland in 2015, Monáe led a rally with Don't Shoot PDX to commemorate the fatal shooting of Mike Brown by Ferguson police and played a free show with her Wondaland labelmates at the Roseland. If that show and this album are any indication, we're about to have the best night anyone's ever had in Troutdale.
Sponsored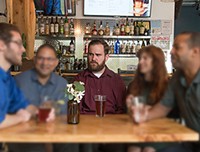 Adults aged 18-35 with good hearing will be paid for their time. Located at the Portland VA Medical Center