Over the past 17 years, Hillstomp hasn't changed much about their brand. The Portland duo—Henry Hill Kammerer on vocals, guitar, and banjo, with John Johnson on vocals and ramshackle drums—is still committed to hill country blues, still preaching the gospel of R.L. Burnside, and still banging away on overturned buckets and trashcan lids. But even within these limits, they're finding ways to grow and experiment. The band's new record, Monster Receiver—their sixth studio album and second for Portland's Fluff and Gravy label—draws different elements into their music, creating a richer and more sonically diverse sound.
Tracks like "Hagler," "Comes a Storm," and "Lay Down Satan" are driven by Kammerer's juke-joint guitar riffs and Johnson's familiar shuffling percussion, while Kammerer continues to master his skills as a banjo picker on songs like "The Way Home" and "I'll Be Around." But Monster Receiver shines brightest on its guest appearances: Songwriter Anna Tivel fiddles on two songs, Portland harmonica virtuoso Dave Lipkind plays on "Goddamn Heart," Hong Kong Banana's Amora Pooley Johnson sings backup throughout (most effectively on the slow, haunting gospel blues track "Angels"), and Erik Clampitt provides pedal steel guitar on the album's most gentle and touching song, "Dayton, Ohio."
Described in a press release as a "love letter from Kammerer to his parents," "Dayton, Ohio" is evocative of Fluff and Gravy labelmates Richmond Fontaine, and confirms Hillstomp can do more than the "bang-crash-bang" songs they're famous for. Of course, Monster Receiver still has plenty of those, like "Snake Eagle Blues" and "Goddamn Heart," which are the kind of hand-clapping, foot-stomping sing-alongs that have earned Hillstomp's live shows a rabid following. While Monster Receiver doesn't rewrite the Hillstomp playbook, it's a refreshing and welcome contribution to their discography, and should solidify their status as one of the Northwest's most durable and reliably exciting acts.
Sponsored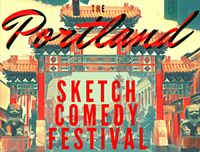 Sketch comedy troupes from all over N. America descend on The Siren Theater for 3 glorious nights.