Founded in an effort to lure tourists to our fair city during the drizzliest of months, the Biamp PDX Jazz Festival has, over the past 16 years, blossomed into a premier showcase and a pitch-perfect celebration of Black History Month. The lineup for this year's carnival of swing and improvisation includes more than 70 performances (many of them free) stretched across 12 days and populated by a stellar mix of local and international acts performing in venues across the city. Here are this year's highlights:
---
Christian Scott aTunde Adjuah
The festival gets off to a roaring start with New Orleans trumpeter, composer, producer, instrument designer, and style king Christian Scott aTunde Adjuah. In addition to a host of jazz luminaries, he's collaborated with Prince, Thom Yorke, and Talib Kweli, and the trio of albums he dropped in 2017 collectively titled The Centennial Trilogy is a must-listen for those curious about the current state of jazz. Expect Adjuah and his top-shelf band to coolly lay out an evening of funk, groove, electronic beats, and beautiful global influence that defies category. (Wed Feb 20, Star Theater, 13 NW 6th, 8 pm, $22-25)
Sponsored
Win a behind-the-scenes tour of our kitchen, see how we make our artisan edibles, and get some swag.
---
Vanguard Jazz Orchestra
Making its Portland debut, the venerable Vanguard Jazz Orchestra proves to be the festival's rarest treat. This gloriously swinging 16-piece jazz band has been playing New York City's famed Village Vanguard club every Monday night since 1966, and while the lineup has changed over the decades, the orchestra continues to be populated by some of the most elite musicians NYC has to offer. Those lucky enough to attend will be blown away by the punch of their communal mastery peppered with individual members' dazzling solos. (Thurs Feb 21, Newmark Theatre, 1111 SW Broadway, 7 pm, $29.50-59.50)
---
Mel Brown Organ Quartet
Sitting behind a drum kit for well over half a century, hometown jazz legend and former Motown staff musician Mel Brown is simply a joy to behold when he performs, dishing out hard swing beats with a smile and a deceptively easy-seeming virtuosity. The accompanying Louie "King Louie" Pain on Hammond B-3 organ and Dan Balmer on guitar have elevated the group for decades. If you haven't yet checked out the Jack London—our city's current go-to venue for live jazz—there won't be a better introduction than Brown's set. (Thurs Feb 21, Jack London Revue, 529 SW 4th, 8 pm, $10)
---
Patrice Rushen Trio with Ernie Watts
As a pianist, vocalist, composer, and producer, Patrice Rushen has built an illustrious career spanning the jazz, club, and R&B charts since the 1970s, and her musical output lives on through samples by scores of rap artists. Although her recent gigs have included musical director for the Grammy, Emmy, and NAACP Image Awards, tonight offers a rare chance to witness this post-disco soul queen perform in a remarkable small-group setting joined by special guest saxophonist Ernie Watts, a phenomenon in his own right. (Sat Feb 23, Revolution Hall, 1300 SE Stark, 7 pm, $29.50-49.50)
---
Mitzi Zilka and Tony Pacini
Local jazz vocalist Mitzi Zilka and pianist Tony Pacini team up for this free performance in a historic hotel bar that drips with elegance and class. Pacini is the perfect fit for the space, always displaying a sophisticated playfulness and impeccable technique at the keyboard. So sit back, sip your drink, and keep your fingers crossed for a Cole Porter tune to cap off your night in style. (Sat Feb 23, the Benson Hotel, 309 SW Broadway, 8:30 pm, free)
---
Devin Phillips Quartet
After Hurricane Katrina devastated his New Orleans home, Devin Phillips grabbed his sax and settled in Portland, becoming a distinguished member of our city's jazz family. The evening's intimate venue offers a special chance to hear this supremely brilliant musician wail, squawk, and groove his way through a jazz-funk-infused tribute to saxophone trailblazer Joe Henderson. If the tragedy of Katrina has a silver lining, it's that Phillips now resides in our city. (Mon Feb 25, Jack London Revue, 529 SW 4th, 7:30 pm, $20-25)
---
Terence Blanchard E-Collective
When Wynton Marsalis left Art Blakey's Jazz Messengers in the '80s, he suggested Terence Blanchard as his replacement, and this trumpet god has been at the top of his game ever since. Composing the vast majority of Spike Lee's movie scores (and currently celebrating an Oscar nomination for his work on BlacKkKlansman), Blanchard tells brilliant stories though his music. Tonight's gig features his tight-knit quintet and promises to raise the audience's social and spiritual consciousness while sitting in a sexy pocket of fusion, rhythm, and blues. (Thurs Feb 28, Revolution Hall, 1300 SE Stark, 7:30 pm, $29.50-49.50)
---
Stanley Clarke
Stanley Clarke has been recording music for almost half a century, bursting onto the jazz scene with Chick Corea in their groundbreaking 1972 album Return to Forever, and this legendary four-time-Grammy-winning bassist continues to stay fresh by working with beatboxers, Bach, and everyone in between. Tonight, Clarke's transportive acoustic and electric bass sound will be backed by a globetrotting band filled with young powerhouse musicians, all of whom continue to push a rocking electric jazz fusion into the future. (Sun March 3, Revolution Hall, 1300 SE Stark, 8 pm, $39.50-59.50)
Sponsored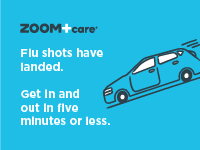 ZOOM+Care makes flu shots easy and safe. Schedule ahead, skip the line—get in and out in 5 minutes.