Terry Currier first discovered Music Millennium in 1972, when he was a 16-year-old living in Vancouver, Washington. He'd recently gotten a job at the Jantzen Beach location of regional record store chain DJ's Sound City and was dating a fellow clerk. One evening, the girl told him she had a surprise for him.
"I was thinking something different," Currier says. "But she took me to Music Millennium."
Currier was immediately floored by the store's selection, which had already gained a reputation among record shoppers for stocking imports and other hard-to-find titles. He found himself visiting up to four nights a week.
"Our store closed at 9, and Millennium stayed open 'til 10," Currier says. "And I could be over here by 9:15."
Music Millennium had been founded three years earlier by Don McLeod, his wife Laureen, Laureen's brother Dan Lissy, and Dan's wife Patty. They opened its doors 50 years ago this month, during the Ides of March—March 15, 1969, at exactly 3 pm. Originally just 800 square feet, the store gradually expanded to occupy the half-block on East Burnside between 31st and 32nd Avenues.
As the music industry boomed in 1979, McLeod, wishing to dedicate himself to his farm in Clark County, sold the company to a businessman with no prior experience in the record store trade. Within five years, Music Millennium was in debt for a half-million dollars and on the verge of bankruptcy, so McLeod returned and bought back the company.
Around that time, Currier applied for a managerial position at Music Millennium. McLeod all but ignored the 28-year-old, curly-haired music nerd during the interview, dismissively telling him the job had already been filled. Two weeks later, Currier got a call asking if he was still interested in the job. McLeod tested Currier's musical knowledge over dinner the next day.
"The first question he asked me was who Fairport Convention was," Currier says. "And I mentioned all the current members, and all the former members, and that's the way the evening went. The next day he calls me and goes, 'You want the job?' I go, 'Yeah, when do you want me to start?' He goes, 'Can you start today?'"
Currier was hired as general manager of Music Millennium in September 1984. He and McLeod worked to pay off the debt and become solvent by improving their record inventory and opening "the Upper," the store's second-floor loft where they sold smoking paraphernalia and other Northwest essentials.
In 1989, to celebrate the store's 20th anniversary, Currier suggested hosting 20 days of live music. They purchased a sound system and built a permanent stage for regular performances, a novel idea back then. That same year, they opened their second location at Northwest 23rd and Johnson, which would host more than 300 in-store performances every year, providing an intimate space for national touring acts and a venue for local artists who couldn't get gigs at larger clubs. Between the Eastside and Westside stores, Currier estimates they hosted more than 4,500 thousand live performances.
Music Millennium's turn in the national spotlight came in 1993, during the now-legendary "Barbecue for Retail Freedom," when Currier travelled up and down the West Coast charbroiling Garth Brooks CDs after the country singer stated that he didn't want his latest album sold in stores that carried used CDs. Currier's protest drew media attention to the plight of independent record stores, and ultimately inspired the creation of Record Store Day.
After surviving near-bankruptcy in the '80s and the threat posed by major music retailers in the '90s, Music Millennium's true test came in the new millennium. When digital music distribution took off in the early '00s, record stores saw fewer customers, sharp declines in profits, and, ultimately, store closures and layoffs. Currier—who'd assumed ownership of the company in 1996 after McLeod passed away from leukemia—was confronted with this new reality when he was forced to shutter the Westside store in 2007.
"That was one of the hardest things I ever had to do," he says. "There was such an emotional attachment to that store. We had been part of the neighborhood for 30 years."
By devoting all of its resources to the Burnside store, Music Millennium has managed to endure in a fluctuating industry. It continues to host performances and record signings, and last year began offering beer and cider for customers to sip while shopping.
But what's had perhaps the biggest impact on Music Millennium's survival is the return of vinyl's popularity. Once relegated to a small, out-of-the-way corner of the store, vinyl has been taking up an increasing amount of floor space. Nationwide, vinyl sales have grown for the 13th consecutive year—16.8 million LPs were sold in the US in 2018, a 14.6 percent increase from 2017. Currier estimates that vinyl makes up an average 70 percent of sales at independent record stores.
Though the business has seen its fair share of ups and downs, Currier's continued engagement with and support of the Portland community is a large part of what makes Music Millennium a treasured local institution.
"Terry has been a pillar of the music community since the beginning of time, it seems like," says the Decemberists' Colin Meloy. "He's just an ever-present figure. Music Millennium are survivors."
Zia McCabe of the Dandy Warhols also considers Currier a mainstay of the local music scene: "He's kept his business connected to the community," she says, adding that Music Millennium "represents the kind of place that Portland natives are desperately trying to preserve."
Currier believes his responsibility is not just to maintain the excitement he'd had for Music Millennium as a teenaged record store nerd, but to pass that same excitement on to future generations.
"When I showed up at Millennium in '72, it just blew me away," he says. "It felt like my home. I always felt like I was the curator, and my job was to bring Millennium into the future and retain the feel that the store had the first day I walked in."
Sponsored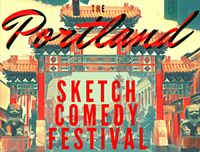 Sketch comedy troupes from all over N. America descend on The Siren Theater for 3 glorious nights.