THURS MARCH 28
Built to Spill, Oruã, The French Tips
Built to Spill's 1999 masterpiece, Keep It Like a Secret, is somehow impervious to the corrosive effects of time or the limiting powers of nostalgia. A song like "Center of the Universe" can plug you into the ancient bliss and sorrow of whatever you were up to 20 years ago, but it does so without blocking access to the electric now. The album is not merely an artifact, a worn charm without edges. It continues to bristle and swirl like a newly alive thing, but it is a newly alive thing that already knows you. And that is a rare and wonderful miracle. (Aladdin Theater, 8 pm, 3017 SE Milwaukie, sold out, all ages) CHRIS STAMM
Laura Jane Grace and the Devouring Mothers, Mercy Union, Control Top
I thought Bought to Rot—the debut album from Laura Jane Grace and the Devouring Mothers—was supposed to be twangier than Grace's well-known work with punk giants Against Me! Maybe it was her new business relationship with alt-country cornerstone Bloodshot Records that made me think that. Or the fact that she has said Bought to Rot was inspired by the death of Tom Petty. Or maybe it's the new band name. Whatever the case, Bought to Rot sounds approximately the same as Grace always has: jet engine guitars, vicious rhythms, neck veins bulging, earworm melodies sung on a razor's edge. There's a little more of a sketchbook feel here, but for the most part, it's Laura Jane Grace doing what she does best, which is being one of the best punk songwriters alive. (Doug Fir, 830 E Burnside, 7:30 pm, sold out) BEN SALMON
Sponsored

Custom framing, photo frames, printing on metal, paper and canvas.
Gabi Jr., Glaçon Garçon, Boreen, Stoner Control
Three of Portland's best guitar-oriented "scene" bands—Turtlenecked, Cool American, and Strange Ranger—have been assimilated by the East Coast indie rock Borg, having moved to New York and Philadelphia, respectively. With some seasoning, however, up-and-comers Stoner Control could fill that vacuum. Their 2018 LP Alone in the City weds careful pop songcraft to the self-effacing shreddiness of '90s indie rock bands like Dinosaur Jr. and Superchunk. Alone in the City contains a multitude of grin-inducing moments, but the best of the bunch is opening track "Hollywood Hills," which sounds like Ted Leo on muscle relaxers and features a chorus worthy of the pantheon. (Turn! Turn! Turn!, 8 NE Killingsworth, 8 pm, $6) MORGAN TROPER
---
FRI MARCH 29
Bombino
Bombino has been a star in Portland since 2012, when the Tuareg guitarist and his terrific backing band, bedecked in bazin robes and tagelmust scarves, played a fervently exciting set of Saharan desert blues amid the lush greenery of the Pickathon festival's stage in the woods. Since then, the rest of the world's caught on, with Bombino recording albums with the likes of the Black Keys' Dan Auerbach and Dirty Projectors' David Longstreth. Deran, Bombino's latest, was recorded in Casablanca without a producer, and showcases the guitarist from Niger without western interpretation or concealment. His wondrously eloquent and fiery guitar work is still front-and-center, but now it's joined by a reggae flavor and the kind of confidence that only global acclaim can instill. While he attracts more of a jam-band crowd than he used to, Bombino remains one of the best guitarists in the world, so the live show will be as good as that suggests. (Star Theater, 13 NW 6th, 9 pm, $25) NED LANNAMANN
---
SAT MARCH 30
CHAI, Haiku Hands, Cry Babe
With frenetic songs about body hair and repressive beauty standards, Japanese punk rock group CHAI makes music with the intention of "redefining kawaii" (the Japanese word for "cute"). Within the first few seconds of the music video for "NEO"—from their 2017 debut, Pink, which calls to mind Bikini Kill, Deerhoof, and Devo in equal measure—you will understand why CHAI is one of the coolest, most badass bands around. (Holocene, 1001 SE Morrison, 5:30 pm, $15, all ages) CIARA DOLAN
Shemekia Copeland, King Louie and LaRhonda Steele
There's no way to truly quantify whether Shemekia Copeland possesses the biggest voice ever to sing inside the cozy Jack London Revue, but one thing's for sure: Everyone in every corner of the place will be able to luxuriate in the sound of her powerful pipes. Copeland was born in New York, but she's the daughter of Texas blues giant Johnny Copeland, which is probably why she can pull off both sleek electric blues and rustic country-style blues with equal skill, not to mention her regular forays into jazz, Americana, and rock 'n' roll. No matter what kind of music she's singing, you can count on two things: Copeland will nail every note, and she will do so with eye-popping authority. (Jack London Revue, 529 SW 4th, 9:15 pm, $25) BEN SALMON
The Shifrin/Polonsky/Wiley Trio
It's easy enough to catch a Beethoven symphony performed live, but the chance to witness an elusive clarinet trio from the composer should not be missed—especially when the musicians onstage happen to be pianist Anna Polonsky, cellist Peter Wiley, and woodwind god David Shifrin on clarinet. Artistic Director of Chamber Music Northwest since 1981, Shifrin assembled this brilliant new super group with Polonsky and Wiley after decades of shared experience between them, so their musical interplay this evening promises to go beyond tight. Also on tap are trio works by Brahms and Italian film score composer Nino Rota. (Alberta Rose Theatre, 3000 NE Alberta, 7:30 pm, $10-60) BRIAN HORAY
---
SUN MARCH 31
Layperson, Iji
Two years ago, Julian Morris—who plays with Little Star and records and performs solo as Layperson—released a cathartic EP called Tidings. In just five folksy pop songs, Morris explored some of humanity's most universal existential dilemmas: the terror of surrendering yourself to love, the burning desire to feel connected to something "greater than us," and the difficulty of finding peace with all of life's uncertainties. Tonight he celebrates the release of his new LP The Divide, which—based on singles "Caught Around Your Heart" and "Somebody Already Knows"—leans even further into goldenrod pop hooks and ruminative lyrics. (Mississippi Studios, 3939 N Mississippi, 9 pm, $5) CIARA DOLAN
---
MON APRIL 1
Spiritualized
Someone saying that a shoegaze album is better than My Bloody Valentine's Loveless is usually contrarianism along the same lines as "the Beatles suck" or "RC is better than Coca-Cola." However, the case could be made that Spiritualized's 1997 masterpiece Ladies and Gentlemen We Are Floating in Space is at least more illustrative of the dream-pop credo. While Loveless is essentially a collection of conventional pop songs gussied up in £250,000 worth of special effects, Ladies and Gentlemen is organically massive, leaving no sonic stone unturned. Over the course of 70 minutes, songwriter Jason Pierce crafts somnolent pocket symphonies using everything from guitars and vintage keyboards to accordions, violins, flutes, flugelhorns, and a full choir. Somehow, Ladies and Gentlemen manages to sound both perfectly realized and completely aimless. It's British dream-pop's self-indulgent apogee. (Crystal Ballroom, 1332 W Burnside, 8:30 pm, $29.50-35, all ages) MORGAN TROPER
Babehoven, No Aloha, Surfer Rosie
"Icelake"—the staggeringly pretty lead single from Babehoven's new EP, Solemnis—is already one of my favorite songs of the year. Tonight, the superbly named "sad girl pop" band plays their first show since the EP's release, and according to this crystal ball I bring to work every day, you'll regret missing it, since Maya Bon is a seriously great songwriter and will probably be filling much bigger venues very soon. (Doug Fir, 830 E Burnside, 9 pm, $10-12) CIARA DOLAN
Tommy Genesis, Deb Never
With a smooth, almost too-cool drawl, Tommy Genesis—the Vancouver, BC, "fetish rapper"—spits boastful rhymes about sex, having fun, and bossing around. Currently touring her self-titled 2018 album, Tommy takes on the tone of a hyper-sexualized Britney circa 2000, with lots of undeniable, girl-positive flexing. This album is brimming with delicious bangers such as the Charlie XCX remix "100 Bad," which celebrates the many "bad bitches" of the city who work it "up and down the stick/In the whip real low in the schoolgirl fit." Later, Tommy takes on the role of boss again in the sex-positive, electro-poppy "Play with It," with an instantly sing-able chorus that entreats her partner to "Play wit' the pussy, wanna play wit' the pussy/Come get a hooky, baby, come get a hooky." Now that's a hook that's simultaneously danceable, liberating, and hot—a description summing up everything good about Tommy Genesis. (Holocene, 1001 SE Morrison, 8 pm, $15-18, all ages) WM. STEVEN HUMPHREY
---
WED APRIL 3
Stella Donnelly, Faye Webster
Australian singer/songwriter Stella Donnelly broke through to a bigger audience in 2017 on the strength of her Thrush Metal EP, a collection of plainspoken stories set to pretty folk music and wrapped up in some lovely lo-fi intimacy. Now she's back and ready to conquer the rest of the world with her new album Beware of the Dogs, which ditches DIY hiss in favor of lush production—a move that highlights Donnelly's considerable melodic gifts and, in turn, her blistering lyrics about all the different ways shitty dudes are shitty. (Polaris Hall, 635 N Killingsworth Ct, 8 pm, $12-14) BEN SALMON
---
THURS APRIL 4
The Thesis: Mickey Taelor, Mal London, Blon, It's Future Time, DJ Verbz
When asked about the showcase's April lineup, Mac Smiff said it's about to be a "very sultry Thesis," with three soul-oriented artists on the bill, including Long Beach, California, singer Mickey Taelor, whose neo-soul/reggae/experimental style is inspired by luminaries like Lauryn Hill, Billie Holiday, and Erykah Badu. Also in attendance: rapper/singer/producer Mal London, a Seattle-to-Portland transplant I've been wanting to see for a while now due to his excellent recorded material, like the songs "New Leaf" and "Wayvmode." Label and artist collective It's Future Time will put together a set, in addition to Portland-based R&B/pop songstress Blon, who will likely perform tracks from her debut EP, The Water Tape. A sultry night indeed. (Kelly's Olympian, 426 SW Washington, 9 pm, $10) JENNI MOORE
---
FRI APRIL 5
Damien Jurado, Corrina Repp
Read our story on Damien Jurado. (Revolution Hall, 1300 SE Stark, 9 pm, $18-20, all ages)
---
SAT APRIL 6
Beats & Rhymes XRAY.fm Fundraiser: Easy McCoy, Jabee, MAX91, Jus Joseph
XRAY.fm constantly uplifts voices from Portland's hip-hop community on its airwaves, so it only makes sense that the scene should return the favor. Put together by the folks from A Beat Happening and Mic Check and hosted by DJ Klyph, this fundraiser's lineup features a slew of experienced local producers and beatmakers: Trox, Luvjonez, Theory Hazit, Free Tillman, and Lisa Vazquez, along with DJs Trox and O.G. One. I'm not too familiar with the mostly Portland-based MCs, but in my opinion, that's even more reason to go check 'em out. (Mission Theater, 1624 NW Glisan, 6 pm, $10, all ages) JENNI MOORE
Weezer, Pixies, Basement
For the past 15 years or so, Weezer has made truly awful music. It's bad. So bad that the band's sustained assault on quality and pleasure almost seems like a brilliant stunt. Like Rivers Cuomo is making a point about celebrity and pop vacuity and nostalgia. He's a smart person. He knows he is a carton of skim milk who happens to play guitar. He is in on whatever the joke might be. But there are no hidden depths here. It is simply bad art. Don't overthink it. Weezer definitely isn't. (Moda Center, 1 N Center Ct, 7 pm, $22-215, all ages) CHRIS STAMM
---
SUN APRIL 7
Sonny and the Sunsets, Kelley Stoltz
It tracks that Sonny and the Sunsets' upcoming LP, Hairdressers from Heaven, was produced in Portland with the help of the Shins' James Mercer—in the work of affable Bay Area indie rocker Sonny Smith, it's not hard to find shared musical DNA with the Shins, even when Smith's aural experiments echo with everything from new wave to spacey fuzz to clear-eyed political anger. Hairdressers is the first release from Smith's new, crowdfunded label, Rocks in Your Heads Records, and it comes with a zine that's also available online (one page, "WEAPONS USED AT CLUB DURING BAND VS. NAZI BRAWL," boasts doodles of boots, shoes, and fists). Rocks in Your Heads also functions a bulwark against the Borg-like tech infestation that's culturally decimated San Francisco and now festers along the West Coast: "Clubs have closed. Artists have left," Smith says in the PR copy for his current tour. But: "There are good bands in this city. There are great artists making bizarre shit. There are underground HAPPENINGS. There are SECRET shows. There are artists in the streets duking it out with Nazis. Shit is going down. The corporate bulldozers ran through the city and they are still driving around demolishing the place. These tanks are called Death and they bring a foul stench. Humbly, this label is our version of throwing nails at the tank tires." (Mississippi Studios, 3939 N Mississippi, 8 pm, $13-15) ERIK HENRIKSEN
Dreamers' Circus
With fiddle, accordion, cittern, and a panoply of other intriguing instruments, this trio was formed at a late-night, post-concert pub jam session in Copenhagen. Over the past decade, the band has blurred the boundaries of Faroe Island folk songs, Indian raga melodies, Appalachian bluegrass, and Bach with top-shelf technique and playful inventiveness. Now they're embarking on their first US tour, so if spending an evening with strapping young Nordic lads playing brilliant music sounds appealing, be sure to grab yourself a pew. (The Old Church, 1422 SW 11th, 7:30 pm, $30-55) BRIAN HORAY
---
MON APRIL 8
CRITIC'S PICK: Shana Cleveland
Something strange lurks in the background of Shana Cleveland's songs. It's not necessarily sinister; there's just a sense that an unknown entity is circling the perimeter, eyes glowing out from the shadows. Beginning with 2012's Damp Face, the first EP from Cleveland's surf-rock outfit La Luz, ghostly doo-wop harmonies are paired with lyrics populated by faceless ghouls. Even the chorus of "California Finally" (from La Luz's 2018 album Floating Features)—in which Cleveland sings airily about actualizing her "golden dream" of migrating south—is punctuated by a distant scream. Backed by her nine-piece band the Sandcastles, Cleveland's solo debut, 2015's Oh Man, Cover the Ground, showcased the fluidity of her American primitive-style guitar playing. Accented by cello, clarinet, ritualistic-sounding percussion, and cryptic, near-whispered lyrics, the whole thing is bisected by a 47-second track titled "(death riff)." There's an uneasy beauty to Cleveland's work, and that remains true on her new album, Night of the Worm Moon. The Worm Moon—the first full moon in the month of March—signifies the return of worms to the soil once the ground has begun to thaw. Drawing inspiration from this terrestrial phenomenon, Afro-futurist Sun Ra, the 2017 solar eclipse, UFOs, the allure of unknown realms, and wonderful bizarreness of her new Los Angeles home, Cleveland's latest continues to burrow deeper into the uncomfortable space between light and darkness, life and death, knowing and not knowing. That comfort with the universe's unanswerable questions is what makes Cleveland's music so great—as she sings on "I'll Never Know," Worm Moon's closing track, "I try my best to live in truth/I guess I'll never know." (Mon April 8, Polaris Hall, 635 N Killingsworth Ct, 8 pm, $13-15, all ages) CIARA DOLAN
P!NK, Julia Michaels
Ever since Alecia Beth Moore, better known as P!nk, stepped onto the scene in 2000 with her debut single "There You Go," she's continued to prove herself as a powerful pop vocalist and revolutionary feminist badass. After seven studio albums, P!nk's collected far too many Billboard achievements to even begin to list here, and her most recent Beautiful Trauma project landed on Rolling Stone's "20 Best Pop Albums of 2017" list. She's just extended her "Beautiful Trauma" tour by another 37 dates throughout North America, giving us lucky Portlanders a second opportunity to catch her gravity-defying show of aerial thrills and perfectly sung renditions of gritty, uplifting pop anthems. (Mon April 8, 7:30 pm, 1 N Center Court, $275-715, all ages) JENNI MOORE
The Interrupters
Rancid frontman Tim Armstrong isn't an official member of LA-based ska-punk revivalists the Interrupters, but last year's Fight the Good Fight, which Armstrong co-wrote and produced, shimmers with same kind of magic that made "Time Bomb" so undeniable a million years ago. In a way, the Interrupters are an ideal version of Rancid; shorn of cornball punk signifiers and free to indulge in the pleasures of pure pop, they are nothing more or less than a delivery system for simple joy. It's music you can't help but crank in the car, and that might be the best kind of music there is. (Wonder Ballroom, 128 NE Russell, 7:30 pm, $22-24, all ages) CHRIS STAMM
---
TUES APRIL 9
Troll, Maestus, HRNN
Read our review of Troll's new record. (Doug Fir, 830 E Burnside, 9 pm, $10-12)
Hop Along, Summer Cannibals
Philadelphia indie darlings Hop Along and Portland rockers Summer Cannibals share one important feature: powerful, haunting vocals. And they complement each other well. Hop Along vocalist Frances Quinlan threads folk-pop melodies with stinging lyrics while Summer Cannibals' frontwoman Jessica Boudreaux's gritty vocals punctuate fuzzy garage-rock riffs. (Wonder Ballroom, 128 NE Russell, 8:30 pm, $18-20, all ages) ALEX ZIELINSKI
---
WED APRIL 10
CRITIC'S PICK: Jane Siberry
Jane Siberry is musical royalty in her native Canada. She had chart hits and videos in heavy rotation on Much Music, the north-of-the-border version of MTV, and cemented her legacy with theatrical live performances and playful chat show appearances. Here in the US, her status is a little fuzzier. Siberry contributed songs to two iconic '90s soundtracks—The Crow ("It Can't Rain All the Time") and Until the End of the World ("Calling All Angels," a breathtaking duet with k.d. lang)—and had a bit of airplay on VH1 back in the day. Yet the cult status and respect that someone like her friend Mary Margaret O'Hara has earned has eluded her. It could be simply that, unlike O'Hara, Siberry has continued making music long past her commercial peak, releasing albums independently and with crowdfunding help. Even as her work has grown stronger and more daring—as with the electro-chamber pop albums she made using the name Issa, and 2016's splashy, jazzy Angels Bend Closer—it's been drowned out by the noise of the modern music industry. Her comings and goings, then, feel like a lovely secret, shared by a dedicated fanbase. It's kept her life and career afloat, but left her out of the larger cultural conversation. Siberry is long overdue for a critical reappraisal and some wider attention. And if she's not going to sound that trumpet herself, it's up to us. (Wed April 10, Polaris Hall, 635 N Killingsworth Court, 8 pm, $30-35, all ages)ROBERT HAM
Alan Parsons Project
Alan Parsons parlayed his success as a recording engineer (Abbey Road, The Dark Side of the Moon) into a career as the frontman—or, at the very least, the namesake—of a successful band, the Alan Parsons Project, which he formed with partner Eric Woolfson. The pair, along with a bevy of guest musicians, made a series of albums in the late '70s and early '80s that reside at the unlikely intersection where prog and soft rock meet. While they're best remembered for the massive 1982 hit "Eye in the Sky," it's for daffy concept albums like 1977's I Robot and 1978's Pyramid—complete with the requisite cover art by Hipgnosis—that the Alan Parsons Project's easygoing brand of pomp should be rediscovered (something that's very easy to do, as they can be found in every dollar bin in every record store). The Alan Parsons Project were never a live act in their heyday, and Woolfson passed in 2009, but Parsons is touring on a new solo album, The Secret, which features such deliciously silly song titles as "The Sorcerer's Apprentice" and "Soirée Fantastique." (Revolution Hall, 1300 SE Stark, 7:30 pm, $40-215, all ages) NED LANNAMANN
Sponsored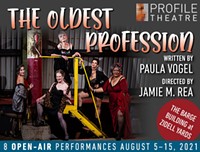 What's the retirement plan for the oldest profession? A moving comedy by the premier writer of our time.