Every year, the Soul'd Out Music Festival brings some of the best soul, jazz, hip-hop, and funk artists from around the globe to Portland stages. Here are seven acts you absolutely need to see at the 10th annual Soul'd Out, lovingly handpicked by your friends at the Mercury.
---
Eric B. & Rakim
Eric B. & Rakim are one of the most influential hip-hop duos in history, and Rakim is universally recognized as one of the greatest—if not the greatest—MCs of all time. In an episode of the Netflix docuseries Hip-Hop Evolution, Shad K. asserts that "Rakim's rhyme style would singlehandedly set the tone for what hip-hop has become today." Later in the episode, Rakim explains that since he grew up listening to jazz and learning to play saxophone, he always tried to rhyme like John Coltrane played the sax. In contrast to rappers like Run-DMC and Chuck D., who were energetically shouting on the mic, Rakim's approach was more methodical. His clear, concise style is the definition of flow; some say he may have even been the one to make "flow" a thing. After dropping legendary albums like Paid in Full, Follow the Leader, and Let the Rhythm Hit Em—with unprecedented performances on the title tracks, as well as "Microphone Fiend" and "Lyrics of Fury"—Eric B. and Rakim split in 1992 following legal troubles with the MCA label. The duo reunited in 2016 and have been touring for the last couple of years, but their show at the Roseland could be one of our last chances to see this genre-defining hip-hop duo onstage together. (Thurs April 18, Roseland, 8 NW 6th, 8 pm, $38.50-50) JENNI MOORE
---
Ghost-Note's Tribute to Prince
Though it's still hard to cope with his passing, the best way to honor Prince is to bathe in the majesty of his music. On the third anniversary of Prince's death, Ghost-Note will do just that. The future-funk band's adventurousness makes them worthy torchbearers of the Purple One's legacy, though it also helps that they count incendiary multi-instrumentalist MonoNeon, who was a member of Prince's touring band, among their ranks. Prone to extended jams and rooted in the super-tight, Grammy-winning percussive backbone of Robert "Sput" Searight and Nate Werth, Ghost-Note is a force that's steeped in jazz, funk, and brass-forward soul. Swagism, the band's 2018 album, is a one-stop party playlist with some of the most impressive musicality you're likely to hear in any working band. Featuring special guests and Prince collaborators B.Slade, Philip Lassiter, members of the New Power Generation, and DJ Sesqui, this ought to be a monster of a performance. As Prince used to say, "School's in session." (Sun April 21, Star Theater, 13 NW 6th, 9 pm, $20, w/NPG Horns, MonoNeon, B-Slade) RYAN J. PRADO
---
Kadhja Bonet
According to her bio, Kadhja Bonet "was born in 1784 in the backseat of a seafoam-green space Pinto. After spending an extraordinarily long time in her mother's plasma, she discovered the joys and gratifications of making noise with her hands and face while traveling at maximum velocity through intergalactic jungle quadrants." A little fantastical, but that's just how Bonet rolls; her psychedelic soul music transcends space and time, simultaneously channeling the iconic vocalists who came before her—specifically Minnie Riperton—and some undiscovered galaxy that's currently just a twinkle in humanity's third eye. The singer's stunning 2016 debut, The Visitor, should definitely be revisited for the beauty of songs like "Honeycomb," in which her sweet repetitions of the phrase "all the stars burning in the sky" warp and fade like a vinyl record melting right off the turntable. Bonet's latest album, 2018's Childqueen, expands into strange new horizons and finds something extraordinary. If you're not hooked after the haunting opening track, "Processions," we really must be living in different galaxies. (Wed April 17, Holocene, 1001 SE Morrison, 8 pm, $20, all ages) CIARA DOLAN
---
Leikeli47
Leikeli47 is known for her mysteriousness—her face is always concealed with a bandana or balaclava—but she should be known as one of the dopest MCs out. You may have heard songs like "Attitude," "Girl Blunt," and "Mulita" on the soundtrack for HBO's Insecure, or the bouncy 2017 single "Money" from her excellent debut LP, Wash & Set. The Brooklyn rapper/singer/producer's latest release, Acrylic, is the second in a trio of albums (the "Beauty Series") that focus on normalizing Black beauty standards and celebrating Black safe havens, like hair salons and HBCUs. She's more than proven herself as a lyricist and MC, but Leikeli47's recent NPR Tiny Desk performance shows she's got some serious chops as a vocalist as well. Leikeli47 is the sole femcee headlining at this year's Soul'd Out Music Festival, and with local support from rapper Raquel Divar, this show is not one to miss. (Thurs April 18, Wonder Ballroom, 128 NE Russell, 9 pm, $20, all ages, w/Yung Baby Tate, Jamesdavis, Raquel Divar) JENNI MOORE
---
Makaya McCraven
A meticulous but mystical alchemy is at work in the jazz of self-described "beat scientist" Makaya McCraven. On his 2018 double album, Universal Beings, the Chicago drummer/producer captures the hypnotic feeling of daydreaming with rhythms that run wild like uncensored trains of thought and settle into contemplative grooves, only to take off again without warning. You never know what to expect, and that's what's so exciting about McCraven's music—that there are endless possibilities for what could happen next. His approach is warm, joyful, vibrant, and complex, especially on the harp-forward "Young Genius" and the anxious trill of "Tall Tales." McCraven's late-night set at the Jack London promises to be a transformative experience. (Thurs April 18, Jack London Revue, 529 SW 4th, 11:55 pm, $20) CIARA DOLAN
---
Yemen Blues
When you stop and think about it, it's pretty wild that only a century and a half ago, if you lived in, say, Denver and wanted to go west to Portland, you'd need to take an expensive, uncertain, weeks-long road trip that could very well end in death atop some inhospitable mountain pass. Since then, of course, advancements like air travel and the internet have shrunk our world and insta-connected its residents. As a result, we have bands like Yemen Blues, whose highly danceable fusion of Middle Eastern melodies, West African repetition, Caribbean rhythms, American blues-rock, and universal jubilation is created by musicians from Tel Aviv, New York, Uruguay, and beyond. At the center of this global sound is Israeli singer and composer Ravid Kahalani, a charismatic frontman who brings a heavy dose of human energy and warmth to this band's blend of influences. As such, Yemen Blues works as both an ethnomusicological deep-dive into the interplay between disparate styles and, well... a damn good party. (Sun April 21, Crystal Ballroom, 1332 W Burnside, 8 pm, $25, all ages, w/DakhaBrakha, Soriah) BEN SALMON
Sponsored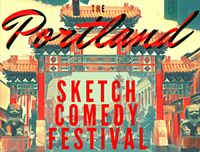 Sketch comedy troupes from all over N. America descend on The Siren Theater for 3 glorious nights.