If you're interested in watching a metalhead lose their shit, pose this question to them and stand back: If you could only listen to Iron Maiden or Judas Priest for the rest of your life, which one would you choose? Their eyes will bug out of their head, they'll need some time to dissect each band's discography in their mind before they answer, and their answer will likely flip-flop from hour to hour. It'll be entertaining, guaranteed.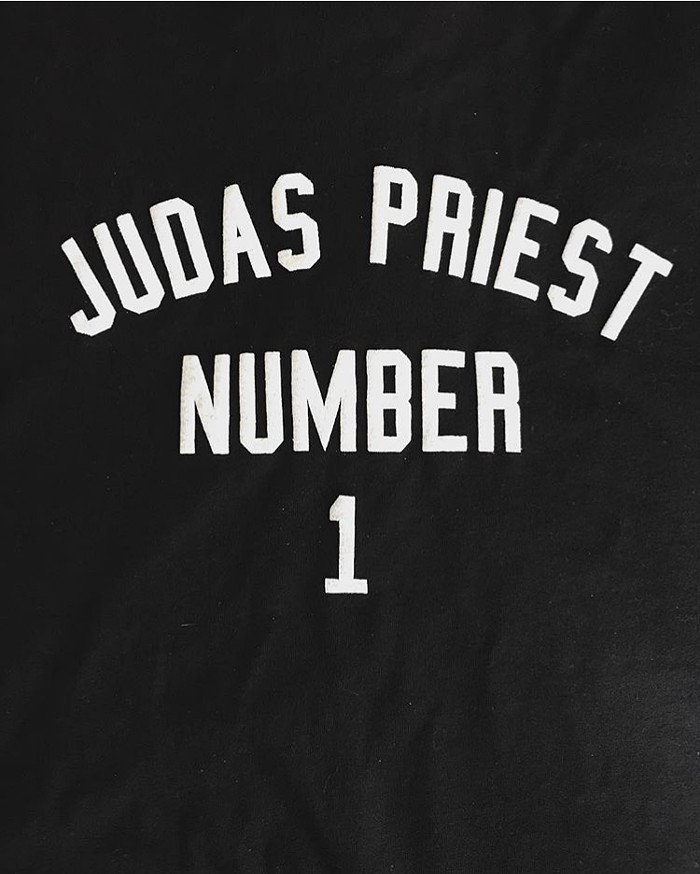 The funny thing about that question, while the answer seems like it'd be a matter of personal preference or opinion, is that there is only one correct answer: Judas Priest. Not to discredit or dwarf the MASSIVE contribution Iron Maiden made to the history and ever-changing landscape of heavy metal, but the story and stylistic journey of Priest is way more interesting and multifaceted than Maiden's. Plus, Priest's new material, 2018's
Firepower
in particular, is much more relevant and worth revisiting than anything Iron Maiden has put out in the last 15 or 20 years. Proof of this was magically put on display by Judas Priest Saturday night at the Moda Center.
Judas Priest's performance last April at the Memorial Coliseum came just after Firepower's release, and it was one for the books. The band played new material, all the hits from the classic records, plus a few older tracks for the real die-hards in the crowd. Rob Halford's voice sounded ageless, and despite announcing his retirement from live performances due to Parkinson's disease, Glenn Tipton made an appearance and played all the encore songs. Saturday's performance was not unlike last year's—the band played more tracks from Firepower, dug even deeper into a career that is rapidly approaching 50 years, and new guitarists Richie Faulkner and Andy Sneap further solidified themselves into the Judas Priest storyline.

Of course, Rob Halford's signature, uncanny vocal style takes the cake at any and every Judas Priest show there ever was, but the fresh, young blood in Faulkner and Sneap inject a much-needed vigor into Judas Priest that can't be denied. Yes, it's always better for a legacy band to retain as many original members as possible lest they lose some intangible credibility, but there's something to be said about enlisting younger musicians that have worshipped said band for most of their lives; they bring an outsider's perspective with a historian's knowledge that can be quite useful. Faulkner and Sneap are certainly to blame for Judas Priest unearthing deep cuts from the mid-'70s to play live, like "Victim of Changes," "Tyrant," and "Starbreaker." There is a fairly large cross section of fans at the shows who just want to hear the radio hits like "Breaking the Law" and "Living After Midnight," but Faulkner and Sneap know the young, internet-bred fans that a legacy band needs to retain want to hear the more historic tracks—the ones no modern band could ever reproduce. The buried inceptions of greater things to come, scorched by the white-hot flame of vivacious youth. Judas Priest's discography is thick with songs that will inspire and define endless bands and musicians for evermore. Thank the metal gods they are willing to dive deep and put those songs on display.
The stage show itself wasn't too spectacular: a few CGI videos here and there, some back drop and lighting changes. Rob Halford traded out his jacket between every second or third song for some other flashy, studded, leather number. And he rode a motorcycle out onto the stage for "Hell Bent for Leather," as per usual. The simple stage show that Priest presents really isn't an issue. Their music doesn't need any added visual pomp to captivate an audience.
As long as Rob Halford can continue to cut glass and topple cities with his vocal cords, Judas Priest isn't going anywhere. Their past earned them infamy, but their future is what will make them eternal. Iron Maiden, you've got some catching up to do…