For the last year and a half, Girl Fest founder/curator Madison Sturdevant's day job has been production manager at the Doug Fir Lounge (AKA everyone's favorite venue). Although she may seem like she's got it all together—she's the founder and curator of Girl Fest, a yearly all-ages showcase for women and nonbinary artists from the Pacific Northwest region that's going strong into its sixth year, and two weeks before our interview, she was promoted to Doug Fir's booking coordinator—she went through a period of not knowing what the hell she was doing with her life.
Before starting Girl Fest, Sturdevant spent two years studying communications at a "tiny little Christian college in the middle of nowhere in Kansas," something she describes as "a bizarre experience" where she was just going through the motions.
Sponsored
Win a behind-the-scenes tour of our kitchen, see how we make our artisan edibles, and get some swag.
"I was like 'I'm this little liberal girl from the Northwest and somehow I'm in this alternate universe,' and then I quickly came back," says Sturdevant.
Born and raised in Newberg, Sturdevant started writing for Seattle-based blog Respect My Region as a way to stay connected to the Pacific Northwest's bubbling pool of musical talent while away at school. She'd listen to Northwest hip-hop and write about it, researching and obsessing over all the releases and shows she couldn't attend.
"I was under 21 at the time," she says, "so even when I got home [from college], writing about music was my way of being a part of a community I couldn't really participate in yet.
"And then when I got back, I didn't actually graduate college, so I was kind of chillin', livin' the life, and trying to figure out what on earth I wanted to do. And the only thing I was drawn to were shows and being a part of that world. I wasn't sure how to get in and get involved, so I decided 'Why not start my own thing?' I was 19 at the time. I didn't know what I was doing.
"That was kind of where the whole thing started: being 19, obsessed with local music, and having nowhere to go, and thinking, 'We need more events that are accessible to all ages and support women.' That was the baseline for the idea."
The first Girl Fest was a summer event held during the first weekend in August 2014 at Lola's Room. "The very first year was Blossom—it was her first show," Sturdevant says of her debut lineup, which also included sets from Little Warrior, Neka & Kahlo, Daughters of the Dead Sea, and Bed.
"It was the same weekend as Pickathon. And we still had an awesome turnout," she says.
"I noticed there's a real lack of events going on in January, but there's also a little less competition.... It's like: 'Kick off the New Year!' I love that energy and playing on that."
So while Portland's live music calendar is notoriously dry in January, for the last few years, Girl Fest has been holding it down.
Fueled by her passion for live music and a determination to support women artists to the fullest, Sturdevant decided to set out on her own rather than find someone established to show her the ropes. The event has welcomed the likes of Dodgr, Seattle soul siren Parisalexa, illustrious Emerald City MC Gifted Gab, as well as singer/songwriter Haley Heynderickx, and experimental pop artist Coco Columbia.
When asked about how Girl Fest has adjusted to include not just women and girls but also nonbinary artists, Sturdevant says it's something she's become very conscious of.
"In the last year or two this was something that's been updated on pretty much everything Girl Fest-related—just to take that extra step of inclusivity."
Now in its sixth year, Girl Fest will once again lure us from the warmth of our sofas into the cold winter night to see another heavenly and diverse bill of talent. Sturdevant says she doesn't have any particular method for curating her lineups. She discovered this year's headliner, Seattle producer/multi-instrumentalist Chong the Nomad, via the artist's manager; experimental hip-hop artist Guayaba (also from Washington) caught Sturdevant's attention at a 2019 Doug Fir show. The 2020 lineup also promises appearances from synth-pop outfit Dan Dan, Portland indie rockers Pool Boys, dreamy electronic pop artist Basil Strawberry, and No Manches of the Noche Libre DJ collective.
If it seems like past Girl Fest lineups have tended to lean on high-energy hip-hop and groovy R&B for its headliners, you're not just imagining it. That's an intentional choice by Sturdevant, which also has something to do with why Girl Fest is diversifying its program this year, by hosting two additional events that will precede the showcase.
"It's always been kind of complicated 'cause Girl Fest kind of ends in hip-hop, but there's also a lot of pop influences, as well as a little bit of rock. It's always been really hard to incorporate singer/songwriters because the lineups seem to be a bit more high-energy—more party vibes. So even though I'd heard from all these awesome singer/songwriters, I've never really known how to incorporate them into Girl Fest, the main event."
For the new decade, Sturdevant has introduced a trio of new components: a songwriters luncheon (with Robin Bacior, Clara Baker, and Tara Velarde) and a comedy happy hour on January 11, as well as a benefit brunch on January 12 featuring DJ Kween Kay$h at Blackheart.
"I've always wanted there to be some kind of comedy element. And I've always wanted Girl Fest to branch out from music. We've always supported women in music, but Portland comedians deserve to be involved as well."
Because of the time-consuming nature of planning and promoting Girl Fest, Sturdevant says that (other than help from the extra supportive folks at Holocene) she's basically a one-woman show: She books and organizes all of it months in advance and then does all the promoting and managing of Girl Fest's online presence.
"I 100 percent know that's probably my weakest spot," she says.
In the future, Sturdevant says she'd love to be able to delegate some duties, and specifically bring in some support for social media.
Still, Girl Fest shows no signs of slowing down. In 2018, Girl Fest launched a series of smaller showcases called She | Divine that happened every three months. Sturdevant says she'd once again like to organize some intermittent shows throughout the year, but on a less structured timeline.
"I just want Girl Fest to keep growing," she says. "I mean, every year I'm so happy with who I have. I've never been not happy with the lineup. But I would love to keep getting bigger."
Sturdevant says it's also a dream to do a Girl Fest event in Seattle one day, in addition to the regular Portland showcase.
When asked if there have been any challenges of putting on such an outwardly feminist event over the last six years, Sturdevant says it's been pretty well received.
"I've definitely had the occasional angry email from a woman who's upset that some of the bands have men performing with them," she says. "The name 'girl' has been an issue. So I've been really careful how I word things in the last couple years, just trying to mitigate that drama... but for the most part the reception has been very positive. And I've worked really hard to make the vision really clear so that people understand: This isn't an event where I'm just trying to put female artists on display or take advantage of female artists or anything like that—this is solely to support the women in Portland who are making music, and to get them on stage and get them noticed. I think most folks are able to see that."
Sponsored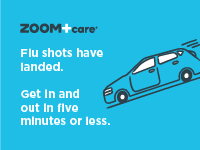 ZOOM+Care makes flu shots easy and safe. Schedule ahead, skip the line—get in and out in 5 minutes.