THURS JAN 16
Cold War Kids, Overcoats
The second half of the aughts was rich with indie anthems boasting catchy hooks, orchestral backdrops, and a lot of hand clapping. Cold War Kids were one of the many artists producing such bangers, bouncing to the alt-rock charts in 2007 with the infectious single "Hang Me Up to Dry." Fast-forward 13 years and the California indie band is still churning out stick-in-your-head tunes accompanied by the smooth falsetto vocals of frontman Nathan Willett. While more polished and pop-heavy than the band's scratchier early stuff, Cold War Kids' newest work offers and hip-shaking beats that will draw new and old fans to the dance floor. (Thurs Jan 16, 8:30 pm, Crystal Ballroom, $32-34, all ages) ALEX ZIELINSKI
Starover Blue, Silver Medal, Young Elk
Portland-based experimental dream-pop outfit Starover Blue has a sound that takes me back to the soft-singing pop and country singers of the '90s—but their influences are vast, and it all ends up sounding like beautiful gloom pop. Having departed from their folksier roots, on last year's Ordinary Magic, lead singles "Chameleon" and "Anemone" are vivid and delicate, but also highly climactic and fully fleshed out. The four piece now comprises singer/songwriter Kendall Sallay-Milotz (also taking on guitar, synthesizers, and beat programming), Dirk Sallay-Milotz (synth, guitar, beat programming), drummer James Alton, and bass/guitarist Kyle Polensky. Ethereal doesn't even begin to cover it. (Thurs Jan 16, 8:30 pm, Holocene, $8-10) JENNI MOORE
Sponsored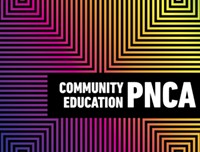 Online art and design classes at the Pacific Northwest College of Art now open for registration!
---
SAT JAN 18
Pelican Ossman, Guillotine Boys, Crowey
The quietly powerful power trio Pelican Ossman released one of 2019's most underappreciated albums: Stay In the Water, a clambering collection of indie pop that feels as if it were constructed from homemade instruments held together by copious amounts of duct tape and prayer. Live, they remain wonderfully unpretentious, opting for downturned eyes and simple presentations of their jewel-like compositions. Tonight they're joined by another wonderful trio, Guillotine Boys, an all-instrumental crew that moves between West African-inspired skronk and dirty, noise-rock stomp. (Sat Jan 18, 8 pm, Turn! Turn! Turn!, $5) ROBERT HAM
EarthGang, Mick Jenkins, Wynne, Jurdan Bryant
EarthGang have that ATL hip-hop sound I love, keeping the spirit of OutKast (fun and freaky dirty South) alive without sounding much like that particular duo. EarthGang are a duo, too—rappers Johnny Venus and Doctur Dot. They've been buzzing since self-releasing their debut in 2013, with their eccentric, psychedelic rap eventually catching the ears of J. Cole. (EarthGang signed to his Dreamville Records last year.) Their major-label first (and third full-length, excluding all the mixtapes and EPs and comp singles and guest spots in between), Mirrorland, is fucking banging. Johnny Venus told Pitchfork the album is inspired by 1978 Wizard of Oz redux The Wiz: "It's really colorful. It's really dangerous. It's really trippy. It's literally Freaknik Atlanta in the summertime—folks riding around in cars with big rims with paint on their faces." Johnny Venus has the gnarly, demented, Caribbean-flecked vocal quality, while Doctur Dot is a tad more straightforward eccentric, slicker, very slightly quicker—though both are lyrically agile, clever, and witty as fuck, with the ability to be both odd and catchy. They're edging toward stardom. Here's hoping their quirky charm is intact when they arrive. (Sat Jan 18, 8 pm, Wonder Ballroom, sold out, all ages; read our story and interview with opener Wynne.) LEILANI POLK
---
SUN JAN 19
Miss Rayon
The cover to Miss Rayon's latest EP is emblazoned with the terrifying image of the Denver International Airport's 32-foot-tall, demon-eyed horse sculpture Blue Mustang—a towering, horrific, and almost certainly sentient abomination that, it should be noted, killed its creator when it fell on him. Perhaps more importantly, the EP's called Part Time Punks, a title that seems more than apt; with six songs that fit into a brisk 20 minutes, Miss Rayon blurs the line between sludgy post-punk and brighter indie pop. While 2018's Eclipse offered a slicker, more layered sound, both point to a group that knows how to explore surging soundscapes with just enough restraint. (Sun Jan 19, 8 pm, Rontoms, FREE) ERIK HENRIKSEN
King Princess
King Princess first hit the radar in 2018 with "1950," a sweet, simple pop song about teenage queer crushes. Her subsequent music has trended a bit edgier—consider song titles like "Pussy Is God" and "Cheap Queen"—but no less infectious. Sure, the fact that she was born in 1998 makes me feel a little ancient. But her emotionally adept lyrics ("We say 'I love you,' but we ain't together/ Do you think labels make it taste much better?" she wonders on "Ain't Together") and bold, drag-inspired looks show King Princess knows exactly what she's doing. (Sun Jan 19, 8 pm, Roseland Theater, sold out, all ages) BLAIR STENVICK
---
MON JAN 20
Midge Ure
Midge Ure doesn't need to do as he's doing on this current US tour, which is allow his fans to interrupt an acoustic set of his best-known material with questions and song requests. The 66-year-old has secured his bag by co-writing the Band Aid classic "Do They Know It's Christmas?" and his stints in Ultravox, Visage, and Thin Lizzy. Tonight's show is the continuation of Ure's victory lap in support of Soundtrack, a recent compilation featuring choice cuts from his solo work and his time with Ultravox, alongside rare material. (Mon Jan 20, 9 pm, Doug Fir Lounge, $23-25) ROBERT HAM
Amber Liu, Meg & Dia, Justice Carradine
Electro pop phenom Amber Liu—formerly of internationally famous K-pop group f(x)—is a multiple threat: She's a singer, songwriter, rapper, a Korean TV star, and is now making her first big push into the States, touring in support of her just-released EP X. Liu's emotive, soulful vocals combine introspective lyrics over tight beats to produce thoughtful club bangers that are easy to dance to. Though a newcomer to American pop, Liu nevertheless comes off as if she's successfully graduated from a master class taught by Madonna, Belinda Carlisle, or any number of great dance artists from the '80s. (Mon Jan 20, 8 pm, Wonder Ballroom, $28-149, all ages) WM. STEVEN HUMPHREY
---
TUES JAN 21
Cursive, Cloud Nothings, Criteria
The top portion of tonight's midwestern emo romp (brought to you by the letter "C") is worthy enough of your attention: Omaha-raised musician Tim Kasher has hit his stride with long-running post-hardcore outfit Cursive, and few bands have been more consistent over the course of the past decade than Cleveland indie rockers Cloud Nothings. That said, the main draw might be Criteria, the bill's opener. Longtime Cursive fans will no doubt be familiar with Steve Pedersen, who shared the stage with Kasher in the influential heartland indie-rock band, Slowdown Virginia, and the first iteration of Cursive. His own band, Criteria, recently ended its 15-year hiatus with the release of Years, an album chock-full with the same arena-sized hooks that made them a force to be reckoned with in the early aughts. (Tues Jan 21, 8 pm, Revolution Hall, $25) CHIPP TERWILLIGER
---
WED JAN 22
Ritual Veil, Physical Wash, Dancing Plague, DJ Koto
Here's the dark-wave, synth-goth night of your dreams. Putting this trio of local bands—who all sound like some variation of Bauhaus or Depeche Mode gone a little further down the drainpipe—on the same bill guarantees a night of blissed-out swaying to incongruous synth chords from people in varying levels of fetish wear. After a change-up in synth players last spring, Ritual Veil sounds ready to unbuckle a bunch of new material. And considering the precise, death disco hits of their 2017 EP Wolf in the Night, that's something we're very interested to hear. (Wed Jan 22, 8:30 pm, Holocene, $8-10) SUZETTE SMITH
Frantarctica, Voovol, Mare
The ragged, dirty punk brought noisily into existence by Frantartica has had a longstanding presence in the Portland music scene, thanks to now-iconic outfits like Dead Moon, the Frances Farmer Gals, and Neo Boys. This ensemble places itself along that continuum with a mighty, sludgy heave, a basement show, and a cheap beer-fueled blend of anger and paranoia. A new Frantarctica album is being celebrated tonight, which means there will be plenty of fresh sounds poised to bruise your insides. Get there early to experience the thrilling wonder of minimalist experimentalists Voovol. (Wed Jan 22, 9 pm, the Liquor Store, $7) ROBERT HAM
...And You Will Know Us by the Trail of Dead..., Kinski
Like a Smashing Pumpkins that never disgraced themselves, ...And You Will Know Us by the Trail of Dead... are still bringing that full-on fantasy orchestral rock to which we all imagine epic D&D campaigns or simply pump our fists. Their two most successful albums remain 1999's Madonna and 2002's Source Tags & Codes. Did Source Tags DESERVE that perfect Pitchfork 10? Who knows? Did it FEEL like it did at the time? Hell yes. More than 20 years later, Trail of Dead is still messing around with prog, punk chords, gravelly singing, and their band's mystical mythos. Mississippi Studios feels like toooo small a venue for this group's enormous sound, but hearing their brand-new record, X: The Godless Void & Other Stories, in such an intimate setting sounds flippin' EPIC. (Wed Jan 22, 8 pm, Mississippi Studios, $16-20) SUZETTE SMITH
---
THURS JAN 23
Night Heron, Korgy & Bass, Colin Jenkins
Not only known for their popular, thriving dance nights, Holocene is a space that also celebrates weird, beautiful visuals—their solid decade of Fin de Cinema performances being a good example—so I'm intrigued by their Pop + Puppetry series, which pairs local pop bands with puppeteers. Think shadow plays for sure, but there's also video on YouTube of an enormous puppet figure with glowing eyes towering above the audience. So it could get weird. Hard to go wrong with a bill like this: Korgy & Bass bring beautifully arranged experimental electronic compositions, and Night Heron is the breathy EDM project of defunct favorite Radiation City's Cameron Spies. (Thurs Jan 23, 8 pm, Holocene, $10) SUZETTE SMITH
Wet Fruit, Gamelan Wahyu Dari Langit, Saloli
Wet Fruit grew out of percussionist Papi Fimbres' other band, Sun Angle, the psych-rock combo he shares with guitarist Charlie Salas-Humara, among others. When Sun Angle went on hiatus a few years ago, Fimbres and Salas-Humara kept getting together and playing, simply because it was fun and they missed doing it. While Fimbres attacked his drum kit, Salas-Humara would "not focus and just shred" on guitar, Fimbres says. Sometimes, they'd add to the din with some distorted flute or droning viola. They brought in guitarist Elaina Tardif (Tender Age, Meringue) and Rebecca Rasmussen (the Wild Body, Boink) on bass. One trip through their self-titled album's seven tracks will reveal where and how the quartet has added an element of control to its chaos. Opening track "Conceptual" ends with a sweet 'n' sour coda of vocal melodies draped over craggy guitar riffs. "Goodbaddog" puts a bright and airy spin on post-punk. "Sheetz" sounds like a Xerox of a Xerox of a Kim Deal song that didn't make a Pixies album and was subsequently left out in the sun to melt. Album closer "Wasted Future/Relaxed Trucker" evolves from a skittering dream-pop song into an ominous, droning freak-out across its seven-minute runtime. (Thurs Jan 23, 9 pm, Mississippi Studios, $5) BEN SALMON
---
FRI JAN 24
★ Poppy, Vowws
Read why this show is a critic's pick. (Fri Jan 24, 8 pm, Hawthorne Theatre, $25-30, all ages)
---
Ozomatli
Since forming in 1995, eclectic LA six-piece Ozomatli has become known as the Dioses del Baile (Gods of Dance). Their music pulls from modern and classic Latin, hip-hop, urban, and other world music, and they're highly lauded for their political activism. They're also great live—anyone who started college at the University of Oregon in 2006 will probably remember the outdoor concert/dance party they put on in the quad. The band's most recent album is 2017's Non-Stop: Mexico to Jamaica, a wonderful record that fuses their typical Latin sound with reggae, alternative, and rock influences. And here's a fun fact: Ozomatli performs their iconic "Como Vez" in an episode of Sex and the City—the one where the girls stay out at a salsa club dancing the night away, causing Carrie to be late to her "Single and Fabulous" photo shoot the next morning, and looking like a hot mess. That could be you! (Fri Jan 24, 8 pm, Revolution Hall, $25-30) JENNI MOORE
Blue Tomorrows, Barna Howard, Moon Shy
Portland singer/songwriter and multi-instrumentalist Sarah Nienaber made a significant imprint on the local music scene in the last decade thanks to her roles in the shoegaze-rock and dream pop trio Candace and the psych-folk outfit Web of Sunsets. Her newly-minted solo project, Blue Tomorrows, continues this hot streak on the excellent debut Without Color. The album's hazy psych-pop packs plenty of atmosphere, with warm synths, strummed guitars, and steady percussion pulling the listener along for the ride. It's a bit reminiscent of Painful-era Yo La Tengo, and it's bound to sound extra special tonight when Nienaber links up with her Candace bandmate Sarah Rose and Michaela Gradstein of Plastic Cactus to bring the songs to life. (Fri Jan 24, 8 pm, Turn! Turn! Turn!, $5) CHIPP TERWILLIGER
SUN JAN 26
Michael Kiwanuka
Even if you think you haven't heard soulful British indie-folk artist Michael Kiwanuka, you probably have—especially if you've ever tuned in to the HBO drama series Big Little Lies, for which his song "Cold Little Heart" was used as the intro theme. But the singer-songwriter/multi-instrumentalist has been coming into his own ever since he stepped onto the scene in 2012 with Home Again; his 2016 sophomore album Love & Hate was nominated for numerous awards in Europe and peaked at number one on the UK albums charts. And now us Americans are finally catching on. Kiwanuka, his new 14-track LP, has also been met with critical acclaim. Kiwanuka welcomes you into his musical world with the original "You Ain't The Problem," followed by "Rolling," which sounds like it could be plucked from 1970. Get to the Roseland if you want to gently rock out for a couple hours, and especially to hear Kiwanuka play the drawn out climax to album highlight "Hero," no doubt backed by stellar accompaniment. (Sun Jan 26, 8 pm, Roseland Theater, sold out, all ages) JENNI MOORE
---
MON JAN 27
★ Xavier Omär, Parisalexa
Read why this show is a critic's pick. (Mon Jan 27, 8 pm, Hawthorne Theatre, $20-25, all ages)
---
WED JAN 29
Black Belt Eagle Scout
Katherine Paul, AKA Black Belt Eagle Scout, has spent the past several years blessing Portland with her powerful-yet-soft melodies about community, loss, and indigenous identity. This month, as part of Multnomah County Library's "Everybody Reads" series, you can sit in on a special performance by Black Belt Eagle Scout, followed by a conversation between Paul and her mother, Patricia. (Wed Jan 29, 7 pm, PSU's Native American Student & Community Center, 710 SW Jackson, FREE) ALEX ZIELINSKI
The Giving Project Fundraiser: KayelaJ, Tender Kid, Cuan the DJ, DJ Mami Miami
In collaboration with JOOP JOOP Creative, the Women's Foundation of Oregon's benefit for The Giving Project is so much more than just a fundraiser concert. In addition to musical performances from rapper KayelaJ and lo-fi hip-hop artist Tender Kid, the event also promises Tarot readings by Miss Renee Healing, video projections by Sean Chamberlain, a "self-care station," vegan food from Meals 4 Heels, plant-based ice cream from Ice Queen, and a professional headshot photography pop-up by Evan James Banally Atwood. All proceeds will benefit The Giving Project, which seeks "to reach and engage historically underrepresented communities in transformative leadership development and resource sharing." (Wed Jan 29, 5:30 pm, Holocene, sliding scale donation $5-50) JENNI MOORE
Pleasure Curses, White Knife Study, Shuteye
Shades of Style Council are wildly apparent in every sexy note of Pleasure Curses' disco-infused dance numbers, such as the crazy-fun "Mean Streets," where slick vocals thrum over a dirty bounce that defies you not to gyrate. The Portland duo, comprised of Jahn Alexander Teetsov and Evan Maxwell Grice, bring a strong synth-funk vibe to the party, along with a heavy scent of sex and a personality that lets you know they're prioritizing fun over art. If you've come to dance and have a good time, Pleasure Curses are ready to provide exactly what you need. (Wed Jan 29, 9 pm, Bunk Bar, $8-10) WM. STEVEN HUMPHREY
Sponsored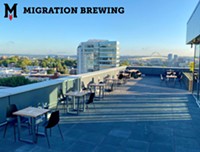 This 9th floor patio boasts stunning views of the city, three mountains, and Portland's West Hills.