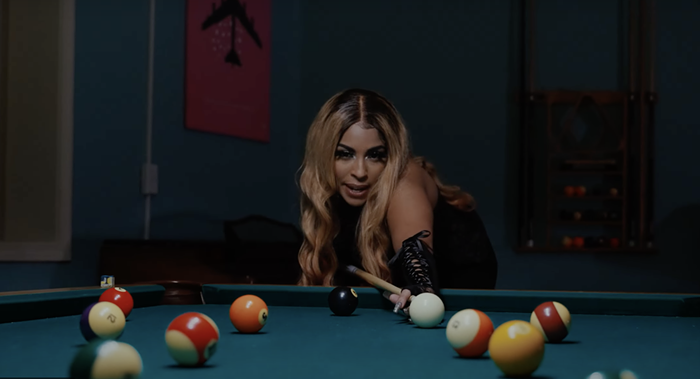 While there might not be a ton of fresh music news for Portland this week, what we have here is quality over quantity. Read on to hear about the cool new single and music video from rapper Karma Rivera, as well as upcoming shows from Joseph, Orquestra Pacifico Tropical, and Jazmine Sullivan.
MUST-LISTEN:
One great new release from a locally relevant artist.
"Got Me Hot," Karma Rivera
Local rapper Karma Rivera dropped a saucy new music video on November 30 called "Got Me Hot." Over a sinister beat by Italian-based producer Luther Ford, Karma's flow is hypnotic as she raps "Okay I grew up with the have-nots / Spicy like some flaming hots / I'm outside with the college drops / I'm vaccinated with the shots /I come thru and hit all the spots / With nothing on except my crocs / rappers act like what they not / Mistake they fans with all the bots." In the witchy video, Karma rocks blonde hair, plays pool, and flickers throughout an isolated wooden cabin in the forest.
---
MUST-SEE:
Two can't-miss upcoming shows.

Joseph
Portland-originated folk trio Joseph released their latest full-length, Trio Sessions (Vol.2) on November 5, following up 2020's Trio Sessions (Vol.1), and 2019's Good Luck, Kid. Their latest features stripped down recordings spanning the sisters' catalog. This is the stuff fans of The Chicks and HAIM are eating up, but Joseph offers that special Portland flavor. Now the trio—Allison, Meegan, and Natalie—will play two homestand shows this month, bringing their sweet harmonies, fierce acoustic guitar, and kick drum to the cozy Doug Fir stage.
Friday Dec 3 & Friday Dec 10, 9 pm, Doug Fir, 830 E Burnside, $25-28.

Una Noche de Bienestar: Orquestra Pacifico Tropical, Mariachi Mexico En La Piel
This concert celebrating Latinx music, art and culture will benefit a local nonprofit affordable housing developer that focuses on the wellbeing of the Latinx community, immigrants, and all families in need. Come party to the sounds of locally based psychedelic cumbia band Orquestra Pacifico Tropical, led by drummer Papi Fimbres. Hosted by performing artist, storyteller, and musician Joaquin Lopez, this show will also feature excellent upbeat mariachi music by Mariachi Mexico En La Piel.
Thursday Dec 9, 8 pm, Holocene, 1001 SE Morrison, $25.
---
ADDED TO THE QUEUE:
Some local music buzz to put on your radar.
Jazmine Sullivan at Roseland Theater
Prolific R&B singer-songwriter Jazmine Sullivan is coming to Portland's Roseland Theater on February 15 in support of her incredible 2021 EP Heaux Tales. The show will be her second stop on the tour, after Vancouver BC, and before a stop in Seattle. Earlier this week, Sullivan accepted the Soul Train Album of the Year award for the project, and rightfully so. Heaux Tales tracks like "Pick Up Your Feelings," "Girl Like Me," "Lost One," and "The Otherside," were not only a masterclass in vocals (my God can this woman sing!), but also sees her give honest testimony, accurately depicting what it feels like to date, love, and break up as a modern woman. Tickets go on sale to the general public tomorrow—Friday, December 3—at 10 am.