[This Q&A was originally published in our sister publication, The Stranger. —eds]
There has always been a sense of intrigue and mystery surrounding the world of black metal. Since the early days of Mayhem—the notorious Norwegian band often credited for catapulting the genre into the mainstream in the '80s with their headline-grabbing history of suicide, murder, and alleged church burnings—the genre has become one of the most deeply fascinating underground subcultures in modern times. Adding to the mystique, some black metal musicians adopt monikers such as Frost, Necrobutcher, and Abbath in an effort to keep their true identities a mystery.
We need look no further than Olympia to find one of the most talked-about names in contemporary black metal, the one-woman act known simply as Hulder. Just two and a half years ago, deep in the woods of Thurston County, Hulder played her first outdoor concert to about 350 fans. Since then, she has performed in sold-out rooms across the United States, and now she's gearing up for a 10-day West Coast tour alongside fellow Northwest black metal stalwarts Wolves in the Throne Room. 
Though internet sleuths have certainly tried to unearth tidbits of information to piece together Hulder's entire backstory, not much is really known. At this point, it's clear that she would like to keep it that way. Here's what we've confirmed: she was born in Mechelen in Belgium, then moved to what she describes as the "Walmart meth mecca" of Apple Valley, CA when she was 12. After playing in a few garage and punk bands, she formed a short-lived, but badass metal band Bleeder, where she went by the name the Inquisitor. She later made her way up to Portland and finally Olympia. 
After the release of her stellar debut full-length album Godslastering: Hymns of a Forelorn Peasantry in 2021, an influx of attention came her way. But instead of doing what's natural to many up-and-coming metal musicians and immediately jumping in front of a camera or a microphone for a chance to promote their music, Hulder has carefully crafted her own narrative, choosing to only speak to journalists and media outlets via email.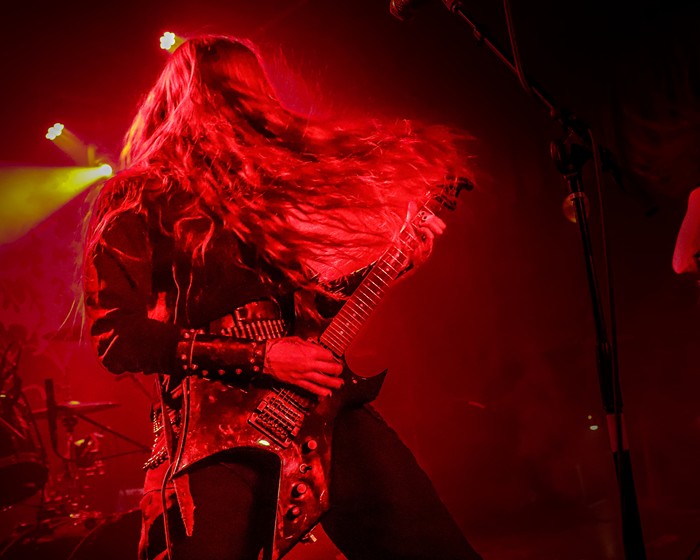 THE STRANGER: Before moving to the United States, you lived in Belgium. What were some of your favorite memories from your childhood there?
HULDER: I grew up in a small farm town nestled between Brussel and Antwerpen. My siblings and I spent the majority of our time exploring the surrounding farms and woods, which were a breeding ground for the imagination. As my grandmother was an antiques dealer with an affinity for the medieval and macabre, she was a well of information when it came to the history and lore surrounding the general area. She would take me around town to all the cathedrals and abbeys, telling stories while we looked at art and architecture. My grandfather was an actor with plays in local theatre, as well as some roles in film and TV. He is responsible for my love of classical composers and oxtail soup. 
Who were the first artists or musicians that spoke to you as a kid?
I have very early memories of the moody synths and harmonies of Enya evoking strong emotions when I was very young. Some of her works remain favorites of mine to this day. As a kid, I found Pink Floyd's The Dark Side of The Moon and The Wall in an old CD bin in our attic, which would start my musical exploration.
What got you into underground metal?
I was around primarily punk and hardcore, as far as live shows go and what my peers were into, and I played in various punk bands as a teenager. Where I lived at the time was a dead zone for subculture, and it was nearly impossible to get around without a car, so I tagged along to a lot of not-so-great hardcore and garage rock shows out of sheer boredom. My introduction to metal was a binder filled to the brim with black metal classics an older friend handed down to me around age 13 or 14… I listened to Aske (Burzum), Transilvanian Hunger (Darkthrone), and Storm of the Light's Bane (Dissection) back to back on my Walkman, and would have the contents of that binder on repeat throughout my teens and early 20s until I eventually got my hands on official copies of it all.
Did black metal immediately speak to you? What drew you in?
Those early years of being in the US sucked. I remember feeling extremely homesick most of the time. Discovering black metal filled a void nothing else could. It was an auditory portal to the dreary medieval surroundings I craved and invoked a sense of nostalgia that felt like coming home. It simultaneously matched and relieved the discomfort and aggression that was beginning to boil over internally.
Before moving to the Northwest, you played in a band called Bleeder. Was that your first time playing in a black metal project?
Bleeder can only be considered black metal in the first-wave sense. I had not played this type of music with anyone else at the time. That was also the first time I attempted guttural vocals, which, to my surprise, came fairly naturally. It was a good time and served as a way for me to get my foot in the door, creatively.  
You're now living in Olympia. What do you like about Olympia?
I do not live in Olympia, but rather 30 minutes or so outside the city in a small cabin near Mt. Rainier. I have no strong opinion on the city itself, but am enthralled with the vast nature that surrounds me. Foraging for our own food, fishing, hunting, supporting local farms and farmers, and soaking in glacial runoff are all things that are incredibly important to me. The opportunity for self-sustainability is nearly unmatched. The climate is similar to where I grew up, which is great considering I prefer the cold and rain.  
When did Hulder officially start? Or when did you get the spark of an idea for Hulder?
I started working on the demo almost immediately upon relocating to Oregon. The concept was there, and I had an archive of riffs and lyrics at this point. I just needed to sit with it. My first winter in the Pacific Northwest was spent in an uninsulated garage in Portland. It was frigid, and since I did not have any friends or contacts in the area, I utilized that time to record the first demo tape. 
Did you always envision it as a one-person project, or did you ever consider looking for bandmates?
I never envisioned Hulder as a full band and I still don't. I have played in my fair share of bands, and there is a reason I decided to embark on this solo journey. Hulder is an extension of myself and thus ever-evolving. I do not have the time nor patience to explain to or wait for collaborators to understand and catch up, and I selfishly revel in the absolute control I have over all the project's output. 
Your first live show was out in the woods in Olympia back in the midst of the pandemic. If COVID-19 wasn't ever a thing, do you think your first show would have been in a traditional venue?
It may have been in a traditional venue had things not gone the way that they did, but I feel that it ended up working out for the best. The first performance was a special experience with 350 or so people in attendance. A lot of hard work went into making the entire thing happen and it would not have been possible without the help of a handful of very determined people. Thankfully everyone involved had the same vision so we were able to make it an experience to behold. 
What were you expecting from the show? Did it meet your expectations?
The first show far exceeded my expectations. It took place in a small meadow on top of a hill in the forest. Attendees had to walk a quarter of a mile along a dirt path into the woods that was lit by torches in order to access the space. Once there, they were met with a bonfire, an outdoor stage framed with live edge timber, ritual altars, and a full bar that was stocked with homemade herbal concoctions. I have never experienced anything like it and I am very proud of the magic that we were able to conjure. 
How important is corpse paint to you?
While I no longer utilize it in a traditional sense, the ritual of preparing for a live performance remains integral. Visually, it is all a part of stepping into the darkness that is Hulder. 
There are people on message boards and social media who try to come up with your back story and try to create a narrative for you. Is this typically something musicians in black metal bands have to deal with?
I cannot speak to others' experience with this, but I imagine it to be fairly similar across the board. We live in an age where people feel they are owed a glimpse into your life and past by any (sometimes quite impressive) means necessary, it is fucking bizarre. I am very deliberate and sparing about which information I am willing to share, both in regards to Hulder as well as my personal life. Unfortunately, social media is the way things are done these days, and there really isn't a way around it.
When we met up in Olympia you mentioned how some people have gone as far as creating a rumor that men actually played on the album and you're an industry plant. What would you say to someone who's saying something like that?
I will never participate in corny "playthrough" videos as requested by some, so I am not sure there is any way to dispel this rumor. I suppose in a roundabout way this could be viewed as flattery. Again, people feel they are owed proof of some sort, but I just don't see how that is my problem. 
What can you tell me about your second LP? Are there any hints you can give us about the direction you're going?
All I will say is there is an obvious and natural progression. The Eternal Fanfare served as a stepping stone and ultimately paved a clear path for what I would want to do with this next release. The vision is clear, and I am eager to bring this process to completion.
Earlier this year I was able to secure a warehouse space that I have converted to a studio. I track everything myself with the exception of drums, which were performed and tracked by Charlie Koryn, and bass, which was tracked by Necreon. This album will be sent off to Finland for mixing and mastering and I'm very much looking forward to how the final product will end up. 
At this point, you've probably exceeded your goals for the band. What are your goals now?
The future of Hulder is yet to be seen. My goal is and always has been to take the music and performances exactly where they should go without sacrificing any of my artistic integrity. We shall see what the future holds.
---
Hulder opens for Wolves in the Throne Room at Hawthorne Theatre, 1507 SE Cesar E. Chavez, Fri April 28, 7:30 pm, $25, 21+