It felt like a lot was riding on this year's Pickathon. In 2022, its first year back after the pandemic, we saw some of the farm fest's returning pains. We also jumped around to GZA with the Phunky Nomads and decided Pickathon could still bring the magic.
This year, the interim work was obvious. Neighborhood layouts felt shadier and better spaced. The fest added an offsite parking lot and created a whimsical trail to it through the forest. Everyone working was less stressed because there appeared to be many more staff /volunteers. And the music was, again, a welcome curation of diverse acts and impressive performances. Pickathon is certainly changing, but not for the worse. Here were some of our favorite parts:
---
Pickathon's Enduring Vibe
Having not been to Pickathon in five years, I didn't know what to expect—from the festival, or myself. I'd heard there were kinks to work out from last year: Most notably the new stages, and new parking situation. The former parking area is now a housing development, which is a trip to see for anyone who's frequented the farm for the past 10-15 years. I was also, unsure about myself, as I'm still coming out of my post-COVID shell. But damn, once I got to Pendarvis, the feel of it was exactly the same. The volunteers were kind. The music was excellently curated, and I again came out of it appreciating a ton of new artists. The food was great. And the layout—stages set up in shade, and beautifully put together—was an improvement I could never have imagined. It was wild to see familiar faces, and the community aspect is still not lost on me. MARK LORE
---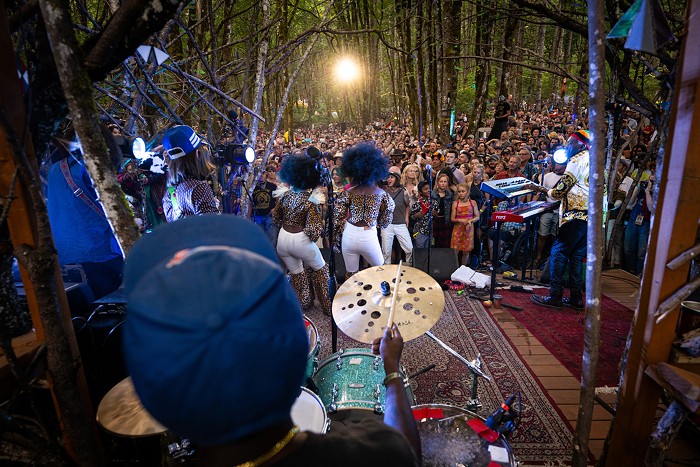 W.I.T.C.H.
At Pickathon 2022, singer-rapper Sampa the Great played an epic, electrifying set on the Woods Stage, she declared: "We are the first Zambian band to play Pickathon, but we won't be the last." Now it's apparent that she either spoke it into existence, or she was already in on the secret that W.I.T.C.H. was set to headline the following year. When two backup singers wearing giant afro wigs and matching animal prints took to the Woods Stage, I instinctively knew the audience was in for a treat. The band, whose acronym moniker stands for "We Intend To Cause Havoc," ultimately played a set that provided a masterclass in powerful bass lines, exciting drums, groovy keys, and rock guitars. Known for spearheading the Zamrock genre—a blend of traditional African music, psych rock, blues, and funk—the band released five albums in the '70s before the AIDS epidemic claimed the lives of all the original members, save for the frontman Emanuel "Jagari" Chanda. It wasn't until Now-Again Records reissued old releases and compilations, and director Gio Arlotta filmed a documentary on them that W.I.T.C.H's music started to gain support in Europe and North America. Now the group has gone through a resurrection of sorts, assembling a backing band of mostly younger European musicians, as well as Zambian keyboardist Patrick Mwondela. This year the band released Zango, the first release to its name in decades. They've now garnered a cult following, one of whom was head banging right next to me for most of the set. Chanda made eye contact with the fan, as he popped Rainier cherries in his mouth. He continued eating pieces of fruit throughout, as the band roared spiritedly, converting everyone present into forever fans. JENNI MOORE
---
Photo Essay: Pickathon 2023 in Pictures
---
Wine Lips
Not 30 minutes after this culture writer uttered the phrase "it's hard to have an epic music performance during the day," Toronto rockers Wine Lips showed how it was done. Fuck the bright afternoon. Fuck the muggy mid-80s heat. Suddenly everything within earshot of the Grove area was slave to the beat of the group's tight psych guitar riffs. Even the food court vendors were dancing. When I want to, I can move through a crowd like a jerk, and I did so to check out the full-on, loosy-goosey kicking up that was happening before the stage. Mosh pits at Pickathon—they exist. I immediately liked that the drummer had a microphone, and she used it. I respected the severe angles at which the guitarists could hold their bodies. But what really made it a Pickathon show was the white-haired older gentleman losing it in the pit. He'd move back to the edge to catch his breath, and then get right back out there again. Several energetic youths peppered the moments between songs by shooting their misting bottles skyward, keeping their pit-mates cool. Wine Lips started hard and got weirder as they went. I have since added them to my "fucking move already" list for the morning and other demoralized times. SUZETTE SMITH
---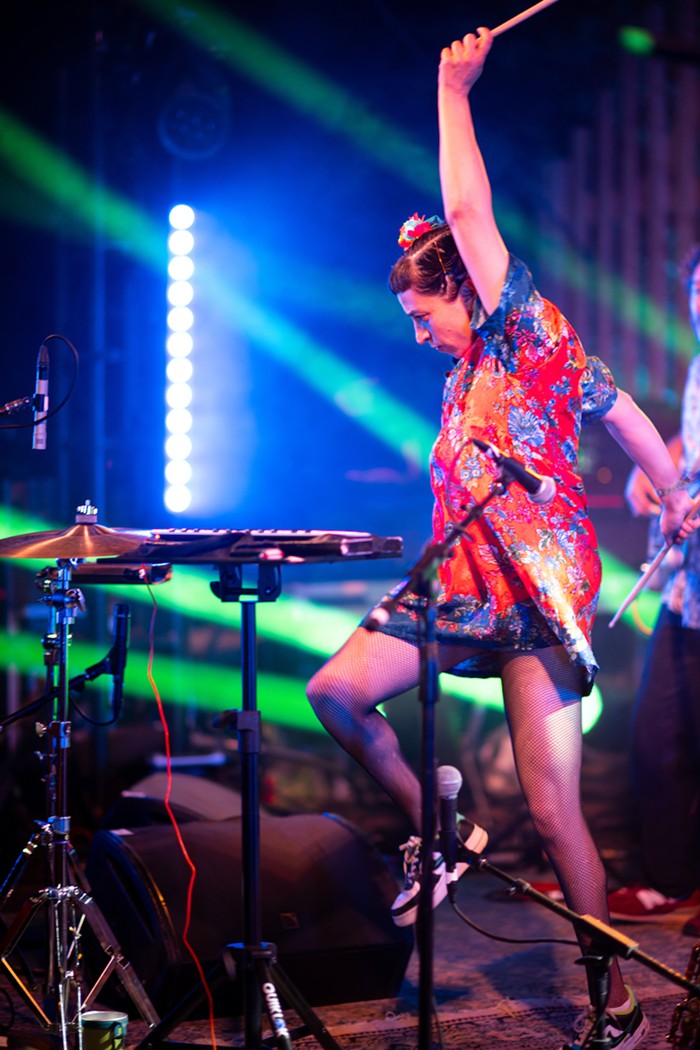 Meridian Brothers
A DJ friend of mine has been spinning and talking about Colombia's Meridian Brothers for years, so they were already high on my to-do list. Their performance was all I'd hoped for: grounded in their South American roots, while also taking the audience through spaced-out krautrock workouts. Meridian Brothers had the Paddock Stage crowd entranced—no drugs necessary. But I'm sure it didn't hurt. ML
---
MonoNeon (with Charlie 3rown)
The last bassist Prince hired before his death in 2016 was bassist Dywane Thomas Jr., the artist better known as MonoNeon. I had not heard of MonoNeon before Pickathon—save for a friend vaguely mentioning to check him out in the group chat.. Someone had told me earlier in the day that he was like a weird Thundercat… but as Thundercat is already fairly "weird." Was MonoNeon even weirder? On the festival's last day, I ran into soul singer and Pickathon veteran Blossom, and she told me to attend MonoNeon's late-night Sunday set since Portland-based jazz pianist Charlie 3rown has been touring as part of his band. I didn't have a solid understanding of what to expect, but Thundercat is cool, as is Charlie 3rown, and Watchhouse had canceled on account of laryngitis. So I showed up. And boy am I glad I did. Backed by an incredible, fleshed out band, MonoNeon blasted an eclectic and experimental mish-mash of funk, jazz and rock. This show was one of my favorites, and the perfect way to end the festival. JM
---
Rich Ruth
Confession: I often judge artists by their names. I think a name can tell you a lot. If it's too pun-y, I avoid. If it's just the artist's name, it doesn't give me much to latch onto, and I might move on. Again, that's just me; I'm not proud, and have been proven wrong many times. Rich Ruth did not immediately stand out, but I was told by a few people to check him out. I did, and he treated the audience to a performance that ticked a lot of boxes—ambient psychedelia, yes. Jazz, check. Prog, indeed. It was an amazing set to hear pouring from the Cherry Hill stage in the early-evening hours. He has a couple killer records out on Third Man, and Ruth was a nice reminder that I need to get past a name. ML
---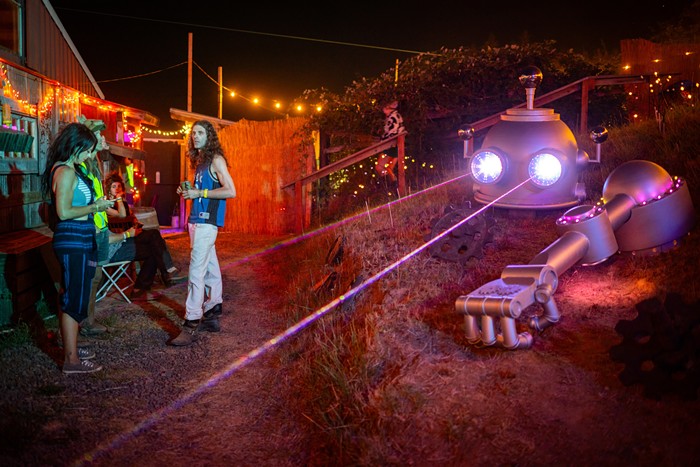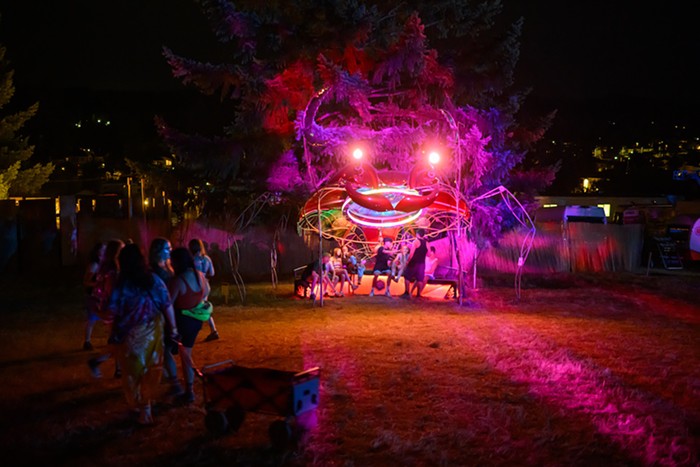 Metaphysical Visuals
I had a lot of love for the Galaxy Barn area this year. Not only did it have the best backstage experience—with lots of extra standing tables and places to sit— but there were horsies. A worker said they were on meds to make them feel less stressed and extra chill for the duration of Pickathon. Additionally, the Galaxy area had some glorious metaphysical decorations on display. Think: third eye drawings, a massive alien robot structure, and white crystal quartz installations that lit up at night. There was a rabbit statue positioned to look like it was smoking a giant pipe! On the last night—as we looked at our final Pickathon 2023 moonrise—the moon glowed orange. Maybe it was due to smoke from a nearby fire, or maybe from all the dust we kicked up at Pickathon? But it felt like perfection.  JM
---
Fruit Stand in the Food Court
It's great to get hungry at Pickathon. There's something indulgent on offer, but you can also easily find a meal that'll keep your guts right—impossible at many festivals. North Portland neighborhood restaurant and grocery P & Q's is actually easier for me to get to at Pickathon than it is in the city. The Japanese comfort food at Obo Shokudo and the fresh fruit at Rubinette Produce helped me recover from the bike trip out to Pendarvis Farm. Sometimes I take Pickathon for granted, but they've figured out a vibe and delivered. The vibe is: sitting in a field and eating a paper box of berries, at dusk, while watching Florist. SS
---
Coyote Neighborhood
A lot has changed since my last trip to Pendarvis Farm, but it didn't take long to get familiar with newer stages, like the Windmill and Paddock. Cherry Hill and the Grove ended up feeling like home during the day, partly because my wife and I brought our two kids to Pickathon this year—another first. Our oldest has been a few times, and is an eight-year-old rock veteran, having seen VHÖL, Kamasi Washington, and King Tuff by age three. However, with an eight-year-old and a four-year-old now in tow, I was concerned they wouldn't last long…until we connected with the Coyote Neighborhood, not far from the Cherry Hill stage and food carts. The Cedarwood Waldorf School and others provided 90-minute daycare sessions with interesting activities, like kite- and button-making, which gave us some time to adult. ML
---
Red Yarn
I've been wanting to take my little one to a Red Yarn show for months, so the opportunity to do so on Sunday morning—as part of the Coyote Neighborhood programming—seemed beyond convenient. Andy Furgeson's live production features folk- and country-style performances and sing-alongs, with woodland critter puppets! We dragged our sore legs out of bed and did everything we could to get there by 10 am sharp. Soon after we arrived, Furgeson performed a song called "Ready Freddie" (alongside his wife and singing partner Jessie) about the experience of trying to get a family with kids out the door. My daughter got to enjoy songs written for her age group, and we related to a song about what we'd just been through. JM