Newcomers' Guide 2017
Welcome! If you've been here for more than a week (or less than a day if you've told anyone you're from California), you know there's a certain segment of Portland's population who wants you to go home.
Fuck that. Most of America isn't a safe place right now, so come enjoy our moderate (but getting more extreme) temperatures, our sanctuary city status, and, because even the bedraggled have got to eat, our diverse and ever-growing tasty-ass food scene. We're not perfect, but we beat small-town Ohio.
Interestingly, many of the best new dishes and concepts from the last year are from not-so-new establishments, or food carts turned full-service restaurants, and even one *gasp* Californian import. For several documented reasons, it's getting harder to hack it here as a straight-up newbie restauranteur, but a lot of cream is rising to the top—that should make getting a decent bite as a newbie much easier. Here's a list of the best new eats from the last year, fit for any hungry newcomer.
Han Oak's Dumpling and Noodle Nights
On Sunday and Monday evenings, this is the place to be. On these typically slow nights, prix fixe Korean restaurant owner/chef Pete Cho transforms his kitchen into a fun, relatively low-cost house of dumplings and noodles. Perfectly succulent Korean fried chicken wings, fat pork and chive dumplings and budae jjigae—a spicy-greasy mashup of ramen, kimchi, American cheese, and hot dog—await. 511 NE 24th, hanoakpdx.com
---
A Middle-Eastern "inspired" restaurant driven by bespoke vegetables hand-reared by local farmers, Tusk has evolved since its opening to really drive home flavors and deliver on filling diners' bellies. The hummus is really just to get you through the door, although it is so freaking fluffy it's like eating a chickpea cloud. Brunch is best, but dinner ain't nothing to turn down. 2448 E Burnside, tuskpdx.com
---
The original Farmhouse Kitchen Thai Cuisine in San Francisco is recognized by the Michelin Guide, and for good reason. There's a ton of surprises on this menu, but the crown jewel is the Panang Neua, a bone-in beef short rib drenched in thick, warming panang curry the color of pumpkin-spice dreams. With veg underneath and blue rice to the side, it's the most beautiful braise I've ever beheld. 3354 SE Hawthorne, farmhousepdx.com
---
Güero was a great food cart for years, and with the addition of tasty margs and an expanded menu, it's an even better brick-and-mortar. Check out the layer of crispy cheese on the Desayuno torta, with scrambled egg, supes-tender beef, pickled jalapeño, lime mayo, and avocado. 200 NE 28th, gueropdx.com
---
Within city limits, there are very few places to get a dosa, the South Indian fermented crepe with an assortment of fillings. Places to get good dosas are even fewer. Tiffin Asha took the leap from cart to commitment early this year, and our favorite remains the Hot Chick, a dosa packed with chicken pakora, cardamom-infused honey, pickled kale, and yogurt cheese. It's the size of your forearm, but somehow all fits in your stomach. 1670 NE Killingsworth, tiffinasha.com
---
Halibut Ceviche, Chalino
Chalino is a seeming rarity these days: a new restaurant from a chef who doesn't own another spot already. It's also pretty great. Chefs Johnny Leach and Dave Haddow are careful to note their Mexican is inauthentic, so relax and enjoy twists like Vietnamese tostadas. Also make sure you get the gorgeous halibut ceviche, an explosion of color and flavor, with the sturdy fish standing up to watermelon radish and sour orange. It's a treat for the eyes and tongue. 25 N Fremont, chalinopdx.com
---
BYH Burger, BYH
John Gorham (Toro Bravo, Tasty N Sons, etc.) makes an insanely good burger. The BYH, or Bless Your Heart burger stand in Pine Street Market, is also blessedly delicious. The cheeseburger is simple but effective: a griddled patty (or two) with American cheese and the classic toppings. It's really all you need, but go ahead and throw in whatever boozy concoction is in the slushie machine too. Pine Street Market, 126 SW 2nd, byhpdx.com
---
Golden Child, Doe Donuts
Doe Donuts aren't the best donuts in Portland, but they are the first all-vegan shop, a fact that you might not know unless someone told you. Each pastry is beautiful to behold, especially when you remember you're next to a 7-Eleven on Southeast 82nd. The Golden Child is a chocolate raised donut slathered in chocolate ganache with brownie, chocolate shavings, and chocolate chips. Golden pearls gild this lily. 8201 SE Powell, doedonuts.com
---
Oxtail French Dip, Stacked
Portland's sandwich game is strong, and Stacked has stepped onto the scene like when Black Widow joined the already awesome Avengers. There are all sorts of inventiveness on this menu, including a Korean fried tofu sammie, and another with roasted lamb leg. But don't miss the juicy-AF Oxtail French Dip, a hoagie loaded down with tender beef, cast iron charred onions and mushrooms, and melty Havarti, all waiting to be dipped into rosemary jus. 1643 SE 3rd, stackedsandwichshop.com
---
Lab Ped, Paadee Issan Nights
Chef/owner Earl Ninsom is the most exciting Thai chef in Portland, and his new Issan Nights on Mondays and Tuesdays prove it. Try the lab ped, a rich concoction of Muscovy duck laab, duck liver, and Vietnamese coriander. 6 SE 28th, paadeepdx.com
Sponsored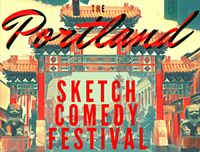 Sketch comedy troupes from all over N. America descend on The Siren Theater for 3 glorious nights.