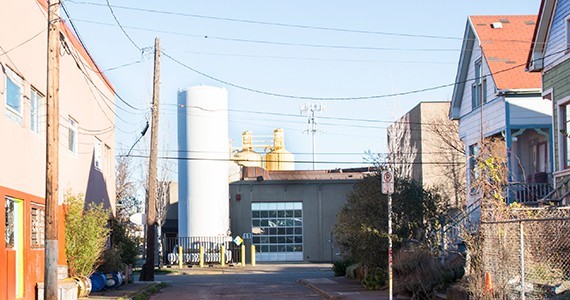 THE BAD NEWS, according to the Oregon Department of Environmental Quality (DEQ): melt the relatively benign metal trivalent chromium (Cr III) in a glass furnace, and 98.4 percent of what's not captured in the glass emerges as a fierce carcinogen, hexavalent chromium (Cr VI or hex-chrome).

The worse news: a properly functioning baghouse pollution control device scrubs only 63 to 67 percent of that hex-chrome, according to the DEQ. The rest spews out into the surrounding environment.

Such are the results DEQ released last Thursday, based on its own analysis of a $60,000, three-day emissions test conducted at Southeast Portland's Bullseye Glass in late April—a test with results so dire that Bullseye declared, "[T]he test results were distorted and are not representative of past or future operating conditions."

Regardless, the DEQ stands by its analysis.

Asked about the finding that baghouses are unable to fully stop Cr VI, agency DEQ Air Quality Manager Keith Johnson said, "Sure we're concerned. We need more testing on that, but that's why we're not authorizing any chromium use [at Bullseye] at this time."

The findings come amidst agency and community concern over separate air monitoring data that indicate Cr VI readings in Bullseye's vicinity were recently "creeping back up" according to Johnson. He referred to three, single-day hex-chrome readings at a nearby day-care center from late June and early July of 0.51, 0.58 and 0.59 nanograms of Cr VI per cubic meter of air. Though well below DEQ's current, but soon to be reviewed, 24-hour screening levels, these reading far exceed its annual safe-air goal of 0.08 ng/m3.

Data on wind direction point to either Bullseye or a nearby cement distribution facility as the culprit.
DEQ is nodding towards Bullseye and is therefore requiring the glassmaker to clean its exhaust stacks even though the company says it has used no chromium since February. Johnson said it was DEQ's "operating hypothesis, but we don't know for sure," that the elevated Cr VI readings come from material—"like crunchy granola"—stuck in Bullseye's stacks that's dislodged by current (non-chromium) production.

And there may be a lot of "granola." DEQ found over the course of the three-day test that an average of 8.56 pounds of particulate-matter emissions were produced per ton of glass made. Over time, some of it lodges in the company's stacks, DEQ thinks.

From 2004 to 2012, Bullseye averaged 2,386 tons of glass per year, or an average of 6.5 tons a day. By DEQ's calculations, melting that amount of glass yields almost 56 pounds of various particulate matter going up Bullseye chimneys every day—stacks that were operated without filters for Bullseye's first 42 years.

Even distributed over several stacks, unless disposed of somehow, 56 pounds of gunk a day will soon block the stacks, leading to poison backing up and eventually spewing through the factory.

"[Bullseye's] flue treatment up until now has been to use powerful extractor fans to suck it all out through the roof and hope it disperses away from the plant itself," says "Ted" a glass industry expert who's repeatedly advised the Mercury on the glass industry on condition of anonymity.

Pressed on that claim, Ted replied: "I've seen it with my own eyes."

As he has in the past, he reiterated a disbelief that Bullseye owner Dan Schwoerer was caught completely off-guard by potential toxic releases, as Schwoerer's claimed.

This view is echoed by Eric Miller, a mechanical designer who has previously worked for both Bullseye and Uroboros Glass. Referring to Bullseye's managers, he said, "They present the idea that they're smart professionals who've been doing this for decades." But once they learned of their poisonous emissions, "They present this image of themselves as aghast and having never thought all this through. It's absurd and insulting to their intelligence. It's like saying the tobaccos industry was shocked that smoking would lead to problems."

From the years 2004 to 2012, Bullseye averaged 2,386 tons of glass melted per year. It has stated that approximately 30 percent of its product line is green glass that, up until now, has typically contained chromium. Thirty percent of 2,386 tons is 715.8 tons.

DEQ now says that hex-chrome emissions are 0.01 pounds per ton of glass produced—or 7.16 pounds from 716 tons of glass. Given the new findings, that appears to be a rough calculation of the amount of Cr VI that exited naked stacks during those nine years.

Seven pounds of hex-chrome per year might not sound like a vast, scary amount. But consider that DEQ sets its average annual safe-air goal at 0.08 ng/m3 of air—and that 7.16 pounds amounts to more than 3 trillion nanograms.

Now, those 3 trillion nanograms are dispersed throughout an awful lot of air, true. But it's telling that DEQ leaped to require an extensive stack cleaning based on just three days' readings of approximately 0.5 ng/m3 of Cr VI. By most lights, 7 pounds of the stuff floating around Southeast Portland year after year is a lot more than folks want in their air. Not for nothing does the World Health Organization state: "no safe level of chromium(VI) can be recommended."

Though issuing its order last week, DEQ is basing it on an inspection it conducted in May of several vent stacks which showed "substantial build-up of caked, cooled particulate matter that forms crystalline solid structures within the stacks." Cleaned from the stacks, this material is collected in a drum, allowing for DEQ analysis. It found "substantial concentrations of lead, arsenic … and cadmium." There were also "elevated" levels of Cr VI at 278 parts per million.

Asked if 278 ppm was high, the understated Johnson said, "That's a bit of chrome." Indeed. By contrast, the amounts of hex-chrome DEQ found in two samples of cement at the nearby Lehigh Cement Company transfer facility were 17 and 53 parts per million. The agency said it's working with the distributor "to install additional control devices to minimize dust emissions during off-loading" of Lehigh's rail cars.

As noted in a prior article , the "U.S. Environmental Protection Agency also estimated that of total chromium emissions from 'cement production,' a mere 0.2 percent is Cr VI." Portland's Lehigh facility doesn't make cement but, rather, unloads it.

Bullseye has until September 1 to clean the residual crud out of its chimneys, though Johnson notes that some stacks will be cleaned over the next two weeks, and others will be replaced as Bullseye installs a new, 11-furnace baghouse.

Ted thought it likely that dislodged stack grime could lead to high hex-chrome readings. "Over time a lot of Cr will have crystallized and stuck to the flue vents," he wrote. "It certainly looks like residual [Cr VI] stuck to flues and brickwork is responsible for the readings DEQ continues to get from their air monitors."

But not everyone buys the notion that crud is accumulating in the stacks and thus contributing to the recent elevated Cr VI readings at the day-care center. A local environmental consultant who asked not be named, emailed, "I doubt they [DEQ] really know where all of this stuff is coming from. That's a really industrial corner there. With the weather drying in Q2 [i.e., this Spring] – I'll bet there's a good amount [of Cr VI] in the dust all around that facility. I think once stuff is up in their stacks, it doesn't come out all that readily."

The whole matter prompts a few closing observations:

•That DEQ is ordering stack cleaning based on daily readings of slightly above 0.5 ng/m3 of Cr VI means it has essentially abandoned Oregon Health Authority's official 24-hour screening level of 36 ng/m3. The 36 ng/m3 official benchmark is approximately 70-times higher than the readings that prompted DEQ's order.

•Despite many prior protestations that it absolutely needs chrome to make green glass, Bullseye has now said it will endeavor to make green glass otherwise. And that's possible, since chromium is a relatively new glass-coloring agent used for only the last 150 years or so. Bullseye can turn, for the most part, to various combinations of copper, iron, and cobalt. Cadmium sulphine, which is yellow, can also be mixed with small amounts of cobalt oxide, which is blue. Ted points out that dark green, 19th Century bottles encountered on occasion in an antique shop have a high iron content.

•Oddly, though Bullseye's contractor, Horizon Engineering, is an experienced stack-testing company, it was able to test baghouse output only on the last day of the three-day test due to not having enough of a particular testing material on-hand. That means the baghouse's 63 to 67 percent hex-chrome removal rate—with roughly one-third of the emitted Cr VI escaping—would benefit from confirmation in a subsequent test. And the data could go either way. "It could be more, it could be less," said Johnson. Experts the Mercury spoke with suggest the use of a HEPA filter, which captures far finer particulates than a baghouse, to solve the Cr VI emission problem. Johnson said those sort of decisions await further testing and dispersion modeling, especially since Bullseye has currently suspended chrome production.

•Finally, the finding that 98 percent of chromium not captured by the glass emerges as hex-chrome is contrary to an argument by William C. LaCourse, the Kruson Distinguished Professor of Glass Science at Alfred University.

In a letter Bullseye publicized, LaCourse downplayed any worries over Cr VI in a glass melt, saying glassmakers don't permit the chrome to convert to Cr VI since then "the glass would not have the right color and would be useless."
Noting his 45 years of teaching, LaCourse asked Bullseye to promulgate his views to "help clarify some of the confusion regarding Cr chemistry in glass melts." DEQ and EPA have provided the real clarity about actual chrome emissions, which LaCourse's statement seemed to address, but artfully did not.

In a similar vein, introducing LaCourse's statement on its website this past March, Bullseye wrote, "Many of the green glasses Bullseye makes include Chromium compounds that contain trivalent chromium (Cr+3), a naturally occurring element. Cr+3 can oxidize to dangerous hexavalent chromium (Cr+6) under certain conditions. However, if that happens the glass doesn't come out green, so our manufacturing process includes steps to keep the chromium in its safe trivalent state."

The company didn't mention the up-to 5,498 pounds of hex-chrome compounds found on its premises this past March in an on-site audit conducted by the Oregon Office of State Fire Marshal. As revealed by the Mercury, there were no Cr III compounds of any sort during the fire marshal's inspection on March 11. Touting LaCourse's statement, Bullseye spoke of its use of "safe trivalent" chromium, this though they possessed none the week before.

Daniel Forbes is the author of Derail This Train Wreck. He lives in Portland, and can be reached at ddanforbes@aol.com.