The Portland chapter of the Women's March on Washington has faced organizational challenges since its inception, though it seemed most had been resolved when a new leadership team took over mere weeks before the city's massive January 21 march.
Sponsored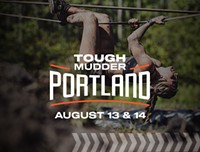 Lock in your summer adventure, Portland. Join us for world famous obstacles over a 5K or 10K distance.
Now it looks like the group is in trouble again. As the Oregonian reported last Friday, lead organizer Margaret Jacobsen recently released a statement on Facebook saying that the organization could not account for $22,000 that had been donated to the march through PDX Trans Pride, the event's fiscal sponsor and an apparent nonprofit run by Rebekah "Katt" Brewis. Jacobsen says the funds were never transferred back to the Women's March organizers, and also raised concerns that Brewis had represented PDX Trans Pride as an advocacy group while appearing to be its only member.
A statement posted to the PDX Trans Pride Facebook page disputed Jacobsen's claims, and, in an apparent attempt to weaken Jacobsen and fellow organizers' credibility, called them "jobless" and accused them of "transphobia."
PDX Trans Pride is listed on the Oregon Secretary of State's database of active nonprofits, but the only names associated with it are two variants of Brewis' name—"Rebekah Katherine Brewis" and "Katherine Rebekah Brewis"—and Stephanie Rose Anderson, who is listed as the organization's secretary. Other local trans activists and organizations have since disavowed Brewis' organization publicly on social media.
Jacobsen declined to comment further on the matter, citing legal concerns. MEGAN BURBANK
---
While Republicans assembled a woefully inadequate plan to replace the Affordable Care Act (ACA) this week, Oregon has quietly joined a handful of states considering legislation that would preserve one key provision of the ACA no matter what happens nationally: access to reproductive healthcare, which the ACA expanded through its mandate that birth control be available to patients without a co-pay.
Last Tuesday, February 28, reproductive rights advocates rallied in Salem in support of the Reproductive Health Equity Act (House Bill 2232). According to a statement released ahead of the rally by the Pro-Choice Coalition of Oregon, a broad association of local reproductive rights and racial justice groups, HB 2232 would ensure "that Oregonians receive the full range of preventive reproductive health services at zero out-of-pocket cost." It also includes access provisions for undocumented women and anti-discrimination protections for transgender Oregonians—inclusions that, while unique in a reproductive health bill, make sense given the Trump administration's recent decision to revoke protections for transgender students (and its emphasis on deporting undocumented immigrants). As of press time, HB 2232 was still in committee and had not been scheduled for a hearing.
As Republicans hamper access to healthcare at the national level and state legislatures across the country consider laws restricting access to abortion, Oregon is one of a number of states fighting back. Others bucking the national trend of punitive anti-abortion measures with proactive policies include Illinois and Virginia—both considering legislation that would expand access to birth control or abortion—and New York, which has passed two bills ensuring that access to reproductive health care remains intact regardless of what happens to the ACA. New York Governor Andrew Cuomo has also mandated that insurers in the state cover birth control without a co-pay. MB