KENTON RESIDENTS have gone YIMBY.
Sponsored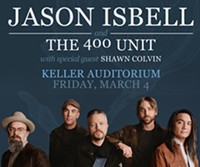 Jason Isbell has established himself as one of the most respected songwriters of his generation. Don't miss Jason Isbell and the 400 Unit, March 4th at Keller Auditorium!
By a margin of 178-75, residents at a Kenton Neighborhood Association meeting last week voted to approve a new tiny house village for 14 homeless women in the neighborhood.
The vote didn't have any legal teeth, but represented validation for advocates and city officials who've been pushing a new model for sheltering homeless people.
With a plan begun under former Mayor Charlie Hales, the village residents will receive social services and housing placement help from nonprofit Catholic Charities. They'll reside in 14 tiny homes built last year, and have on-site access to showers, laundry, and kitchen facilities. DIRK VANDERHART
---
THE TROUBLED Office of Neighborhood Involvement is looking for a new leader.
Months after ONI was assigned to Commissioner Chloe Eudaly—and following a highly critical audit of the bureau—longtime director Amalia Alarcón de Morris announced Monday she'd be resigning as of March 20.
Eudaly's office wouldn't comment on whether the commissioner asked for the resignation (it's common not to broadcast personnel decisions), but Eudaly's taking a novel tack in filling the slot. She's tapped her deputy chief of staff, David Austin, to act as co-interim director, along with ONI Business Operations Supervisor Amy Archer.
It's rare for a member of a commissioner's staff to also hold a position in a city bureau, but it's not unheard of. Former Commissioner Randy Leonard's chief of staff, Ty Kovatch, served as interim director of the Bureau of Development Services for a six-month period in 2004 and 2005.
It was unclear on Monday whether Austin would get a pay raise, and Eudaly's office didn't know whether it would launch a national search for a new director. DVH