Rob Wheaton doesn't tweet all that often. But when he does, the union rep often focuses on the city's 911 operations.
Wheaton represents roughly 80 employees who take 911 calls and dispatch officers to emergencies, and he's fond of tweeting out pictures of a digital board at Bureau of Emergency Communication (BOEC) headquarters that shows hold times for people seeking help.
December 14: A 22-minute wait, with three 911 callers holding.
January 24: An 11-minute wait, also with three callers holding.
May 3: A nearly six-minute wait, with six callers holding.
Calls holding for 9 min @911BOEC @AmandaFritzRN @tedwheeler @ChloeEudalyPDX @CommishFish @dansaltzman pic.twitter.com/wUziB6FglY

— Rob Wheaton (@RobWheaton3) May 10, 2017
A staffing crisis at BOEC has contributed to outsized hold times in recent years, says Wheaton, who works for the American Federation of State, County, and Municipal Employees (AFSCME) Council 75. And it's hard not to see a bit of I-told-you-so in recent tweets—Wheaton just failed to win a raise he says could have helped the city recruit and keep 911 staffers.
Fresh off a new agreement between the city and Portland's largest police union offering rank-and-file officers a 9 percent raise, AFSCME and BOEC employees recently pressed for a similar pay bump. The union's "last best offer" in a contract dispute included a 10 percent raise.
The city, meanwhile, was offering fewer perks. Its proposal included higher pay for long-time staffers and for employees who coach trainees, among other things.
In an April 26 ruling, an arbitrator declared the city's offer the winning proposal. Wheaton says it was the wrong call.
"We've been trying to fix this with things other than wages and things that cost money for the last nine years," he told me. "We've seen our staffing levels continue to drop to the point we're reaching crisis level."
According to BOEC Interim Director Lisa St. Helen, the bureau currently has 83 full-time employees—despite being budgeted for 107 (a recent study suggested it actually needs more). That's not a Portland-only problem. Both Wheaton and St. Helen acknowledge 911 systems around the country are having trouble recruiting and retaining staff.
In Portland, the shortage comes as call volumes are rising, and has led to mandatory overtime that Wheaton says makes it hard for employees to plan their lives. More cash could help, he says.
For St. Helen, money isn't the thing standing in the way of her employees' happiness. Having been with BOEC for more than two decades, she's seen lots of contract bargaining. Her takeaway is that scheduling issues—such as senior employees getting plum shifts—are the big problem.
"What I keep seeing is us identifying the fact that this is a stressful job," she says. "We keep talking about ways to throw money at this problem. I think we're really smart people and can do better."
St. Helen talks about rejiggering the four, 10-hour shifts employees work each week, and offering a tiny bit of leeway for employees to say "no" to forced overtime. She notes there are more than 20 trainees "in the pipeline" (only a small fraction typically qualify or sticks around).
St. Helen says the new contract—which is $1.86 million cheaper for the city than the union's plan—moves the needle in the right direction. But she also bristles at Wheaton's tweets, saying they offer an incomplete picture.
In an email she sent last Saturday, first reported on by the Oregonian, St. Helen warned employees that the city "strictly prohibits the dissemination of confidential information."
Even if Wheaton's tweets stop, though, high 911 wait times seem to be sticking around. That should concern us all.
Sponsored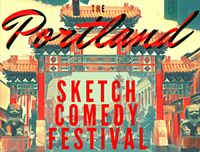 Sketch comedy troupes from all over N. America descend on The Siren Theater for 3 glorious nights.