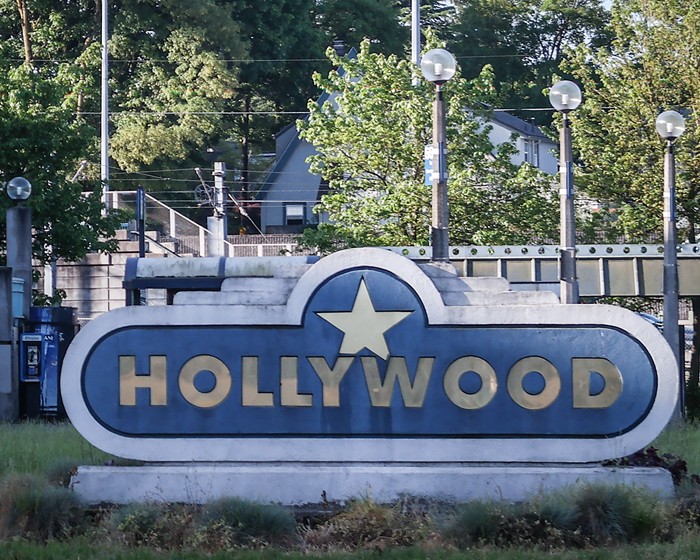 Details are still coming in regarding a heinous crime this afternoon at Northeast Portland's Hollywood Transit Center.
Two were killed and another was wounded after a man on an eastbound MAX train shouted "various remarks that would best be characterized as hate speech toward a variety of ethnicities and religions," according to the Portland Police Bureau (PPB).
At around 4:30 pm, police received calls regarding the disturbance on the MAX, which at some point involved the suspect directing slurs at two women.
"Witnesses described to police two young women, possibly Muslim, who were on the train at the time of the disturbance and attack, but left prior to police arrival," according to the police report. "The young women have not been identified but one was described as wearing a hijab."
"In the midst of his ranting and raving, some people approached him and appeared to try to intervene with his behavior and some of the people that he was yelling at," Portland police spokesman Sgt. Pete Simpson told the Oregonian. "They were attacked viciously."
After at least two of those people attempted to intervene, the subject stabbed three people.
Officers "began immediate medical treatment to the victims at the scene until medical personnel arrived," according to the PPB. "One victim, an adult male, died at the scene. The other two victims were transported by ambulance to a Portland hospital, where one was pronounced dead and the other was treated for injuries that are not expected to be life-threatening."
Police have detained the suspect, and note there is "there is no further public risk." Simpson told the Oregonian that police believe the event to be "an isolated incident."
Police are still investigating, and urge witnesses or those with more information to call their non-emergency line at 503-823-3333.
We'll have more as this story develops.
#Muslim community reacts to fatal stabbing in Northeast Portland https://t.co/jVJ83gQ4rY
— Casey Parks (@caseyparks) May 27, 2017
The guys who stepped up on MAX? That's what I hope my friends would do. What my children would do. What my terrified self would do.
— Steve Duin (@SteveDuin) May 27, 2017
@Oregonian Statement from city commissioner @ChloeEudalyPDX, standing in for @tedwheeler, regarding the fatal MAX attack: pic.twitter.com/TUZ7mCJp78
— Jim Ryan (@Jimryan015) May 27, 2017
UPDATE 10:25 PM: The FBI has responded to today's attack, "offering any resource that may assist Portland Police in their investigation." From their statement:

FBI Response to Homicide Investigation - 05/26/17

The FBI is aware of the attacks tonight, and we are offering any resource that may assist Portland Police in their investigation. We will certainly be looking at the facts and evidence as the investigation unfolds to determine whether there is any potential federal violation.

At the core of the FBI's mission is the belief that every person has the right to live, work and worship in this country without fear. Hate and bigotry have no place in our community, and we will not allow violence in the name of hate to go unanswered.
UPDATE 10:47 PM: A candlelight vigil has been scheduled for Saturday night to pay tribute to those who died in the attack. From Facebook:
Gather with Portland Indivisible D-3 for a peaceful candlelight vigil to honor the upstanders who were attacked and murdered on a MAX train Friday for trying to intervene as a man yelled racial slurs at two young women, one who was wearing a hijab.

"We ask that our community come together in love and solidarity in the face of this horror to honor the memory of the victims and in support of those in our city and nation who feel terrorized and targeted," said Laurel Carrasco with Portland Indivisible D-3.

Please help us spread the word and bring your own candle to the event.
That's tomorrow, Saturday May 27, from 8:30 pm-9:30 pm 6:30 pm -9:30 pm, at the Hollywood/Northeast 42nd Avenue Transit Center MAX Station, 1410 NE 42nd.
UPDATE 11:04 PM:
(1/3)Blue, Green, Red resuming regular service but Hollywood TC remains closed due to police activity. Expect delays thru end of service.
— TriMet (@trimet) May 27, 2017
(2/3)We are deeply saddened. Our thoughts & prayers are with loved ones of those lost & with person injured.
— TriMet (@trimet) May 27, 2017
(3/3)Every person has a right to live in this country without fear.
— TriMet (@trimet) May 27, 2017