THE DIRECTOR of the city's 911 system had good, if inexplicable, news for Portland City Council this past January.
Despite being understaffed and having a hard time holding onto existing workers, Bureau of Emergency Communications (BOEC) Director Lisa Turley wrote in a budget memo, "call performance measures have been met in recent years through the extraordinary efforts of our staff and by using increased amounts of overtime..."
Sponsored
Sketch comedy troupes from all over N. America descend on The Siren Theater for 3 glorious nights.
The claim—that 911 emergency calls were being answered promptly, and exceeding Portland's goals—no doubt had bearing on the urgency with which council addressed the pernicious staffing issues at BOEC.
But it wasn't true, and Turley had every reason to know it.
According to an alarming report [PDF] being issued by Ombudsman Margie Sollinger this week, Portland for more than a decade had no way to accurately measure a central performance indicator: how long people in emergencies wait before talking to a 911 operator.
Ever since 2004, when BOEC introduced an automated screening tool designed to sift out butt dials and other unintentional calls from cell phones, the bureau's miscalculated those calls, artificially indicating in data reports every one is answered in one second, Sollinger found.
That means that roughly three-quarters of the calls BOEC receives in a year have been logged inaccurately—it can take almost 30 seconds just to get around the butt-dial screener. Only in November 2016 did BOEC get the ability to actually figure out how long people on cell phones were waiting to speak to an emergency operator.
And now that it has that ability? The sterling performance metrics the bureau's touted before City Council look like pipe dreams. As Sollinger notes, BOEC reported as part of its recent budget package that it answered 99.6 percent of emergency calls within 20 seconds in fiscal year 2016—well above the 90 percent goal.
The bureau's interim director, Lisa St. Helen, now acknowledges that couldn't be the case. Since BOEC gained the ability to accurately fold in cell waiting times, data suggests it's answered less than 68 percent of calls within 20 seconds.
"It looks like we are a failing 911 service," Sollinger told me recently.
Just as worrying as the faulty data, though, is how long officials have kept it quiet.
St. Helen believes that BOEC management was made aware of the issues when they began in 2004. At that time, though, emergency calls from cell phones were far less prevalent. The information was given to a past director named Carl Simpson, she says, and apparently forgotten.
That changed in late 2015, when St. Helen—then the bureau's operations manager—heard from a citizen about an abnormally long wait, but could find no data indicating it had occurred.
She dug in, discovered the problem (long known to city tech staff) and reported it to then-Commissioner Steve Novick's office, which at the time oversaw BOEC. A November 2015 email [PDF] obtained by the Mercury shows St. Helen laid out the issue in detail.
"What this means is that all call hold times reported at any time in the past as they related to cell phone calls has been incorrect," she wrote. "Clearly this is an issue."
Yet in her budget memo to council mere months later, then-Director Turley betrayed no hint of this issue, once again talking up her staff's ability to answer calls in a timely manner.
Even after BOEC implemented a tool last November allowing it to accurately track call times, Turley didn't broach the suspect wait time results—though she briefly touched on new technological tools that improved data accuracy at a hearing earlier this year.
"It was worse than not saying anything," Sollinger says. "She offered a rosy picture."
Novick tells me he doesn't recall hearing about St. Helen's email, but that he can't imagine his staff wouldn't have shared something like that.
"Of course, not knowing what the times were didn't automatically mean they were worse, and I know it was hard for [the Bureau of Technology Services] to do the recalculation," he says, "but if we knew that problem existed we should have pushed to get a recalculation done before the budget process concluded in May 2016."
St. Helen—who took over as BOEC's interim director in April, after Turley left—says it took until November 2016 to get an adequate solution up and running. But she's at a loss when asked why Turley and Novick's office wouldn't have been more forthcoming in public hearings on the issue. She says she gave input on how to respond to the problem, but that she wasn't listened to.
"The director is responsible for going to City Council and saying, 'This is where we are,'" St. Helen says. "It absolutely will change," now that she's in charge, she says.
That change may be coming sooner than St. Helen would like. This Wednesday, June 7, Mayor Ted Wheeler and Commissioner Amanda Fritz are introducing a resolution [PDF] acknowledging the ombudsman's damning report, and resolving to hold BOEC to national standards for 911 services and report accurate information.
St. Helen says she's concerned by the constraints and timelines the resolution might put into place, but that she agrees with the premise.
Meanwhile, the American Federation of State, County and Municipal Employees, the union that represents BOEC staffers, suggests the city needs to double down on finding new leadership for the troubled bureau.
"Our members have been complaining about this for years," says Rob Wheaton, a union rep who bargains on behalf of BOEC employees. "We're finally getting some validation."
As for Turley, the former BOEC director, she still has a vital role in shaping Portland's phone operations. She's helping establish a new 311 system, to help answer citizens' non-emergency issues.
CORRECTION: This story has been changed to reflect that Lisa Turley does not have a contract to help shape the city's forthcoming 311 system. Instead, Turley is a city employee on a temporary assignment to implement 311.
Sponsored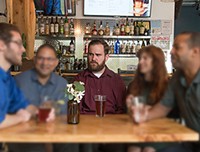 Adults aged 18-35 with good hearing will be paid for their time. Located at the Portland VA Medical Center