IT'S BEEN three months since a double slaying on an eastbound MAX train brought national attention to Oregon's bigoted history, but concern over hateful acts on Portland public transit is as fresh as ever.
Last week, a 53-year-old white man allegedly went on a racist tirade against an elderly Black couple at a Northwest Portland MAX station, physically preventing them from boarding a train.
Three days later, a Black woman named Demetria Hester spoke publicly about feeling ignored by TriMet employees and Portland police officers after she was victimized on a train by Jeremy Christian—one day before the white supremacist stabbed two people to death and wounded a third in late May.
"This is disturbing on so many levels—where's the protection for the victim?" Hester asked last Friday at a press conference.
On May 25, Hester was riding the MAX when 35-year-old Christian began raving about killing nonwhites and telling Hester she had no right to be in the country. He hurled a Gatorade bottle at her for speaking up, she says, bloodying her eye. Hester fought back, spraying Christian with mace and kicking him in the groin as they both left the train at the Rose Quarter Transit Center.
The nearby MAX operator ignored Christian's racial tirade, Hester said, and when she pointed the man out to police at the scene, she told reporters, they did nothing.
A day later, on May 26, Christian stabbed and killed Ricky Best and Taliesin Namkai Meche, and severely wounded Micah Fletcher, on a MAX Green Line train after the trio stood up to him for verbally harassing two girls—one Black and the other Muslim. Hester said on Friday that the deaths could have been prevented if TriMet or police took her encounter seriously.
The Portland Police Bureau (PPB) issued a statement following Hester's press conference saying that the officer who responded to the May 25 incident "did not have reasonable suspicion to detain Christian" until he was already gone. The PPB also says Hester twice told the officer that Christian was not the person who assaulted her, only positively identifying him once he began walking away. Cops followed but wound up losing him, the release said.
Hester's press conference wasn't the only time cops' reactions to bigoted acts on public transit were questioned last week.
On Tuesday, August 15, a white Portland man was arrested after being accused of yelling racial slurs at, and putting his hands on, an elderly Black couple, preventing them from boarding a MAX train at Providence Park.
He called the victims "niggers," yelled at them to "go home," and threatened to fight them, the couple told police. A witness backed up their accounts to cops and to the Mercury.
Rick Allen Duncan initially told police he'd called the couple "nigga," but then he apparently spiraled out of control.
"These ghettos" made him so angry, he told police, according to a probable cause affidavit, and he was "sick and tired of these people having babies and moving out here."
Unlike Christian, Duncan was charged with harassment and intimidation, and was released after being booked into jail.
A witness to the encounter, however, questions how the two transit cops—who hailed from the Gresham and Tigard police departments—responded to the incident.
The witness says she told one of the officers that Duncan could have been "the next Jeremy Christian," but the officer responded by blaming the stabbing deaths on Micah Fletcher—the surviving victim—and not on Christian himself.
The witness tells the Mercury one of the officers said: "Well, that kid, it's all his fault those two died. He started a fight, did you know that? He started the whole thing and those people are dead because of him. What's his name—Eli? Evan? It's all that kid's fault."
Complaints have been filed against both transit cops.
"Both agencies have been notified for potential follow-up investigation," PPB spokesperson Sergeant Chris Burley tells the Mercury.
Sponsored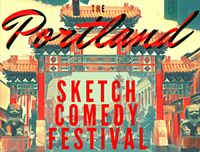 Sketch comedy troupes from all over N. America descend on The Siren Theater for 3 glorious nights.