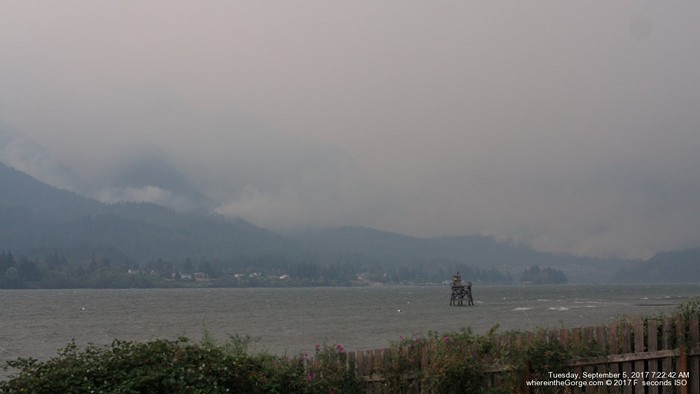 Wildfire continues to rip westward through the Columbia River Gorge, spanning something like 4,800 acres (and leaping the Columbia River), turning the sun into a crimson stain, and even obscuring the site of Multnomah Falls from their own parking lot.
You'd usually be able to see Multnomah Falls from the parking lot. Today? Lots of smoke, some flames. pic.twitter.com/gsCrjSqUss
— Jim Ryan (@Jimryan015) September 5, 2017
According to the National Wildfire Coordinating Group, nearly 300 fire personnel are battling the spreading Eagle Creek Fire, which apparently began when teenagers were lighting fireworks in the gorge on Saturday (a Portlander named Liz FitzGerald says she spotted the teens lighting fireworks, and went to alert forest service authorities, but it was too late). And an untold number of residents have been evacuated from Cascade Locks and other small towns lining one of the state's most beloved natural areas.
If you're looking to help out, there are several places you can donate (we'll update this list as more arise).
•The Friends of the Columbia River Gorge are accepting donations on behalf of Hood River County Search and Rescue, which helped roughly 140 hikers stranded by the fire over the weekend, and continues to assist evacuees.
•The American Red Cross Cascades Region has set up a shelter at Mt. Hood Community College in Gresham and another in Stevenson, Wash., for people displaced by the fire. (The organization has seen criticism for high administrative costs that eat into donations, something its leaders say has been corrected.) Here's the donate page.

Local #RedCross provided overnight shelter to 40 people last night plus 100+ camping in shelter parking lots. #EagleCreekFire
— Red Cross Cascades (@RedCrossCasc) September 5, 2017
•Cascade Locks Fire and EMS has a donate button on its website.
•The group PNW Outdoor Women has started two GoFundMe campaigns to support volunteer firefighter organizations in both Oregon and Washington.
•A Gresham resident named Eli Webber has also launched a GoFundMe campaign, vowing to donate all the money to "affected families." We've reached out to Webber to see how he plans to do that.
•Less immediate but also important: The trails throughout the western gorge will need rehabilitation—removing dead trees, repairing paths, etc—when the fire does eventually die out. That work might not begin until next year, but when it does, the group Trailkeepers of Oregon will be doing some of it. Here's more info.