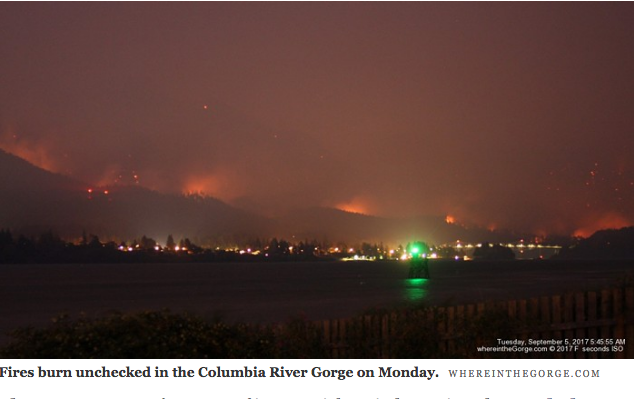 It's entirely possible one Portland woman saw the exact moment the Eagle Creek Fire began.
Liz FitzGerald reached out to several media organizations on Monday, saying she'd seen a group of teenagers light a firework and toss if off the Eagle Creek Trail on Saturday afternoon. A short while later, she saw the area filled with billowing smoke.
Thanks to FitzGerald's quick thinking, authorities might know who started the fire. State police confirmed to OPB they interviewed FitzGerald, and have said they're investigating a firework's role in the blaze, which as of this writing is spread over 10,000 acres of world-famous scenery in two states.
Update, 4:27 pm: The Oregon State Police now say the suspect is a 15-year old from Vancouver. They're asking anyone who saw fireworks or heard explosions in the area on Saturday to call 503-375-3555.
Original post: But for a sense of how frustrating FitzGerald's story is, we're letting her tell it herself (with some edits for clarity). Here's what she told the Mercury, beginning her tale roughly a mile and a half up the Eagle Creek Trail as it heads to Punch Bowl Falls:
I came up and it was at a spot in the trail that's kind of treacherous. It's a narrow trail. It's rocky and there are some very steep drop-offs... Just beyond that, I came upon I would say a group of about maybe a dozen people. It felt like at least 7-8 of them were teenagers....I'm guessing between 15-17 [years old].
FitzGerald says as she passed, one of the teens lit a spherical smoke bomb and tossed it down the mountain side.
It was silent. It did not give off a loud bang. He just lobbed it, like you're throwing a piece of paper into the garbage can. I saw him do it. I saw his friend videotaping it. It was a group of guys and girls. I feel like I heard a 'heh heh' kind of thing from someone.

I said, "Do you realize how dangerous that is?" They all just looked at me. I said, "There's a fire raging up at mile three. This whole place is so dry." They didn't say anything and they kept walking down the hill. I looked and saw smoke, but I thought it was just the trail from the smoke from the smoke bomb.

I thought, "I'm probably just making a big deal out of this." I didn't think it's going to immediately ignite the fire. Very shortly after, about two minutes later, this voice said to me, "You know, Liz, you'd feel like an idiot if you got stuck in a forest fire because you didn't turn around."
Around then, FitzGerald encountered two other hikers, headed down to the trailhead. She told them what she'd seen.
They say, "We just saw teenagers throwing some fireworks at Punch Bowl. We're headed down to rat them out." I turned around and started running down. I came upon the spot [where the smoke bomb was thrown] and saw that it was billowing smoke.

I wanted to run and do what I could. I wanted to get the kids, too. I had so much adrenaline. You don't know that trail. It's treacherous and its rocky.
Eventually she came upon the group of teens.
At that point it was just a smaller group. It was not that huge group. They were walking very casually down the hill. I said [to the teen who'd videotaped the smoke bomb incident], "Do you realize you just started a forest fire?" He said "What are we supposed to do about it now?" I said, "Call the fricking fire department!"
FitzGerald ran to the parking lot, and eventually found a US Forest Service officer.
I said, "I need to report a fire. I saw smoke. I saw the kids throw the firework."... I said, "Do you mind if we actually get to the trailhead? I'd hate for them to be able to get in a car and just drive away."

[While headed to the trail] I saw a minivan drive by. I saw the look on the girl's face in the passenger seat. She looked as though she was part of an exciting adventure.
FitzGerald got in the Forest Service employee's vehicle and followed the van as it "hauled ass" through the parking lot. Eventually they stopped the van. FitzGerald says she couldn't absolutely ID the perpetrator, who'd apparently put on a shirt after his hike. She says the Forest Service employee told her the group admitted to setting off fireworks. An Oregon State Police officer arrived.
At that point the helicopters were already dropping retardant. You just turned around and you could see these huge plumes of smoke billowing through the sky. The state patrolman did say to me, "I don't think they realize how serious this is."

It feels like a total nightmare. It feels like the whole thing was a nightmare. I felt like they were like zombies. I felt like I was talking to zombies… People are so eager to pin this on this kid [that threw the firework]. It was that whole group of kids.