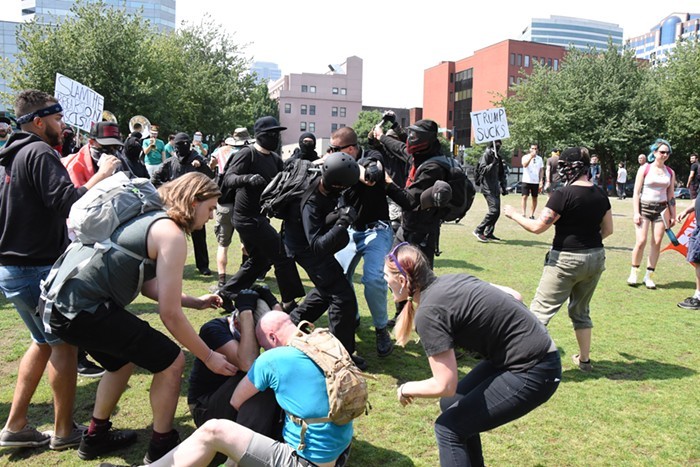 It will almost certainly be a shitshow in downtown Portland on Sunday, as right wing "Patriot Prayer" and its white nationalist supporters will drive into Portland from Southwest Washington and the suburbs for a rally that will be met by hundreds of protesters.
Just last month, a similar rally led to bloody left-right fights on the waterfront. The police were hands-off on August 6, but things look to be different this time around—the cops will be there in full force.
Since the last Patriot Prayer rally in Portland, white supremacists held a murderous rally in Charlottesville. Two weeks later, Joey Gibson's Patriot Prayer held a rally in the Bay Area that was met by thousands of protesters and led to the further demonization in the media of "antifa"—the loosely-organized left-wing "antifacists" that often show up wearing masks that try to quash what they view has fascist rallies—after a handful of them were seen beating up white nationalists and a couple journalists. Tensions are high: Patriot Prayer supporter and bigoted street preacher Allen Wesley Pucket—who goes to Patriot Prayer rallies in the Portland area and throughout the West Coast, often adorned with a helmet, pads, and weighted gloves ready to fight—said there will "inevitably be bloodshed" at the rally and that "people need need to wake up to the reality that the violent understand nothing but victory or defeat through violence."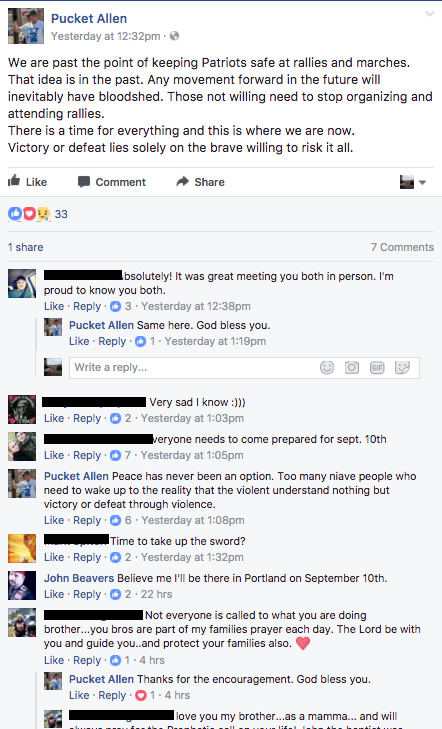 Hundreds of protesters—including antifascists—will be there, previous rallies have turned violent, and hatred between the two sides may be at the highest point so far. Who knows what will happen. In preparation, the Portland Police Bureau announced today:

There will be a significant law enforcement presence, due to past threats and acts of violence between these different groups, both locally and nationally. Due to these threats and the potential for violence, persons attending any of the events should not bring any weapons (firearms, knives, etc.) or items that can be used as weapons (sticks, bats, poles, rocks, fireworks/incendiary devices, etc.) to any of the events. Prohibited items may be seized by police and, if in violation of city, state or federal law, the possessor may be arrested and charged criminally.

...

The Bureau has been collaborating with law enforcement and public safety partners to ensure that public safety is the top priority for all participants and community members. Law enforcement and public safety partners may include, but are not limited to the following agencies:

* Portland Police Bureau
* Oregon State Police
* Multnomah County Sheriff's Office
* Federal Protective Service
* United States Attorney's Office
* Multnomah County District Attorney's Office
* Portland Fire & Rescue
Mayor Ted Wheeler issued a statement about this weekend's protest:

On Sunday, Portland will find itself – once again – in the middle of national events, as demonstrators and counter-demonstrators converge on our city. This is not the first set of demonstrations in Portland. This will not be the last. But how we conduct ourselves as a community will send a message about our city to the rest of the nation.

Portland rejects racism, bigotry, and xenophobia. We reject white supremacy. Messages of hate are not welcome in Portland. We have seen – far too often – how these words of hate can quickly turn to acts of violence. Portland also rejects violence.

Around the country, we've seen demonstrations that have involved arrests and illegal acts. My hope is that we are better than that. We can do it better. We can do it the Portland way. In Portland we celebrate diversity, we stand up for others, we promote unity, and we practice non-violence.

Over recent weeks, my office has worked closely with the Portland Police Bureau, as well as state, local and federal officials, on plans to protect the safety of everyone who chooses to demonstrate on Sunday. Portland Police will focus on ensuring that people's right for freedom of expression and speech is protected. However, illegal behavior is not acceptable.

We will not tolerate acts of violence. We will not tolerate vandalism. We will not tolerate criminal behavior. I call on everyone who plans on demonstrating here Sunday to do so peacefully, to help ensure that everyone goes home safely.
The group Portland Stands United Agains Hate has a permit for a street march Sunday. Their event starts at Terry Schrunk Plaza at 12:30 (the Patriot Prayer rally starts at 2 p.m. at the Salmon Street Fountain):
Portland Stands United Against Hate will be mobilizing again to confront a white nationalist gathering in our town. After the horrific attack in Charlottesville, the peoples of Boston, San Francisco and Berkeley turned out in the thousands to defeat these racist hate fests. We must do our part in Portland.

Joey Gibson's "Patriot Prayer" is organizing a September 10th "Portland Freedom March" featuring Billy Sessions, a Confederate monument defender, who has been active in violent clashes with those trying to remove these symbols of slavery and racism.

The merging of the "old South" rebellion with "alt-right" white nationalism is an ominous development. Their plan is to instill fear and attack Portland's Immigrant, Muslim, Jewish, Indigenous, Black and LGBTQ+ communities.

After the rally we will be marching to the Salmon St. Fountain. We are in communication with the Portland Police and Rose City Antifa. We are committed to community safety and protecting marginalized communities. Ours will be a permitted, disciplined and secure event.