Jeff Sessions had fear-mongering tidings of doom for Portland's immigrant-protecting officials. So where better to deliver it than the Pearl District room where the country's newest citizens are sworn in?
Before a packed audience of dark suits—many of them from US Immigration and Customs Enforcement—the attorney general paid a special visit to our defiant sanctuary of a city this afternoon, railing on about the dangers of protecting undocumented immigrants who might be "pedophiles, rapists, murderers, drug dealers, and arsonists."
Sanctuary cities like Portland, Sessions insisted in a speech that lasted roughly 20 minutes, are "a trafficker, smuggler, or gang member's best friend."
It was a chiding message of despair delivered in an appropriately ironic location. The room where Sessions spoke is known to employees of United States Citizenship and Immigration Services (USCIS) as the "Oath Room" or "Ceremony Room." When new citizens are sworn in in Portland—two or three times a week—they often do it here.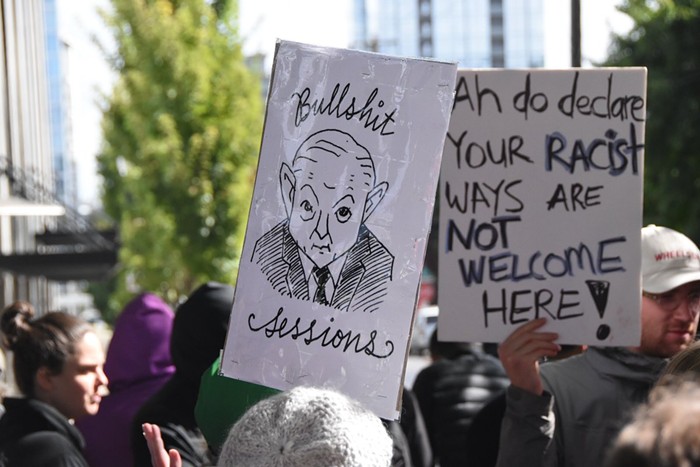 As the attorney general railed on about a society he says has "eroding" discipline and a "disturbing disrespect for law," a crowd of more than 150 gathered near the Pearl District USCIS field office to decry the message. It was pretty obvious, after all, what Sessions was going to say.
Since taking over as attorney general, Sessions has railed repeatedly against "sanctuary" jurisdictions that decline to cooperate with immigration agents.
Portland and Multnomah Count are no different than liberal bastions around the country that have earned the Trump Administration's ire for expressly refusing to cooperate. Portland even joined up with a lawsuit against administration threats to cut federal funding to sanctuary cities—a point Sessions noted in his speech.
Sessions has reason to be particularly interested in our city and state, which he repeatedly called "wonderful" (or the closest approximation of that word his deep drawl will allow). The arrest this summer of a 20-time deportee who's now accused of sexually assaulting two women has become a point of emphasis for people who support Trump's ugly characterizations of undocumented immigrants as rapists. It's become a go-to anecdote for Sessions too. During an August 16 speech in Miami, the attorney general used the Sergio Martinez case to argue the dangers not cooperating with the feds. He repeated much of that speech today.
"Federal immigration authorities properly lodged a detainer against Martinez just a few months before, asking to be notified when he was set to be released. But authorities in Oregon refused," Sessions said in the August speech (he said basically the same thing today, with minor changes). "These policies of sanctuary cities do far broader damage to the country than many understand. At its root, it is a rejection of our immigration laws and a declaration of open borders."
Since 1987, the state of Oregon has had laws on the books that say local law enforcement won't turn undocumented immigrants over to federal officials if the only thing they're accused of are immigration violations. A 2014 ruling from a local federal judge went further, saying sheriffs could not hold people for federal immigration authorities past their slated release date, absent a federal warrant.
Since Trump took office, Mayor Ted Wheeler, Multnomah County Chair Deborah Kafoury, and Sheriff Mike Reese, and others have indicated they support going further in not cooperating with federal officials.
Wheeler, rather than meeting up with the attorney general on today's visit, instead sent a letter laying out his support for sanctuary policies. And Reese's department currently refuses to tell ICE when undocumented defendants are being released from jail, and forces the feds to scour jail rolls to determine if subjects of interest are in custody—a policy that has Sessions upset.
"Think about that: Police may be forced to release pedophiles, rapists, murderers, drug dealers, and arsonists back into the communities where they had no right to be in the first place," he said.
The well-worn territory Sessions plumbed in his speech isn't likely to have much sway on local officials' opinions, which are based in the common sense belief that undocumented immigrants who are crime victims or need government services will go without if they're worried about being reported to federal agents. Sessions pooh-poohed that idea today, and his message explicitly ignored the harm that is being done to families who have undocumented members deported for low-level offenses.
Instead, he said, sanctuary policies "undermine the moral authority of law and undermine the safety of jurisdictions that follow these ideas. Whatever the crime rate is in a city, you can be sure it will be higher if these policies are followed."
To drive home that point, the attorney general engaged in a bit of cherry picking and obfuscation. Between 2013 and 2015, he said, " the city saw an increase in homicides of more than 140 percent."
That's not true. In 2013, the city saw 16 homicides, its lowest number in four decades. In 2015, the number had indeed risen markedly—but not by as much as Sessions claims. The 34 homicides that year amount to a 113 percent increase, not 140 percent. And by the way: 2015 appears to be an outlier. News reports suggest there were 20 homicides last year.
Update: We got official figures from the Portland Police Bureau, which says that in fact there were 32 homicides in 2015, not 34 (that figure doesn't include "negligent homicides" according to spokesperson Sgt. Chris Burley). That means the number of homicides increased 100 percent from 2013 to 2015—again, not 140 percent.
In addition, there were 16 homicides last year, according to PPB, precisely matching 2013's tally.
Burley adds: "Comparing July 2015 to July 2016 and July 2016 to July 2017 the homicide rate decreased 13% in Portland."