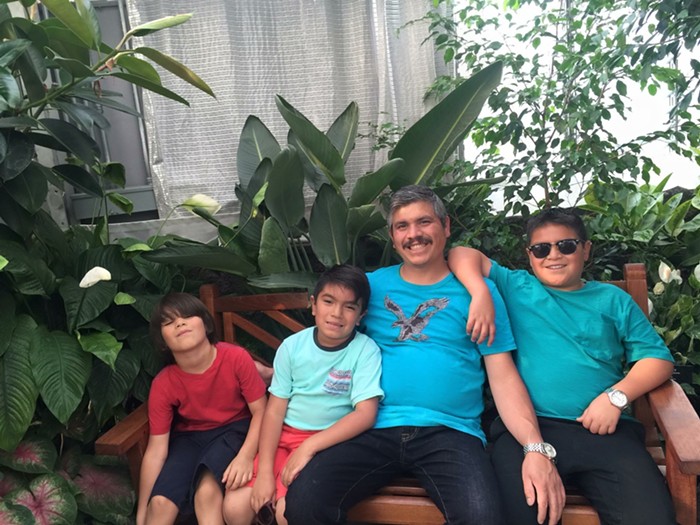 Editor's note: This piece was originally published in our Seattle-based sister paper, the Stranger.
I
t was 5:30 a.m. when Luís Manuel Salazar-Campaña heard a knock on his car window as he was about to drive to work. A police officer stood outside with his gun drawn. After confirming his identity, Salazar-Campaña was ordered to step out of his car to answer the officer's questions. The police officer told him his car was reported as stolen. (The Spokane Police Department was unable to locate any incident reports listing Salazar-Campaña as a suspect, according to documents provided to
The Stranger
.) An Immigration and Customs Enforcement officer walked from behind Salazar-Campaña's car and asked for his legal status. The 39-year-old father of four refused to answer.
That was in April. Salazar-Campaña has been incarcerated at Northwest Detention Center since then. His eldest son, Luís, now worries he could end up there, too.
Luís, 18, is also undocumented, but he is a recipient of the Obama-era Deferred Action for Childhood Arrivals (DACA) program, which protects immigrants who arrived in the United States as minors from deportation and grants them work permits. President Donald Trump announced his plans to end DACA earlier this month.

"I've never been to Mexico, but talking to my grandparents and stuff over the phone...it makes me never want to go there," he said. "It gives me more fear with this DACA thing."

Trump's promised immigration crackdown could affect at least 11 million undocumented people living in the U.S. On February 21, the president rescinded Obama-era immigration enforcement priorities and empowered law enforcement officials to arrest anyone suspected of violating immigration law. Although Trump said he would target undocumented people with criminal records for deportation, arrests of those without records more than doubled compared with arrests under Obama.

Now, Luís and his father are just two of the 250,000 undocumented Washingtonians whose futures are in jeopardy. If the Trump administration gets its way, two generations of the Salazar-Campaña family could be displaced.

On September 19, a balding corrections officer escorts Luís and his three brothers, Isaac, Maximiliano, and Alexander, through a winding hallway to a courtroom inside Tacoma's Northwest Detention Center, the largest immigrant jail on the West Coast.

"Remember: You can't talk to or hug your dad, okay?" the officer says.

The children solemnly nod. With help from Luís's girlfriend and her mother, the Salazar-Campaña siblings drove across the state from Spokane that morning.

Inside the courtroom, Salazar-Campaña doesn't turn around as his kids sit feet away. He dabs his eyes with a crumpled tissue and glances up at an overhead TV screen showing video of everyone in the room. On another TV screen, Judge Arwen Swink begins Salazar-Campaña's hearing remotely from an immigration court in San Francisco, California.

Over the course of his two-hour hearing, Salazar-Campaña presents police reports showing that members of his wife's family told his parents they had kidnapped him and were requesting ransom. He details how they threatened him at gunpoint and had already attempted to kill him by trying to run him over with their car. He provides Judge Swink with letters and character references from former bosses, his children's school counselors and Spokane's City Council president. But none of the pleas or testimony convinces Judge Swink. She denies Salazar-Campaña's case under the U.S. Convention Against Torture and his request for withholding of removal, which would have allowed him to stay lawfully with a work permit.

Salazar-Campaña is ineligible for asylum because U.S. authorities previously ordered his deportation in 1998. Instead, immigration attorney Andrea Lino of the Northwest Immigrant Rights Project, made a case for withholding against removal, which requires a higher burden of proof than asylum cases. Salazar-Campaña also attempted to get protection under the U.S. Convention Against Torture.

Asylum-seekers must prove past persecution in their home country or a "well-founded fear" that they would be persecuted their race, faith, nationality, political affiliation, or membership in a particular social group if they returned to their home country. Defendants seeking withholding from removal must prove they "more likely than not" would be persecuted because of their membership one of the same groups. The U.S. Convention Against Torture takes that a step further and requires defendants that they would more than likely be tortured if deported.

Of more than 30,000 Convention Against Torture cases processed across the U.S. in 2015, only 504 cases were granted protection, according to data from the U.S. Department of Justice.

Salazar-Campaña now has until October to make a case to stay in the U.S. by appealing Swink's ruling to the Department of Justice's Board of Immigration Appeals. If his final appeal is denied, he will be deported back to Mexico.

When Swink announces her ruling, one of Salazar-Campaña's sons, Alexander begins to cry. Despite attempts to maintain his composure, his father speaks out.

"You would rather separate a family than give an opportunity," he told the judge.

Under the Obama administration, Salazar-Campaña would not have been considered a removal priority because he does not have a criminal record, has strong family ties in the United States, and has lived in the country for nearly 20 years. (Still, between January and August, Trump deported about 16,000 fewer undocumented immigrants than Obama did during the same period last year, according to the Washington Post.)

When Trump was elected, Salazar-Campaña said he wasn't worried about deportation because he "heard that he was only going to deport bad men" and criminals.

His wife has not visited him in Tacoma because she is afraid she would be detained, too.
Salazar-Campaña first arrived to the United States from Mexico to look for work in 1995. After returning to Mexico to marry his high school girlfriend, he returned in 1998. Members of his wife's family, who were unhappy with their marriage, had threatened to kill him, he noted in court. Salazar-Campaña was arrested at the U.S. border for entering the country illegally and was deported to Tijuana. He crossed the border to California the next day. Months later, his wife, who was also undocumented, joined him with their young son, Luís.

The couple eventually moved to Spokane in 2009. There, Salazar-Campaña and his wife, who requested not to be named for fear of being targeted by ICE, worked as cleaners. He worked three jobs, usually from 6 a.m. to 11 p.m., to pay for his eldest son's community college tuition and provide for their family. Salazar-Campaña was in the process of starting his own business when he was detained.

"I'm working so my children can move forward and be somebody in this life," he says, "because that's the education they deserve and that's what I never had."

Aside from being separated from his family, Salazar-Campaña now worries that if he is deported back to Mexico, he and his wife won't be able to afford daily medications for their son, Alexander, 13, who has chronic asthma. Alexander's medical condition requires daily care and monitoring, he said.

Salazar-Campaña last saw Alexander and his brothers Isaac, 8; Maximiliano, 13; and Luís, 18, in August. Although he was relieved to see his sons after a four-month separation, the visit was painful, he told The Stranger through a translator.

"It was emotional and sad at the same time, because I couldn't hug them or kiss them," Salazar-Campaña said. "I couldn't touch them because they were behind the glass."

Since he was detained and brought to the Tacoma jail, Salazar-Campaña's family has struggled to stay afloat. During a recent phone call, his younger sons told them they couldn't afford clothes or shoes for the new school year.

"That just broke my heart," he said, crying. "They said I should not be worried because they know that I'm going to come back. They said they don't want any clothes, just their Papi."

Luís, Salazar-Campaña's oldest son, said that if the federal government decides to deport his father, they are effectively "sentencing him to death."

The morning Immigration and Customs Enforcement officials detained his father, Luís woke up to his mother sobbing in his bedroom.

"It was that feeling, that pinch in the gut, it sounded almost like someone was dead," he told The Stranger.

The first time Luís and his brothers visited their father in Tacoma "was the most painful experience I've had," he said.

"The only time [we] get to see him, [we] have to drive across the state," Luís said. "You have to talk to him through a shitty phone through a scratched window."

As a DACA recipient, Luís said he didn't get much support from his community college school counselors while working to become a firefighter. He said he is still uncomfortable sharing his immigration status with most of his friends. Only two close friends, his girlfriend and her family know he is undocumented.

Since his father was detained, Luís said he finds himself questioning the intentions of people he meets.

"It feels like ever since they came for my dad, you're always skeptical," he said. "Who's this car parked close to my house? It's a paranoia kind of thing."

Although his mother is still working, Luís has had to get a part-time retail job in addition to working as a seasonal firefighter to help cover the bills. With Trump's efforts to undo DACA, Luís said he worries about what would happen to his three little brothers, who are U.S. citizens, and his mother if he is deported to Mexico.

"Imagine tearing apart a white family," he said. "If that were to happen, what would be the reaction of [Trump supporters]? ... When it's people like us, they don't even seem to care."

During a phone call two days after Judge Swink denied his father's case, Luís sounds emotionally exhausted. Since leaving the courtroom, he and his mother have been working to persuade Salazar-Campaña to appeal the judge's decision. The details of his dad's case should have swayed the judge, who seemed to have difficulty issuing her decision, he said.

While driving back to Spokane after the hearing, Luís said he had to explain to his youngest brothers, Isaac and Maximiliano, what had happened in the courtroom. If they understood what being deported could mean for the father, why couldn't the judge?