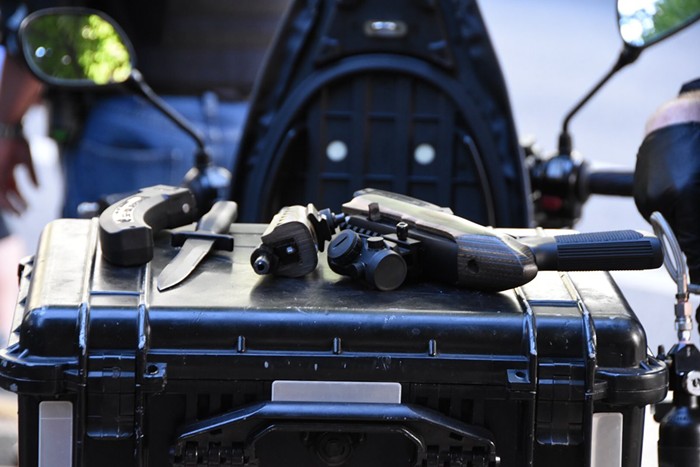 ***Update***

Jay Bishop, the gun and knife-possessing man arrested today at the Patriot Prayer rally, was interviewed in June by freelance journalist Mike Bivins. He expressed his support for
Jeremy Christian, an open white supremacist who, just days before the interview, murdered two people and severely wounded a third on a MAX train
after harassing two young women of color.
The Oregon Fox hat man Bishop says he is down here to express his views about the #MaxAttack. pic.twitter.com/1HTkkRiAuM
— Mike Bivins (@itsmikebivins) June 3, 2017
"He rightfully defended himself," Bishop says about the white supremacist. "This person was illegally arrested for self defense and I'm here to tell all these socialists the truth of the matter... These three that died or were stabbed are not heroes, they're not anybody to be idolized, and they deserve everything that they got."
Bishop previously made news when he was allowed to wear that fox hat in his driver's license photo.
***Original story, 4:08 p.m.***

Federal police arrested one man at a sparsely attended right-wing rally today, after finding a rifle stowed in his scooter.
"Federal Protective Services have taken a suspect into custody for possession of a firearm in a Federal park," the Portland Police Bureau tweeted of the incident, which occurred while attendees of an event organized by Vancouver-based group Patriot Prayer—and their detractors—looked on.
The man's affiliation wasn't immediately clear this afternoon, though he appeared to have shown up in support of Patriot Prayer. The right-wing group has planned rallies up and down the West Coast, including several in Portland—nearly always drawing vocal opposition. More often than not, the clashes have led to violent skirmishes between Patriot Prayer supporters and anti-fascist activists.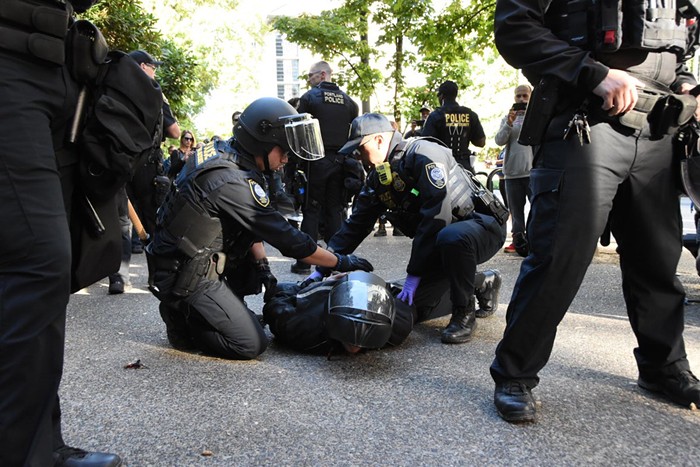 Police keyed in on the man after conducting a search of his bag, as they'd done to everyone entering Terry Schrunk Plaza this afternoon. Apparently finding something of interest on his person, police escorted the man to his nearby scooter, which contained what appeared to be a rifle broken down into two pieces, an ammunition magazine, and a knife.
DHS cops searched him in plaza, found something (i THINK just clips) took him to scooter, ID'd him, found weapons in scooter pic.twitter.com/lZ47aSyVrk
— doug brown (@dougbrown8) October 8, 2017
The arrest was the only notable incident during the roughly two hour surprise rally and march that Patriot Prayer founder Joey Gibson announced yesterday. The event drew perhaps 50 supporters, and roughly the same number of counter-demonstrators (some wielding cans of silly string).
Perhaps the most prominent attendees? Dozens of riot-gear-clad Portland police, who stood in front of Portland City Hall and kept watch over proceedings at Schrunk Plaza. Sunday marked the first-such event police have had to tackle since new Police Chief Danielle Outlaw took the reins of the police bureau less than a week ago.
The Mercury asked Outlaw last week how she felt about police showing up to demonstrations already dressed in riot gear. "I won't say whether it's good or bad. I think the tone of the crowd really dictates the response," she told us.
Assuming Outlaw had input into police presence at today's event, several dozen people shouting in a park is tone enough for riot cops to show up.