CITY HALL staffers and labor union representatives were caught off-guard last week when the city's human resources director signaled an abrupt departure.
Sponsored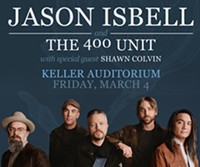 Jason Isbell has established himself as one of the most respected songwriters of his generation. Don't miss Jason Isbell and the 400 Unit, March 4th at Keller Auditorium!
Anna Kanwit, a city employee of 26 years who's helmed labor negotiations and staff recruitment for the city since 2012, announced the news in an October 25 email first reported by the Mercury. "I am resigning my position as the [Bureau of Human Resources] Director, effective November 30," she wrote.
Not retiring, mind you, resigning—a term often associated with directors being shown the door.
"Anna was talking about retiring next year, so it is strange to see the term 'resignation' versus 'retirement,'" Rob Wheaton, an AFSCME representative, tells the Mercury. "This is something that seemed a bit far off the last time I discussed it with her."
Kanwit didn't respond to inquiries, and Mayor Ted Wheeler's office stuck to terse well-wishing, so we're not certain why the sudden resignation happened. But it was hard not to see a connection to Kanwit's fraught relationship with the city's labor unions.
Less than a week before she announced her resignation, the city's largest union group voted to potentially strike if a contract couldn't be hammered out. Labor types grumbled that Kanwit wouldn't show up for bargaining sessions, or would bargain in bad faith when she did.
It's entirely possible Wheeler and his chief administrative officer, Tom Rinehart, felt the strike warning was a last straw for Kanwit. Equally clear is that Wheeler and Rinehart were ready for her departure.
Proof of that came last month, when the woman who'll be replacing Kanwit made her first presentation to Portland City Council.
Serilda Summers-McGee was hired as an assistant HR director in July, having served in similar roles at Prosper Portland, the Oregon Department of Education, and Kaiser Permanente. And on September 12, as she presented her impressions of the city's recruiting practices to council, Summers-McGee strained to be polite.
"I've been in recruiting for a very, very long time," she said, "and I can understand what high-functioning recruitment looks like and what slightly less high functioning recruitment looks like."
Portland, she made clear, was the latter.
Summers-McGee spoke of job openings that took four weeks simply to post to the web, of positions that went unfilled for more than four months, and of city staff who believed the HR bureau was doing more harm than good.
Then Summers-McGee vowed to fix things.
"What's before you are the changes that I am committing that Bureau of Human Resources will be able to employ fairly quickly," she told council, setting out a series of improvements and speaking of recent hires she'd already made.
Kanwit's name was barely mentioned, and when Summers-McGee finished, councilmembers present glowed.
"That," said Commissioner Nick Fish, "was quite a debut."