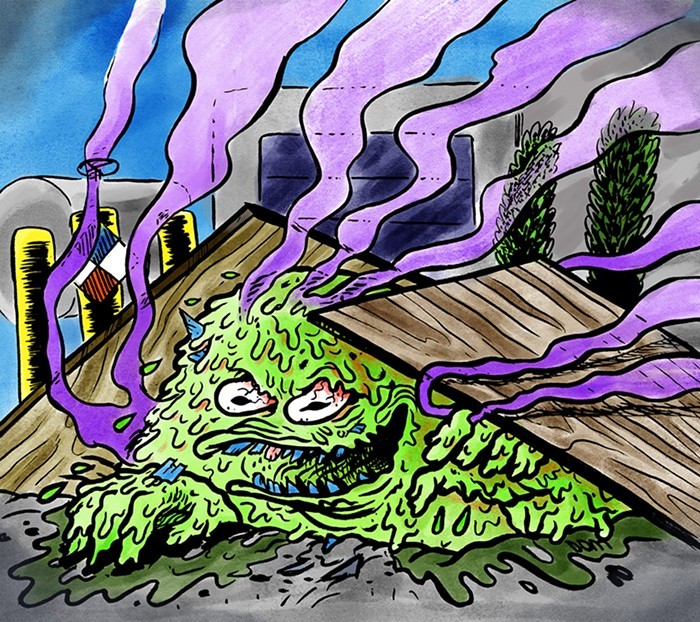 Bullseye Glass was fined $15,600 as part of a settlement over its allowing toxic materials to seep into neighboring groundwater, the state's Department of Environmental Quality announced today.
According to a release from the agency, officials confirmed that chemicals that found their way from the company's furnaces to its roof eventually made their way into a downspout and a stormwater collection "drywell" on the property. The Mercury reported at length about suspicions of contaminated groundwater in October 2016.
"In Oct. 2016, DEQ discovered stormwater runoff from the factory's roof had been discharging into an underground drywell and contaminating soil and groundwater," today's release says. "The stormwater contained the toxic materials cadmium and selenium, which had settled on the roof after the company released them into the air through unfiltered furnaces."
An order laying out the settlement reveals that groundwater samples near Bullseye's dry well contained cadmium and selenium well in excess of federal "maximum contaminant levels" (MCLs) for drinking water. Officials found cadmium levels that were more than 26 times the MCL, and selenium levels at nearly 6 times the MCL.
"Bullseye has removed the contaminated drywell and surrounding soil, and is in the process of installing wells to monitor groundwater quality," the DEQ release says.
Last year, the Mercury first reported alarming findings that chemicals burned to create colorful glass at Bullseye's Southeast Portland facility had been discharged unchecked through its smokestacks for decades. The discovery led to stricter regulations on Bullseye and similar companies, and Bullseye now employs large filtration systems to prevent toxic emissions.
Here's more coverage:
•State Finds Alarmingly High Arsenic, Cadmium Levels Near Two SE Portland Schools
•Too Cozy? A DEQ Air Quality Official Apparently Vacationed With An Attorney Representing Industry
•Oregon DEQ Director Dick Pedersen Resigns Amid Air Pollution Concerns
•Bullseye Glass Has Suspended Use of Arsenic and Cadmium Because of Air Quality Concerns
•Portland Public Schools Is Ordering Air Tests Because of Arsenic, Cadmium Concerns: "We Need A Public Meeting"
•Soil Near Bullseye Glass Contains Arsenic and Cadmium—And Other Things Officials Told Parents Thursday

•Essential Pollution Controls Lacking at Two Glass Plants Blamed For Cadmium Emissions
•Bullseye Glass' Sales Were $19.8 Million Last Year. Pollution Controls Would Have Cost A Tiny Fraction of That.