Last week, students across the country walked out of schools in a powerful demonstration against gun violence and congressional inaction, and to honor the lives of those lost in February's school shooting in Parkland, Florida. Youth have persistently been at the forefront of revolution and change—and on February 26, 2018, nine seniors at Roosevelt High School in St. Johns continued that tradition by protesting in the name of Black lives and against gentrification.
Roosevelt has long been one of the most diverse schools in Oregon, but gentrification throughout St. Johns is threatening its balance. The school's population of Black students has been dropping: During the 2014-15 school year, Roosevelt's students were 37 percent Latinx, 26 percent white, and 21 percent Black. By 2016-17, Roosevelt's students were 40 percent Latinx, 28 percent white, and 17 percent Black. School data shared with the Mercury shows that next year's incoming freshman class will be 36 percent Latinx, 32 percent white, and 15 percent Black. While demographic information for staff members isn't readily available, Roosevelt Principal Filip Hristic says, "I can tell you that racially, we are nowhere near as diverse as our student body."
As part of Senior Inquiry—a year-long course on race and justice offered at Roosevelt in collaboration with Portland State University—seniors were asked to contribute to the first nationwide Black Lives Matter at School Week of Action. The week of action followed the school's Hoodies Up Day, organized by Roosevelt's Black Student Union, that commemorated the birthday of Trayvon Martin.
Students formed race-based affinity groups to develop plans for their actions, with hopes that the groups would create opportunities for people with similar experiences and ethnic backgrounds to connect—and, within the context of political activism, allow organizers to develop actions with shared privileges in mind.
Roosevelt senior Brandt Yamamoto joined a group of eight other self-identified non-Black people of color. While Yamamoto and his peers made plans for a sit-in and installation, another group of non-Black POC set up a meeting with Roosevelt's administrators. A group of white students launched an Instagram account focused on educating allies on the Black Lives Matter movement, while a Black student group created a detailed timeline of Black excellence and leadership in the history of Roosevelt High School.
For more than three hours in Roosevelt's cafeteria, the students held banners, chanted, and waited to present Hristic with a set of demands. "We wanted to address how gentrification is an issue, because we hadn't heard about it from administration," Yamamoto tells the Mercury. "We wanted to talk about how it's impeding on Black Lives Matter and diversity."
Students' signs read: "Are we the next Alberta?" and "What will happen to our diversity when we are gone?" Chants like "Black lives matter here, make it clear" echoed in the air, while star-shaped paper cutouts identified issues that contribute to gentrification like rising rents and white supremacy.
Students' demands to Roosevelt's administration, created in collaboration with Black and non-Black POC Senior Inquiry students, included the implementation of weekly student council meetings, culturally inclusive and relevant curriculum with an emphasis on Black representation and history, student involvement in staff hirings that will better reflect the demographic makeup of the school, and a reduction in Roosevelt's disproportionate rate of punitive action against Black students.
In 2015, Portland Public Schools (PPS) released data that showed African American students were almost four and a half times more likely to be removed from class than their white peers.
Tory Rodgers, a Senior Inquiry teacher, says the students behind Roosevelt's action demonstrated exactly what she and co-teachers Moe Yonamine and Rakeem Washington have taught them. The course, Rodgers says, is designed to empower students to "maybe not solve, but disrupt systems that are oppressing their choices and the choices in the community for their peers."
"It's all about lifting other voices and using your voice to raise other voices above yours," adds senior Elsa Govea-Lemus.
While students agree that Roosevelt celebrates diversity and inclusion to an extent, the consensus is that the rapid pace of Portland's gentrification requires a direct response.
"We're really good at saying we're proud, but it seems as if those values are on the surface and superficial," says Yamamoto. "We don't act towards them."
Prior to the sit-in, Roosevelt High School didn't have explicit policies regarding gentrification. Hristic says he happily signed the students' contract, has already begun meeting with the student council every week, and is working with PPS officials to make sure there aren't any legal implications regarding student involvement in hiring. Additional work may be in store to support enrollment and transfer policies for students displaced during their time at Roosevelt.
"[It would be] powerful if Roosevelt took charge and said there's value in identifying an enrollment and transfer policy [with] special provisions made for families who are impacted by this," Hristic tells the Mercury. Under current PPS policy, if a family is forced to move but remains in the district, students are allowed to remain enrolled up to the highest grade at that school. Outside the district, however, this option doesn't apply.
"My entire life I've been living in Portland," senior Yolanda Cantoria tells the Mercury. "I've moved at least four or five times, been evicted twice.... Right now, I'm living with my auntie. My mom is a single parent and it's really hard for her to pay the rent."
While some of Roosevelt's students have moved further southeast, seniors Alexander Tep-Soto and Dominique Deo say their families are considering Vancouver, Washington. Students in Washington, however, can only remain enrolled if they pay an annual tuition of $7,909, since school funding cannot be transferred between states.
For many of Roosevelt's families, that's the equivalent of six months' rent.
Deo, who grew up in St. Johns, says her single father received an eviction notice two weeks ago. "We've been living in that house for 17 years—my whole life," she says. "That's all I know."
Victor Garcia Muñoz, a senior at Roosevelt, was in eighth grade when he had to help his parents look for a new apartment after their Albina duplex was purchased and demolished. "I was the one who had to look for a place to live," he says. "I had no idea how to rent a place or what to do, but my mom and dad don't speak good English, so I had to take the initiative and look. It was really tough."
Now Garcia Muñoz says his family lives in a state of unease, perpetually expecting an eviction notice in St. Johns. "I have to live through [gentrification] again," Garcia Muñoz says. "It feels like the world is just against you, and you're not supposed to succeed."
Roosevelt's students say factors like these directly affect their academic performance, and that the school's staff need to be more aware of students' living conditions.
"We don't think it's correct that if students misbehave, they're expelled, which lowers the possibility of their success," says senior Elsa Govea-Lemus. "If you really want somebody to succeed, don't expel them.... There are other things outside of the school that people of color and Black students go through that impact [them]. [Teachers] see it as if their attitude and behavior is negative, [but] it's more important to create resources instead of immediately sending them out of the classroom."
While Roosevelt may not be able to completely stop the adverse effects of gentrification, students are committed to creating lasting spaces on campus for conversation and joint policymaking.
"Schools can and need to play an active role in education and [make] sure our staff know how our students and families are impacted [by] gentrification," says Hristic. "We need to make sure student voices are included and impact our policies... They've done a really good job of identifying some issues, and now we're going to have to roll up our sleeves and do the hard work of untangling the complexity of the problems."
"Policies in the community are more difficult to change, but for us and this movement, we can actually do something," says senior Juan Gutierrez-Cardenas. "We're hoping that the underclassmen respect these values and can treat the people that are left as equals. We can leave a legacy."
Sponsored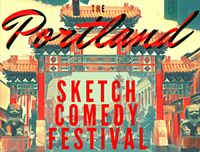 Sketch comedy troupes from all over N. America descend on The Siren Theater for 3 glorious nights.