When members of the Burgerville Workers Union showed up to the fast food chain's corporate headquarters in Vancouver last week, management wouldn't let them inside. It wasn't because they were holding a raucous protest or waving intimidating signs or throwing rocks at the windows. The small group of employees was there to deliver a single letter with a simple ask: Recognize our existence.
Sponsored
Sketch comedy troupes from all over N. America descend on The Siren Theater for 3 glorious nights.
"It was more symbolic than anything," says Mark Medina, one of the Burgerville Workers Union (BVWU) members who delivered the request to headquarters. "Their response was expected, but still super frustrating."
Last Monday, March 26, after two years of failed attempts to get Burgerville management to voluntarily recognize their employee union, Medina and other BVWU members gave their bosses an ultimatum: If Burgerville didn't recognize the BVWU in two days, BVWU would begin a process that would legally force them to. According to members of the BVWU, they'd been left with no other choice.
"It's far from ideal," says Medina, who works at Burgerville's location on SE 92nd and Powell. He was at work on Wednesday, March 28, when the 48-hour deadline passed. As the clock struck 2 pm, he said employees made eye contact and nodded in muted excitement.
"We were all thinking, 'All right, let's go,'" Medina says.
Now, the group of 28 BVWU employees are waiting for the National Labor Relations Board (NLRB) to schedule an April vote to decide whether the NLRB should forcibly bring Burgerville's top brass to the table to formally recognize the union—and, in doing so, make history. If they get an official nod from management, BVWU could become the first legally recognized fast food union in the United States. "We're in uncharted territory," said BVWU spokesperson Emmett Schlenz.
While a number of individual Burgerville locations across Portland have unionized, only one—the Powell location—is rallying for formal recognition from the chain's executives. Schlenz said this effort, though, is to test the waters: If the Powell shop of 28 employees is successful in this effort, other stores are expected to follow.
As with any union, BVWU was organized with specific workplace requests in mind. On their list: affordable health insurance, a $5-per-hour-raise for each employee, a more reliable scheduling system, and the discontinuation of "E-Verify," a program Burgerville uses during the hiring process that identifies and reports undocumented immigrants.
But even if NLRB forces Burgerville to recognize the union, that doesn't mean the business will have to cooperate with BVWU, or agree to any of the union's requests. Burgerville is entitled to reject any or all demands the union brings to the bargaining table—a move that would set the stage for BVWU strikes, public information campaigns, or boycotts, according to Medina.
Burgerville's management has been largely silent about their dismissive stance toward BVWU, only speaking to media through a PR representative. In an email to the Mercury, Weinstein PR sent a statement attributed to Beth Brewer, Burgerville's senior vice president of operations.
"Burgerville respects the right of every employee to support or not to support the organization of a union," it reads. "Burgerville will abide by the NLRB's decision and guidance."
In the meantime, the BVWU has collected support from major local unions, including the Amalgamated Transit Union 757, Portland Association of Teachers, the Communications Workers of America, and SEIU Local 49.
The support of those unions, says Medina, has helped motivate the BVWU's years-long push. By now, Medina says, whatever he and his employees gain from unionizing will be dwarfed by the bigger—and nationally unprecedented—effect of Burgerville employees' solidarity.
"We want to show others in the community that this is possible," Medina says. "If our shop can do it, you can do it, too."
Sponsored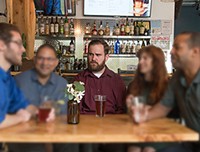 Adults aged 18-35 with good hearing will be paid for their time. Located at the Portland VA Medical Center