Portland City Council will vote on a resolution Wednesday, June 13, that could determine the fate of 1,600 of the city's brick buildings—called unreinforced masonry buildings (URMs)—that will be particularly deadly if (or rather when) a major earthquake hits.
Sponsored
Sketch comedy troupes from all over N. America descend on The Siren Theater for 3 glorious nights.
The resolution sets up a policy that would require retrofits on URMs within 10 to 15 years. Apartments, offices, schools, government buildings, and fire stations are all on the list.
At a May 9 hearing on the issue, Mayor Ted Wheeler introduced an amendment that would slow down the mandatory timeline for repairs on about 80 percent of those buildings—mostly privately-owned businesses and apartments. URM owners would instead get 20 years to perform roof-related improvements. Wheeler's amendment also rolls back other safety requirements included in the original resolution.
It's one of an expected nine amendments that city commissioners will vote on at this week's council meeting.
However, the resolution's passing won't immediately initiate the retrofit timelines for building owners—it just starts the process to create a comprehensive URM ordinance.
"This resolution gets us out of the gate, but there's a lot more work to do on policy as we move ahead," says Michael Cox, spokesperson for the mayor's office.
Critics of the pending proposal have argued there aren't any funding mechanisms in place to help building owners, while proponents of the measure say the resolution is necessary to save lives.
"I come down on the side of public safety," Oregon State University geologist Chris Goldfinger says. "If any of those buildings are still around in the next earthquake, people are going to get hurt in them for sure." KELLY KENOYER
---
In an attempt to regain funding for programs that help prevent teen pregnancy, Multnomah County filed a lawsuit against the federal government on Friday, June 8. Their claim: The US Department of Health and Human Services (HHS) is required fund programs that are proven to be effective. And HHS' current abstinence-only teen pregnancy program is not.
Multnomah County began receiving a yearly $1.25 million grant from HHS in 2015, and used the funds to train 107 teachers and inform 15,000 teens about healthy relationships and safe sex. The money was contingent on the program teaching evidence-based methods, such as the use of contraceptives.
Last year, the Trump administration abruptly canceled Multnomah County's grant—and 80 similar grants across the country—leaving recipients scrambling to fill funding gaps. The administration was immediately hit with a lawsuit, forcing officials to replace the lost programming. That replacement, however, mostly focused on abstinence-only education. State-level research has found that abstinence-only education in schools increases both the teen pregnancy rate and sexually transmitted infections among students.
Health advocates and county officials say HHS' new policy clashes with Congress' requirement to only fund evidence-based programs.
"The Trump administration calls evidence-based teen pregnancy prevention a 'sham.' But we know teaching comprehensive sex ed works," wrote Multnomah County Chair Deborah Kafoury in a press statement. "The administration wants programs based on wishful thinking. That doesn't work, Mr. President." KK
Sponsored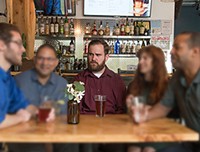 Adults aged 18-35 with good hearing will be paid for their time. Located at the Portland VA Medical Center