A group of protesters have been camped out a US Immigration and Customs Enforcement (ICE) building in south Portland since Sunday—and they're not planning on moving until the Trump administration revokes its "zero tolerance" immigration policy that's been separating thousands of immigrant children from their families.
The idea to "Occupy ICE" followed a Father's Day rally and march outside the SW Macadam office building on Sunday. The event was organized by the local Democratic Socialists of America and Direct Action Alliance. According to protester Hanna Tashjian, that march wasn't enough.
"I live in this neighborhood," she says. "I don't want this in my neighborhood, I want it gone from the city, and the state, and the nation."
Tashjian is one of many protesters who've spent the last three days and nights in front of the ICE building. This afternoon, the group delayed a number of ICE cars from leaving the facility—resulting in at least one arrest. Protesters claim the building has several holding cells and is currently detaining immigrants.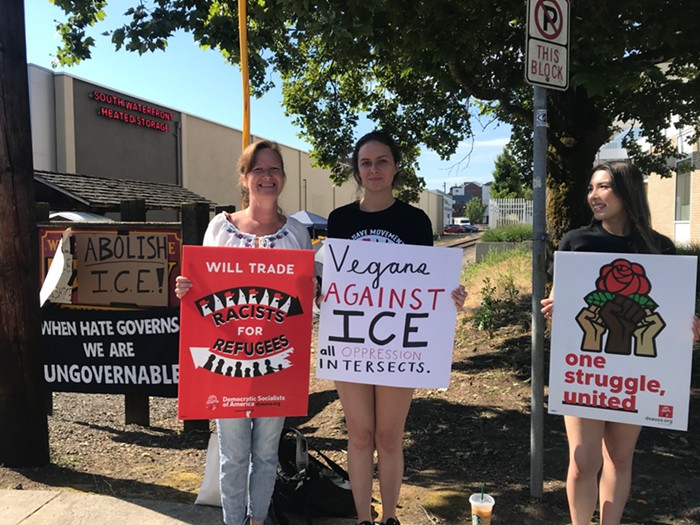 "The plan right now is to build," says Tashjian. "We want to create a presence and we hope this encourages people in other cities, other states, to do the same at their local ICE facility. To blockade, to eventually surround and shut down. That would be my longest of long-term plans."
The local ICE office has not returned the Mercury's calls for comment. (And the national ICE media line goes straight to voicemail.)
Protestors have several tents set up nearby, along with a portable bathroom and table of food. They've taped signs to the walls of building with phrases like "zero tolerance for ICE," "Abolish ICE," and "Don't be a KAPO, ICE=GESTAPO." One sign, pasted on a window near the building security guard, reads "End White Supremacy."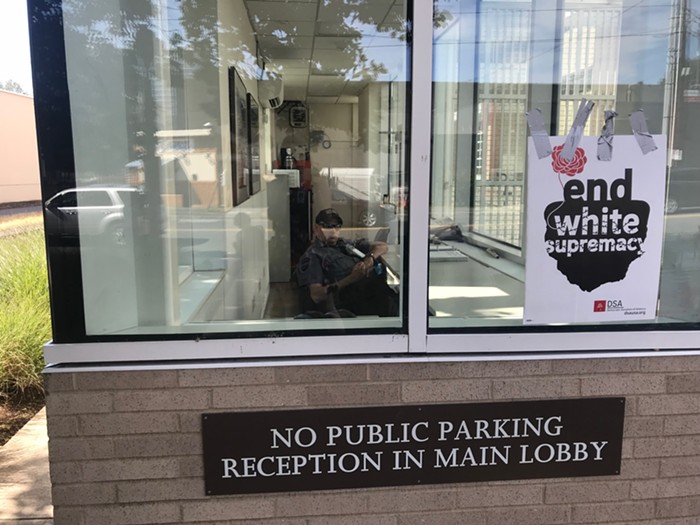 The protest has already inconvenienced ICE officers. Tashjian said her group kept ICE staff from leaving the facility last night for 4 hours. According to Tashjian, ICE staffers told protesters they were blocking officers from returning home to their families.
"They were pretty cranky about it, she says. "The irony of them being detained indefinitely in a facility where they can't go home to their families was kind of lost on them."
The group's planning another organized protest against ICE for Sunday, June 24 at the same location.
"We encourage the city of Portland to stop allowing ICE to be here," says a protester named General Cherry. "This is supposed to be a sanctuary city, but they're not following the people's wishes. Our tax dollars are going to this shit."