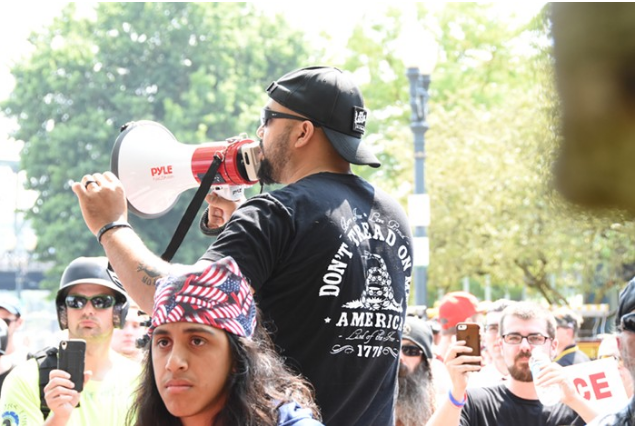 UPDATE (6:02 PM): Portland Police will have officers in the area during Joey Gibson's visit.

Looks like @PortlandPolice is making its #OccupyICEPDX debut tonight. pic.twitter.com/1NDfzxviWh

— Alex Zielinski (@alex_zee) July 21, 2018
ORIGINAL POST: Right wing rabble-rouser/Washington Senate candidate Joey Gibson says he'll be dropping by the Occupy ICE PDX protest this evening, seemingly to converse with protesters and learn about civil disobedience. However, occupiers aren't planning on taking the bait.
"I'm just so curious about what's going down there," Gibson said in a Facebook Live video that came out today.
Gibson's political organization Patriot Prayer is known for "freedom marches" in Portland that have drawn white supremacists, such as alleged MAX stabber Jeremy Christian.
"If you're down there [at the Occupy ICE protest] and hear that I'm coming, don't freak out," Gibson says, adding that he's bringing a small group and they don't "plan on being attacked."
Gibson claims to be interested in coalition building, referring to some of the Occupy protesters as libertarians. "These aren't all communists... some of them hate Antifa," he says, perhaps not realizing the large number of anti-fascist signs he'll be seeing at the protest site. "There's just tons of different groups and ideologies [there]. It's good to get together, drop the fists... and exchange ideologies," he said.
In the video, he adds that he's "extremely interested in civil disobedience," saying he might apply what he learns from occupiers to his future protests in favor of the second amendment.
Gibson's views on ICE are a little unclear from the video. Though he mentions he despises the government and many federal agencies, he noted that a secure border is important to him.
Occupy ICE PDX has already responded on Facebook: "We have unwelcome guests coming to visit camp today," the post says. "We intend to remain strategically chill. As evidenced by Portland Police's collaboration with DHS and Patriot Prayer at their last permitted melee, we should never expect assistance or protection from city or state forces."
When Gibson arrives at the camp tonight, Occupiers plan to greet him with "banners, music, signs, bubbles, vuvuzelas, and MASSIVE indifference to [his] presence."